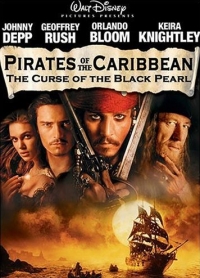 Amy wanted to watch the new Pirates movie last weekend, but I had never watched the first one. Well, I'd started it many times. But one thing or another had always stopped me from watching it each and every time the DVD had been put on. Of course I couldn't watch the new movie without watching the first one first, so this last Saturday, I finally watched the whole thing from start to finish.
It was an OK movie, although I'm not sure it deserves all the attention it got. But I did enjoy it. It was a fine little movie, with some funny moments. Not a big fan of Jack though. Just not my kind of humor I guess. But it didn't detract all that much. I liked the ghost pirate things. I liked the monkey. The girl was OK too. The ships were the most fun part.
In any case… decent enough movie on DVD so I was not dreading the prospect of seeing the new movie in the theaters.