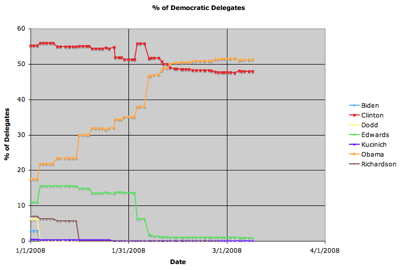 I unfortunately don't have much time for commentary today.
The results from Wyoming are in. Well, 11 out of 12 delegates have been determined. Obama got 7, Clinton got 4. And I'm sure they will figure out that last delegate sometime or another.
Ultimately it makes only a very little difference in where things stand. Obama widens his lead slightly, but very slightly.
Results from the Texas Caucuses are actually still pending. And I've seen news reports that when the final results for California were certified, Obama got more delegates than had previously been estimated. I've seen neither change come through on CNN's totals that I use for these charts yet, but when they do, it will widen Obama's lead further.