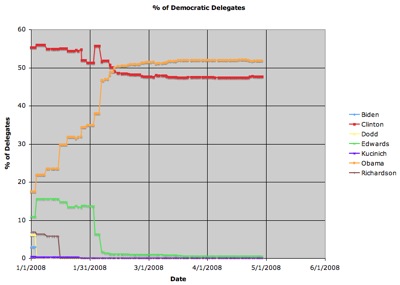 No, there are no updates on those last two remaining Democratic delegates from PA. Nor has CNN finally gotten around to posting Republican delegate results for PA.
But we do have the results from the latest stages of Iowa's multi-stage delegate selection process. And the net result? Obama *loses* one delegate… and Edwards (remember him) picks up a delegate. Will this just be the beginning for Edwards? Nah… but still…
Meanwhile, some superdelegate moves. One Mississippi superdelegate flips from Clinton to Obama. Plus Obama picks up a superdelegate in Oregon.
Net result today, Obama gains a delegate, Clinton loses one, Edwards gains one.
Updated stats:
The new delegate count is: Obama 1725, Clinton 1588, Edwards 19
In percent terms that is: Obama 51.8%, Clinton 47.7%, Edwards 0.6%
(Before PA it was: Obama 52.0%, Clinton 47.4%, Edwards 0.6%)
2025 delegates are needed to win.
There are 716 delegates yet to be determined.
Obama needs 300 more delegates to win.
Clinton needs 437 more delegates to win.
In percentage terms, that means:
Obama needs 41.9% of the remaining delegates to win. (It was 42.9% before PA.)
Clinton needs 61.0% of the remaining delegates to win. (It was 59.3% before PA.)