Oh Yeah... National Polls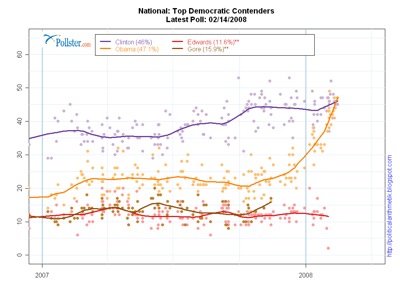 I noticed this yesterday but was too busy to blog it. For the first time Obama is ahead in the national "poll of polls" at Pollster.com. Not that national really matters. What matters is the next few states...
Wisconsin - Obama up by 5.3%
Ohio - Clinton up by 17.3%
Texas - Clinton up by 6.5%
(Plus a few small states with no meaningful poll data yet)
Pennsylvania - Clinton up by 25.6%
Obama has the momentum right now. But those next few states DO look pretty good for Clinton at the moment. The gaps in all the ones where Clinton is ahead HAVE been narrowing. But will Obama pull ahead before the election days? Dunno. Seems like it is all just a question of if there is enough time.