Electoral College: Ohio Flips back to McCain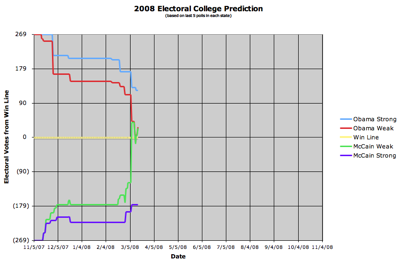 New poll in Ohio. Ohio is one of those states that is right on the edge and may well just keep flipping back and forth for a bit. In my "last 5 polls" average for Ohio, the balance just switched from just barely favoring Obama to just barely favoring McCain. Of course, this is the electoral college, and it is winner takes all, so Ohio's 20 electoral votes move from one column to the other, for a net change of 40 in the gap between the candidates. McCain increases his lead.

My extrapolation of polls to the electoral college now has McCain 293, Obama 242, No Polls 3.