Our Old House
Another thing I made a note to myself to blog a long long time ago (March 2007 actually)... At that time Google Maps satellite view had a nice view of our old house in Florida with both my car and Brandy's in front of it: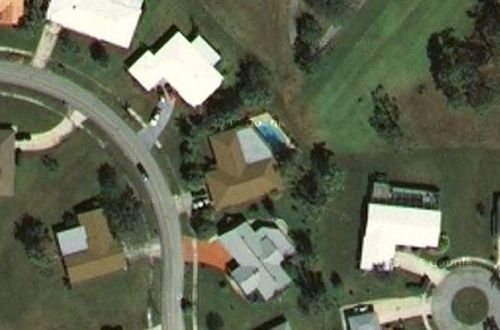 See, you can see them!

Cool enough. So today I checked out Google Maps again. Of course our cars aren't there any more on the satellite view. You can see they added something on the roof and such but that view isn't too interesting.

Then I checked out Street View:





Looks like they added a fence on one side, replacing a row of trees and bushes that were there before. They also ripped up most of the plants that were around the front of the house. There were a lot more bushes and things. I really liked those. They sort of surrounded an oval shaped area in front of those windows you see (which is where my home office was) so that there was a little private garden area there that you looked out onto rather than just a straight view of the street. The house looks much more barren and lacking in personality without them. Poor plants. Bastards.

Oh well, it still sucks to be them. According to Zillow, The house has lost over 30% in value since we sold it to them. HA HA. Should have left the plants where they were!