DVD: Buffy the Vampire Slayer: 2nd Season: Disk 5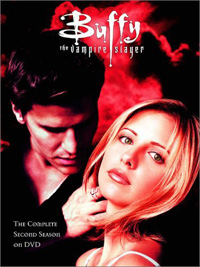 It has been a long time, so it was time for another Buffy. The next in line was Disk 5 of Season 2. This had four episodes.
Passion: Everybody still reacting to evil Angel. Angel kills Ms. Calendar. That's about it.
Killed by Death: Buffy in the hospital, a death thing is killing children
I Only Have Eyes for You: Ghosts at the school relive a murder suicide
Go Fish: The swim team turns into murderous fish things
Anyway, of these the first one is the only one that really moves forward the overall season arc. The rest are just one offs for the most part (with the occational scene pushing the arc). Decent episodes, but not great. And that's all I have to say about that.