The House is Ours!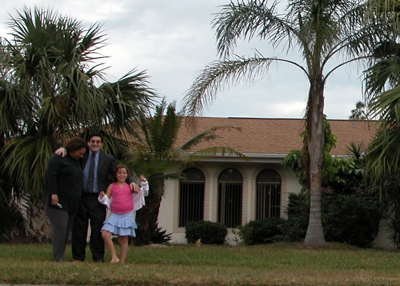 It is official. Our new address is:

1457 Meadowbrook Rd NE
Palm Bay FL 32905

Please make a note of it. We'll have the mailbox up there and start switching mail over this weekend.

Now the hard part starts. Brandy is anxious to go buy paint and start changing colors around, so I won't write much. But the final walkthough and closing all went without incident. We went by once to use the keys for the first time. We're now busy calling utilities and such to put everything that needs to be in our name in our name. And I've called the screening people to try to get that moving too. We have the deposit for them out of escrow.

Now as soon as I get out of this suit into something more appropriate, we'll be heading to stores to get the appliances ordered, the mattress ordered, and paint and cleaning supplies... and the move has begun!

Brandy promises more pictures, including interior pictures, once we finish cleaning.
Aren't you forgetting something? Latitude and longitude???

Hey, 2 things:
1) think neptune when you think washer/dryer
2) BRANDY: CHIN UP!!! sam's shoes can't be that interesting!!
Neptune is more like a wet dream.

I happen to like Sam's shoes!

I'd update and say... "Neptune" looks nice on paper, from far away. Apparently they are doing some major bun-reamage recently though :( The manufacturer was just done settling a huge class-action lawsuit because of some rather serious design flaws. The basics are:
1) the tub never fully empties
2) mildew accumulates over time
3) the circuit boards in the system short out
4) motors short out
5) the door lock shorts out

All this adds up to a yearly $300+ repair/replacement-of-parts... There are quite a few reviews on epinions.com regarding this issue and website:
http://www.maytagfrontloadsettlement.com/
which explains the details of the suit.

So, looking at seimens and GE and LG now, I'll keep you updated!
They still look cooler.

We got Kennmore.
Kenmore, which model? Front Loading WashingMachine or top loading?
I really wanted the Neptune set. They look cool! I couldn't care in the slightest how they work or even IF they work, but they LOOK cool, and that is what matters!

Unfolrtunately, we had to do the budget thing this time. But NEXT time...
We were going to get a non-Neptune Maytag, or maybe it was something else. I dunno, we'd agreed upon it. Then at the last moment when we were there, Brandy asked the sales person if there were others we should be looking at, and they redirected us at a Kenmore that they said had more features and was better for a slightly lower price. Of course, it was ugly. Kenmore is not known for style. But I let Brandy pick, since she will be the main one using it. So we got the ugly ones. But I'm sure it works GREAT!
Oh, and Randy. Yes, I forgot. I am so sorry!

For anybody who wants to aim their ICBM or smart bomb at our new house, the latitude and longitude are:

N 28°00'54.5"
W 80°37'50.2"