Dinner at Disney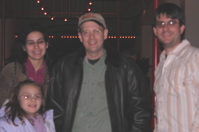 Yesterday Brandy, Amy and I drove over to Disney to meet Ron Adams and his family who were vacationing there for a few days. The drive over there was fine until the last few miles before Disney, which we crawled through at a few miles an hour.

But then we got to spend a couple hours sitting down to dinner with Ron. That was good. It had been several years since I had seen them in person although of course I'd talked on the phone and emailed many times. So I had some pasta and talked to Ron. Amy, Brandy, Ursula and Paisley entertained themselves for the most part. :-)

Of course on the way home it took over an hour just to get off Disney property again. We ended up not getting home until around 7 UTC. We were very tired.

But it was good to see Ron and family again. I'm glad we made the drive, even with the insane New Year's weekend traffic.