Mini? Pshaw!
I know I've posted a lot today, sorry. Don't know what has gotten into me.

In any case, forget the Mini. It looks like after several years the Smart will finally be available in the USA! I saw one (with Mexico plates) outside of Pittsburgh a few years ago and instantly said to myself "I want one!" But they haven't been available unless you wanted to import one yourself and go through all the attending hassle.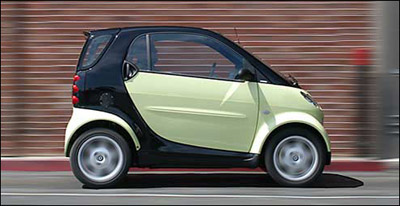 Smart Cars: Coming to the U.S.
(Nathan Edwards, pcmag.com)
Good news for the "smaller is better" crowd: The fuel-efficient Smart Car is (finally) on its way to our shores. Smart-Automobile LLC announced today that its Smart For Two Coupe / Convertible, available in Europe since 1998, is ready to be imported to the United States. Much of the delay involved learning how to modify the cars and tooling the proprietary Smart diagnostic system to ensure the cars meet U.S. safety and emissions standards.
(via
Digg
)
Um... or maybe still a Mini.
Or, more likely still, another
Saturn
.
Of course for now, the main goal is to keep my 1996 Saturn going as long as possible. It went over 170 kmil a couple weeks ago though, and I don't think any car I've ever driven regularly (the Dodge Colt, the Ford Taurus or the Toyota Corolla) have ever made it to 180 kmil. We shall see...
Oh... and I still haven't posted about Brandy's car... maybe if she doesn't
post about it herself
I will by the end of the weekend.
I was going to wait for the pics to post but then they fixed part of it so I don't have the visuals, which I think would be particularly helpful in the story. Maybe I can find something online...

As for the Smart, I told you so. :-) Who needs a Mini? It is YOU. But that means I definately need a small SUV. BEcause if we both have tiny cars And Amy can't drive....and I REALLY don't think it would be a good idea to put her in the trunk.
Couldn't you just skip across the border, buy one and drive back?

We have a Mini Cooper S, it fits 3 people plus cargo.
when i was in italy in 2001 these smart cars were all over the place. people were even parking them on sidewalks.
I just got back from Europe, and saw a few. But sales have been very slow and rumor has it, that they were going to kill the car.
How about one of these? It looks like a shoe.
I just saw a smart on the road last week while driving through Palm Beach. It did have eurpoean plates. Not sure how they got that through customs...
We priced the Smarts here at the local dealership that sells them here in Seattle. (Just off their website, didn't go for a test drive or anything.) With all the extra costs of importing and bringing them up to US specs, the cost for what you get ends up being quite high. It has some novelty value, and I do admit whenever I see them driving around here (there are at least 5 we see periodically) I think they are kinda cool. But they were going for about $28K for new ones.. $32K for the convertible version. And while I think they are neat and might be OK as an extra toy car, for $32K I can get something a lot more practical for a primary car.