Updated Graph: Travel Warnings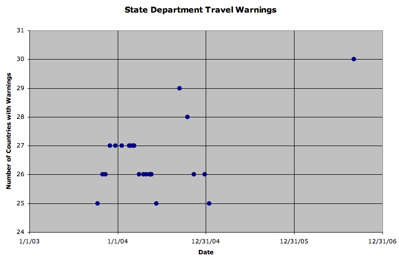 I haven't updated this in quite a long time. Since November of 2004 online actually. (Although I added a couple of data points in between without pushing the changes up to my site.) So it has been awhile. So I dropped the lines between the data points cause they meant nothing.

But you can see that the number of State Department Warnings is higher than any other point I have (although I can't say for sure it wasn't higher during the gaps).

Since I last took a data point in January 2005 Libya is safe to go to again, but Sri Lanka, East Timor, Chad, Phillipines, Eritrea, and Uzbekistan have been added to the list.

So I'll try to avoid any vacations to those places at the moment.