DVD: She's The Man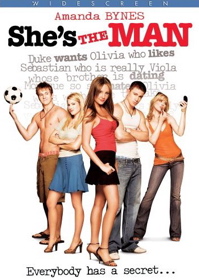 Last weekend we watched one of Amy's movies. This was supposedly loosely based on Shakespeare's Twelfth Night". But I had never seen or read that play, so I can't evaluate that. But basically it is all about a girl who decides to pretend to be a boy (taking the place of her brother in order to prove she can play soccer as well as the boys) and all the hi-jinx and romantic triangles and rectangles and such that ensue.

There were a few funny moments. But this most definitely was aimed at the 10-13 year old girl demographic, not at 36 year old men. It was cute and all, especially if you managed to completely and totally forget about the fact that she was not a convincing male and all the huge plot holes. But forgetting that, it was cute and there were a few moments to laugh at.

And if you happen to have a 10 to 13 year old girl around, they will enjoy it I am sure. :-)
36? I thought you were 35.
I *thought* I was 36. :-(
any movie that has the "girl pretends to be boy" plotline can claim to be "loosely" based on that play. there were many 80's/90's movies with that theme, i.e., Just One of the Guys.
Rather, i think that "she's the man" can loosely be categorized as "entertainment".
It fits that loose category.
I think I am 36 now. Maybe?