The Delegates Trickle In
There were some delegate updates from CNN today.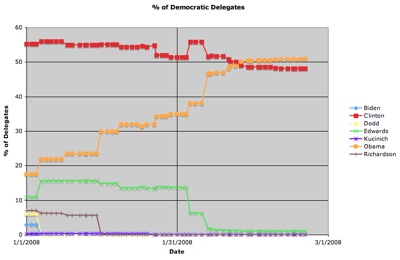 On the Dem side this should be Democrats Abroad and a few superdelegates who have expressed a preference in the last week or so. (I don't however actually see the Democrats abroad listed in CNN's state by state breakdown, so maybe they have forgotten them, but that would be stupid... it is a small number of delegates of course, and they have that whole fractional delegate thing, so maybe their system choked on that. :-) )

Anyway, the net results of today's changes were very small. 13 new delegates were added to CNN's totals. 8 for Obama, 5 for Clinton. We went from Obama 50.8%, Clinton 48.2%, Edwards 1.0% to Obama 50.9%, Clinton 48.1%, Edwards 1.0%. Like I said, tiny change.

We are mathematically still a long way from the end. Obama needs 1281 more delegates to win. Clinton would need 1353 more to win. Of course, the big question is will one of them give up at some point. (I'm of course guessing Clinton will do just that if she loses Ohio and Texas.) Otherwise, we could certainly go straight through to the convention.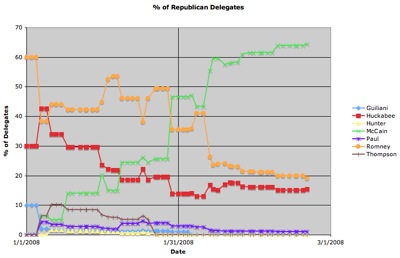 69 delegates were added on the Republican side. 20 of these were from the Republican caucuses in Puerto Rico. Like the Democrats abroad on the other side, CNN doesn't list this on their state by state breakdown. I'm not 100% sure where the other 49 come from. I suspect they are from CNN finally getting around to adding up final delegate results from Wisconsin and Washington State. In any case, McCain gains 53 more delegates. Also for the first time since my February 10th update, Huckabee gains some delegates... a whole 16 delegates.

In any case, McCain is closing in on the magic number. 220 delegates left to win.