Random Spot: Orotukan, Magadan, Russia
OK, I'm procrastinating for a few minutes. Went to play with my Random Spot Tool. Decided to do a little google research on the first place on land that came up. (I will NOT be planning a random vacation there however, the next one of those is still to Chacchoben, Quintana Roo, Mexico.)

So, the first place that came up was 63°43.421'N 152°38.658' E. It is 5470.02 miles from the house we are staying in, at an original bearing of 338.48361°. It is in northeastern Russia: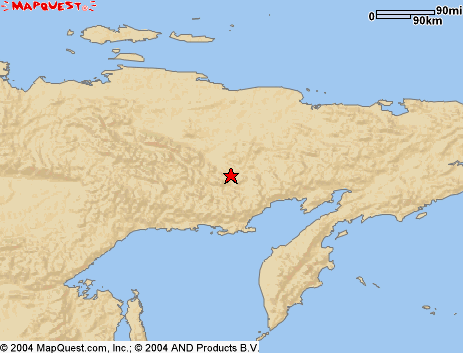 Zooming in: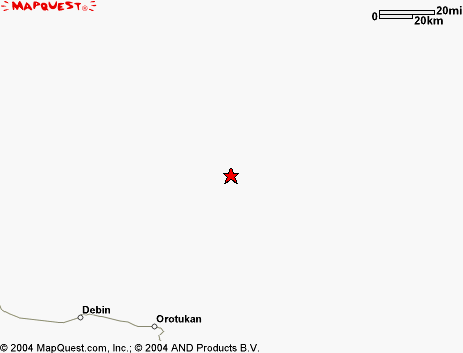 OK. So it is about 50 miles outside of Orotukan. So lets find the first 10 interesting things about Orotukan we can find on a Google Search on Orotukan:

#1) It is a mining area. (via InfoMine)

#2) There is a Russian blog named after it. (via Orotukan LiveJournal) Unfortunately, I can not read Russian.

#3) A company named Western Pinnacle has an exploration licence for mining there. Apperantly for an "alluvial gold placer mine". You can invest in Western Pinnacle (WPN:CNDX). (via Placer Mine News)

#4) It was a location for one of Stalins "penalty camps". When you got "sent to Siberia" this would be one of those places I guess. (via Yale Review of Books)

#5) It is on the path of something called the "International Peace Trail" that some idealist group is trying to get set up as a ring of parks and trails circling the earth. (via The International Peace Trail Project)

#6) The chief manager of one of the gold mines (Orotukansky GOK) is Alexander Grinenko, and I have his address and phone number now. (via InfoMine Research Group)

#7) A company named Geometall says about their operations there: "The geological prospecting and exploration operations at the facilities "Chai-Yurya" and "Orotukan" performed by the enterprise are oriented towards identification of ore deposits containing gold and silver in the Kolyma area; their opening up will permit compensating for a reduction in the mining of placer gold and stabilizing the socio-economic situation in the Region. " Iiya Rosenblum is the Director. (via Grand Encyclopedia of Russian Goods and Services)

#8) Estimated Population of Orotukan in 2004 was 2,800 people. (via World Gazetteer)

#9) Asdu Oll, Chairman of the Board of the Estonian Institute for Human Rights, used to work in Orotukan from 1962 to 1970. (via World Security Network)

#10) In 1998, there was some illegal panning for gold: "Police seized 170 kilograms of gold from illegal gold prospectors in Magadan Region's Khasynsky County Aug. 23. According to the regional Internal Affairs Department, five villagers from Orotukan were caught panning gold on a stream 30 kilometers from the village. Police fired several shots when the prospectors resisted arrest. No casualties were reported. Two of the detained are 9th graders at a local school. " (via Vladivostok News)

OK. That is ten items. And I have procrastinated and wasted enough time for today. (Although it is surprisingly quick to do this kind of search. Really only took a few minutes. Ain't the Internets wonderful? :-)

Sounds like an interesting place though, no?

Oh, I have to add one more thing cause I can't resist...

#11) The town is mentioned in Alexander Solzhenitsyn's The Gulag Archipelago. The quote is: "In Orotukan the earth thaws only in summer and only to the depth of three feet—and only then can they bury the bones of those who died during the winter." (via Poshlost)

Time for lunch, and then a fully productive and procrastination free afternoon. But this was fun. Maybe I'll do it again with a different random spot the next time I have a few minutes to kill between things.
Sounds like such a joyful spot! We should go!

I'm sure it would be delightful and charming!
you must have been doing this while billing another one of your clients for your time, right?
Why, I was billing you of course Matt!

Actually, no worries. It was just a few minutes right before lunch and was not billed to anyone, and I made up for it by staying a few minutes later after I would normally leave in the evening. So all is well. :-)