Lightning in a Bottle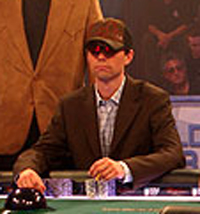 A couple weeks ago Chad suddenly sent an email asking "Sam, what has your cousin Jake been up to lately- making WPT final tables by chance?" and enclosed a link with the picture here and some interesting quotes:

Would a Legend Win the Legends of Poker
(BJ Nemeth, Cardplayer.com)
Day Four: The Final Table
The final six players who would play for more than a million dollars the next day in front of the WPT cameras were:
1. Todd Phillips $1,900,000 Seat 2
2. Alex Kahaner $1,855,000 Seat 6
3. Kenna James $1,540,000 Seat 1
4. Jake Minter $1,525,000 Seat 3
5. Tim Phan $1,085,000 Seat 5
6. Kevin O'Donnell $500,000 Seat 4

...

The blinds skyrocketed to $100,000-$200,000 ($20,000 ante) after the break, costing the players an average of $120,000 per hand. Here were the chip counts at the break:
1. Kenna James $3,680,000
2. Alex Kahaner $3,380,000
3. Jake Minter $1,320,000

Rather than going on tilt, James increased his chip lead after the break, coming back to again hold more than half of the chips in play ($5,200,000).

In hand No. 112, Kahaner raised to $500,000 from the button, Minter moved all in with A-5, and Kahaner immediately called with A-9. Minter was dominated, never improved, and was eliminated in third place, earning $333,600.
(via Chad Hunter)
Indeed, looking at the picture I did immediately know that the Jake Minter in the article was indeed my cousin, although I had not heard this news through the family grape vine. Yup, this was Jake Lightning Minter, the very same cousin who had given me my stuffed bear "Red Bear" when I was a newborn and he was six months old. Yup. That one.
Anyway, congrats to Jake and continued good luck on such endeavours!! Next time let me know when you'll be on TV and I'll be sure to Tivo it! :-)