Taking the fact that my morning routine has for years included emailing myself stats of various sorts, I realized that if I just looked at the timestamps of those emails, I could get a proxy for when I wake up in the morning. Technically it is not the moment I wake up, but the time I send myself that email. Typically that would be right before I step into the shower on a given day. The following graph shows the time I have gotten up over the past year. Notes about the interesting aspects of the chart after the chart.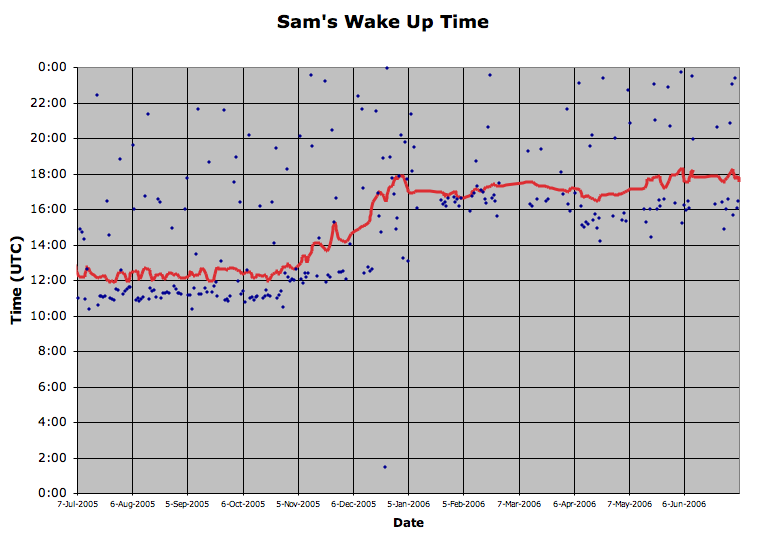 There are several items to see here:
The moving average is pulled up by about an hour due to weekends, when I wake up considerably later than on weekdays, but also with a lot more variation. Weekdays are very constrained due to work schedules, weekends are all over the place.
Jul 2005 to Oct 2005 I clearly normally got up around 11 UTC.
Nov 2005 I started getting up an hour later, around 12 UTC. This is due to the crazy "fall back" thing that happens. Everybody starts doing everything an hour later in the winter months than they do in the other months, and I go along with it.
In December after I had my offer from my new employer, but before I started at my new job, I got up much later, it was like weekends every day.
Jan 2006 to Mar 2006, once I was at the new job, I usually got up around 17 UTC. That is five hours later than I got up at the old job in November. Three hours can be explianed by the fact that I am further west and everybody seems to do everything 3 hours later here. But the other two hours are explained by the fact that my old job had everybody start insanely early in the morning, and things start at a normal time at my new job.
In April I started getting up about an hour earlier, about 16 UTC. This time it is because of the "spring forward thing" where everybody starts doing things earlier in the day again, and I did too.
The variability in my wake up time at my new job is much more than at my old job. This is because each day at my old job started with a meeting that everybody had to attend. At my new job the mornings are much more relaxed and freeform and nobody cares exactly when you get in.
Note: The averages given are not straight averages since then, for instance, if my average time of waking up was at 23:30, and one day I got up at 0:30, a normal average would move the average time EARLIER in the day, whereas the correct motion would be LATER in the day since 0:30 is an hour after 23:30 as well as 23 hours before. So I've used what I am calling a "cicular average". I treat the time of day as an angle around a circle with 24 hours in a full circle. I translate each data point into rectangular coordinates. I average THOSE points, then translate back into polar coordinates, discarding the radius as irrelevant, and transforming the angle back into the 0-24 scale.
Data as of 13 Aug 2006