Time to Fly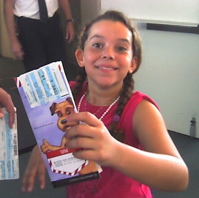 Sunday morning we took Amy to the airport. She was flying by herself for the first time. To go visit Brandy's mom for a week or so... along with all her old Pennsylvania friends. Brandy (and to a lesser extent me) were all nervous about the flying "unaccompanied minor" thing and all that. And sending her off by herself. (Under airline supervision of course.) And Brandy was completely getting hit by the fact that she had never in Amy's almost 10 years been away from her for a whole week.

Of course, Amy was having none of this. As the time got closer and closer, she got more and more excited. We had to wait forever in line to get all our stuff in order. The online kiosks were not working properly. We couldn't have used them anyway since Brandy had to fill out the unaccompanied minor form and get us our "parent passes" to get to the gate even though we were not flying anywhere. But because of whatever problems they were having it took us more than an hour to get set. Luckily security was a breeze this time.

We got to the gate just as they were starting to board. The people said they had been looking for Amy and had called for her on the speakers. (They board unaccompanied minors at the beginning of course.) As Brandy was teling Amy to be good and to behave and to do what they told her and call as soon as she got off the plane in Philly... the croud around laughed somewhat... and Amy was like "of course mom, don't be silly, of course..." and then they said "OK Miss Amy, time to board" and Amy was off like a dart, ready to run onto the plane. (The picture is just seconds before she dashed onto the plane...) She only just barely remembered to turn and wave goodbye to us. And then she was off. Bouncing into the walkway full of energy and excitement. I pity whoever ended up sitting next to her!

Anyway, the flight was uneventful and Grandma picked her up on the other end. They are now a third of the way though the visit or so, and by all accounts having a great time.

Brandy is working on fixing up Amy's room with new paint and a new arrangement and everything while Amy was gone. This was planned for a long time, but recently it wasn't clear if we'd be able to. We've scaled down the plans a bit, but the basics are still happening. Paint and all. And a few other things. So shh... don't tell Amy!
Cinema: War of the Worlds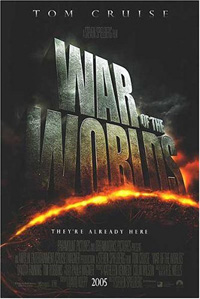 To distract ourselves from the events earlier, and also because we had promised Amy we would the weekend before and hadn't, we went to the movies Saturday afternoon. I really wanted to go to the penguin movie but War of the Worlds was the one we had promised Amy the week before. And she wanted to see either that or Must Love Dogs. Brandy and I were less in the mood for that. So War of the Worlds it was.

As for the movie itself... well, lots of things got blown up, lots of people got killed. Pretty much what you would expect. The main characters were for the most part pretty stupid though. Strange things from space are systematically destroying all the major cities in the world. So when you miraculously escape the New York area, where do you try to get to? That's right, Boston! Cause of course that will be fine! And in the meantime, try to stick close to the large congregations of refugees fleeing on highways and major roads. Head for the middle of the woods as far away from civilization as possible and try to camp out? No, never even consider that... And then the ending... not the part that everybody knows from the book, but the part they made up for this version... What they found when they got to the end of their journey should not be what they found. And we'll leave it at that.

Worth watching? Eh, sure. Once. But I probably could have waited to see it on DVD. It didn't need the whole extra theater thing. At least we went to the matenee... matanee... matanay... manatee... oh, whatever. The cheap afternoon showing.
...And Death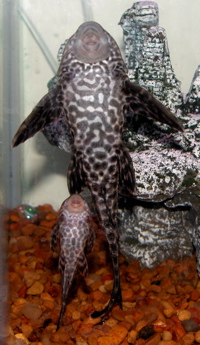 Just as the tadpoles have been turning into frogs and all of that going well... Brandy found Heracles was no longer with us. Heracles is the big guy in the picture. His un-named friend had died last year. Both had been with Brandy for many years. And Heracles had made friends with Icarus (the new guy). You can see how much the liked each other in the picture. Icarus followed Heracles all the time and imitated him.

Heracles had seemed fine, so once again this was a bit sudden. He was fine... and then he wasn't.

We had a brief ceremony and buried him in the back yard. Poor guy.

But then, a little later, we found that in the other tank... oh, background. The litte fish in Brandy's tank (not the plecos) started having babies a couple months ago. The tank got so full of babies that we got a second tank and moved about half in there. For that tank we got two more baby plecos. One was an albino that died after just a few weeks. The second looked a lot like Icarus (the baby in the tank with Heracles).

So anyway, a few hours after we found Heracles, we noticed that the one left in the new tank was nowhere to be seen. That isn't entirely unusual, as he had been known to hide in his castle for days at a time. But then Brandy saw... a clump of snails eating something. After a bit of looking we determined that it had to have been the pleco. He was almost gone. And we couldn't take him out, because we would have gotten snails too.

This all happend on Saturday. It was a sad day.