Lunch Puppy
So, as I was sitting down at my desk to eat my lunch, I looked up and I noticed that with absolutely no sound on entrance, there was now a very well behaved young dog sitting next to me, looking up at my hamburger. As I ate he lay down and settled in to wait patiently. He clearly wanted my last bite.

And he got it.

I am such a pushover.
Electoral College: First Poll for New Jersey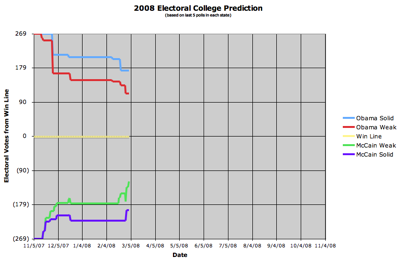 New Rasmussen McCain vs Obama poll for New Jersey. This is the first such poll for New Jersey and starts New Jersey out in the "Weak McCain" category (leading by 2%).

So now we have Obama 157, Clinton 151, and 230 electoral votes that still have no polls at all.