Electoral College: Minnesota strengthens for Obama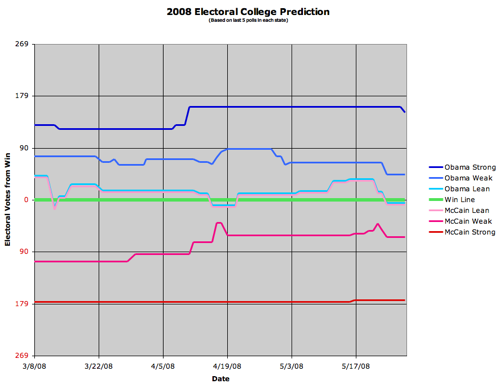 Today's round of polls includes a poll for Minnesota that pushes Obama's "last five polls" average lead over 10%, moving the state from "Weak Obama" to "Strong Obama". This is the first state added to Obama's "Strong" column since way back in March. Thus the streak of good poll results for Obama continues. Since only "Leaning" states moving back and forth affect my "best case scenarios" rather than strong or weak states, the summary does not change.

Current Summary:

McCain Best Case - McCain 313, Obama 225
Obama Best Case - Obama 333, McCain 205

And if everybody gets their leans (and Obama gets DC) - Obama 277, McCain 261
More Delegates, More Delegates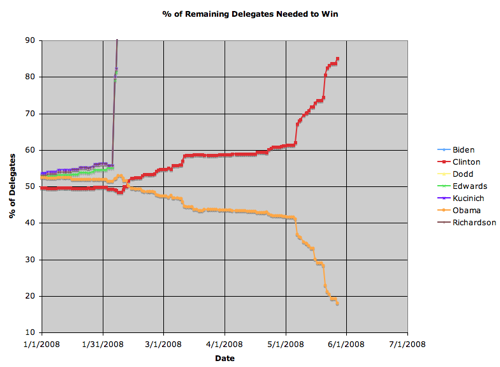 Six more supers today. Five for Obama, One for Clinton.

New stats:

Delegate count is: Obama 1974, Clinton 1780, Edwards 7

In percent terms that is: Obama 52.5%, Clinton 47.3%, Edwards 0.2%

2026 delegates are needed to win.

There are 289 delegates yet to be determined.

Obama needs 52 more delegates to win.

Clinton needs 246 more delegates to win.

In percentage terms, that means:

Obama needs 18.0% of the remaining delegates to win. (It was 28.3% before KY/OR.)

Clinton needs 85.1% of the remaining delegates to win. (It was 74.4% before KY/OR.)

As a note of interest, based on the latest polls in Puerto Rico, Montana and South Dakota, I expect Obama will pick up about 40 delegates in those primaries. That would putt him potentially only 12 delegates away from the win if that were to happen.

That assumes of course no Florida and Michigan. But conventional wisdom at this point is that there will be some seating of Florida and Michigan this weekend, pushing the magic number further out and therefore putting Obama a bit further away from the win... although still a lot closer than Clinton.
Curmudgeon's Corner: Continuous Surge of Different Bubbles
San and Ivan talk about:
Oil, Oil, Oil
Transportation Policy
Choosing a Car
Sam's Driving Adventures
Office 2008 Update
Phoenix Lander
Hillary and RFK
Hillary's Math
Puerto Rican Primary
Treatment of Vets
The Rules Committee
Unity Ticket?

1-Click Subscribe in iTunes

View in iTunes

Podcast XML Feed