Curmudgeon's Corner: Freaking Huge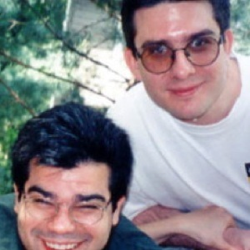 Sam and Ivan talk about:
Iran
Honduras
Dead Celebrities
Johnny Carson
Governor Sanford
Red Line Crash
Big Bills

1-Click Subscribe in iTunes

View in iTunes

Podcast XML Feed
Note: For those using the "View in iTunes" link, it often takes iTunes quite a few hours to show a new episode after the episode is posted here. So if you are looking for the podcast very soon after I post this, use one of the other methods to find the new episode. For those who are subscribed, your Podcast software should pick up the new episode next time it checks for new episodes on its own, or you can always force a refresh. For those using the XML feed directly, the new episode is now there.
Somalia Crossroads
An article by my father in this month's In These Times magazine...

The Somalia Crossroads
(William Minter and Daniel Volman, In These Times, 29 Jun 2009)
In October 2008, Human Rights Watch rated Somalia the most ignored tragedy in the world. Almost 1.5 million Somalis are internally displaced, and an additional half million are refugees. Two decades of instability, including a U.S.-backed intervention by Ethiopian troops in December 2006, have failed to put Somalia on the map.

...

It took the drama of high seas piracy to bring Somalia back into the media spotlight. The hijacking of a Saudi supertanker in November was followed by the capture and sensational rescue of U.S. merchant ship Captain Richard Phillips in April.

...

After Navy sharpshooters rescued Captain Phillips, killing three pirates in the action, the media clamor abated. Once again, the debate on Somalia retreated to inside-the-beltway obscurity. (You can view the spike in public attention by searching for "Somalia" on Google Trends at www.google.com/trends.)

But for Somalis, the crisis continues. So does the danger that Washington may be tempted into military intervention that would be damaging for Somalis, for U.S. relations with Africa and for U.S. security. That risk exists, despite commendable caution thus far by Obama administration policymakers, who are aware of the potential for military actions to backfire.

...
She Be Sunk, Cap'n
While I was asleep the news broke that the folks who run The Pirate Bay have seemingly finally caved and are selling. (This is everywhere now, but I first saw the news at TorrentFreak.) In the Pirate Bay's confirmation of the news they do some weak justifications and some talk about how things will move forward, but in the end the news is the same. I don't think anyone would seriously believe that being owned by a public company won't fundamentally change most if not all of the things that made the site interesting. (Most prominently or course being a blatant disregard for the law... OK, not quite, they always claimed what they were doing was perfectly legal in Sweden, and they just disregarded laws elsewhere... but still, that was the flavor of things.)

Of course as usual with such things, in the end it will have little or no effect on actual internet piracy, it will just move it around. But it is somewhat more disappointing in this case, as the way in which these folks had been completely defiant and mocking of the entertainment industry was just... entertaining. And they couched everything in terms of higher principals which they were defending. In the end though, I guess years of legal battles and a few big losses on that front can wear you down.

Oh well.

(Oh, and if this deal actually goes through, I'm guessing the buyers will soon find their purchase useless and without much value... either they will fundamentally change and lose most users and the value of the brand, or they will try not to and get crushed by legal pressure that a small scrappy private outfit with a "mission" could tolerate but a public company never could. The press release from the company seems to indicate the first possibility rather than the second.)