Sam's Second 1998 Vacation
45°36'N 70°48'W
Unfortunately, I did not write a full account of this trip at the time. It was a trip to this random spot near Lac Megantic in Quebec Canada. My mother and I drove on back roads from her home in Westfield Massachusetts to Lac Megantic. We did back roads in Western Massachusetts, Southern Vermont, Northern New Hampshire and Southeastern Quebec. The drive took us about 14 hours, including backtracking several times when we got stuck in dead ends. We stayed at a B&B outside town that opened up just for us. (November not being a big tourist season for them I guess.)
In the absence of a full contemporaneous account, in January 2005, a little over six years after the fact, I asked my mother to write up an account of the trip. Here is what she came up with:
Mother's 2005 Q1 Account of 1998 Q4 Random Vacation
From Ruth Brandon's 1998 journal (and 2005 memories):
November 28, 1998
This Thanksgiving vacation has been really fine. Friday a.m. Sam and I left Westfield, Massachusetts at 5 a.m. for Lac Megantic in Quebec – arrived at almost 9 p.m. Sam was the first driver – which meant we went WEST (a totally abnormal exit) on Western Avenue and Route 20 to Russell, then a back way to Rt. 112 and on via Huntington, Leeds, Conway and on north through the Berkshires – still on back roads - to Guilford, VT and Brattleboro where we got route 5 to Bellows Falls. We then crossed the Connecticut River into North Walpole, NH and went pretty much straight north to Lebanon, NH. Then, however,we got onto various unnumbered woods roads and wandered for ages – in gorgeous snowy (& snowing) northern NH.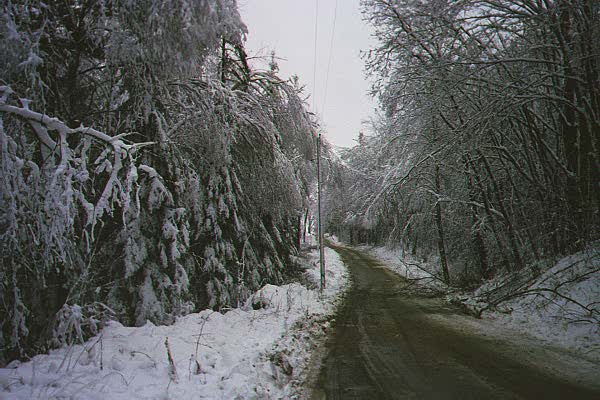 At one place just west of Stark, we took a road north toward the White Mountains that followed a creek up and up, snow deeper and deeper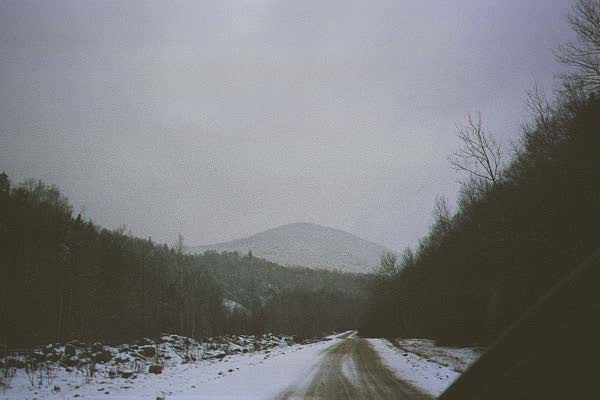 There were fewer and fewer tracks as we passed uninhabited summer cottages. I kept suggesting a driveway etc where we might turn around as I looked straight down a very steep bank to the stream in the distance below on my side of the car. Roads were treacherous and getting stuck was a very real possibility – as was sliding out of control. However, this was Sam's trip and he was in no mood for suggestions – especially from a parent – so I TRIED not to either boss or panic! But I was REALLY anxious – and increasingly annoyed at Sam's pigheadedness at continuing forward, higher and deeper into snow! Finally Sam had to really persist – going forward, then back – trying and trying – spinning wheels – to make it up one hill only to decide about a mile further that we should turn back after all.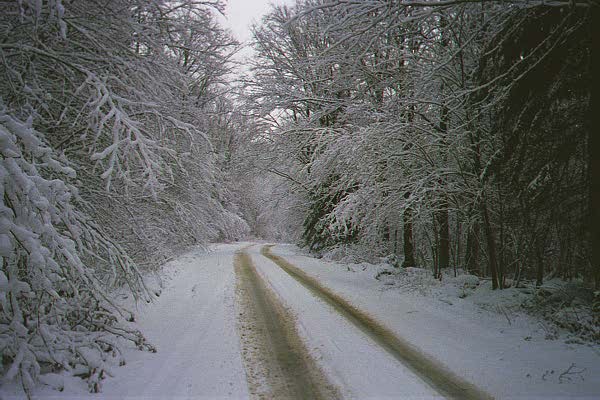 Of course pigheadedness and independence are family traits so his behavior was not unexpected – and adult children never like taking instruction from parents and need to assert their own selves so... Finally only a single track went further and the bottom of our Saturn was dragging snow in the middle already! Sam finally turned around!!! We backtracked about 15 miles. After we got home we looked on a computer map program and found that in fact the road did NOT go through so it was wise we returned! But it was gorgeous out there! Other roads were slightly snowy but the snow was the kind that when it came the night before coated every branch turning forests into fairylands of frosty beauty.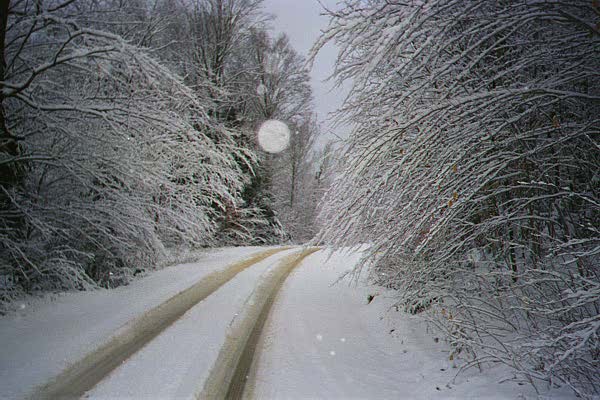 However, on that dead-end summer road up into part of the White Mountains, I was totally frustrated and we had a mother-son struggle going on.
From Stark we then went east but then returned further north to take Route 3 across into Canada. In Canada we also found snowy beauty but it was already dark! The land was much more open – farms and fields in much of it – roads very straight. Notre Dame sur les Bois, La Patrie, and other towns – finally Lac Megantic.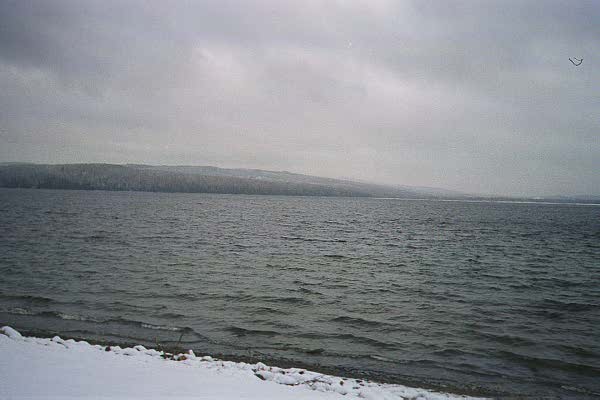 When we arrived – an hour or two late for when we were expected at the B & B – I wanted to go there straight away as much out of respect for the owners and to assure them we were coming as anything. Sam won again. Sam had a pre-chosen final destination by random latitude and longitude that turned out to be in a farm not far from Route 204 east about 4 miles. I did NOT think finding the spot first was important. Although I was exhausted and begged to go straight to our lodging, he was eager to identify the spot already on Friday – so we did! No pictures however - dusk deepened too fast!
When we finally went to the B & B, it turned out that we were the only guests at Les Vitorines – A Country Inn Bed and Breakfast by the lake – lovely really.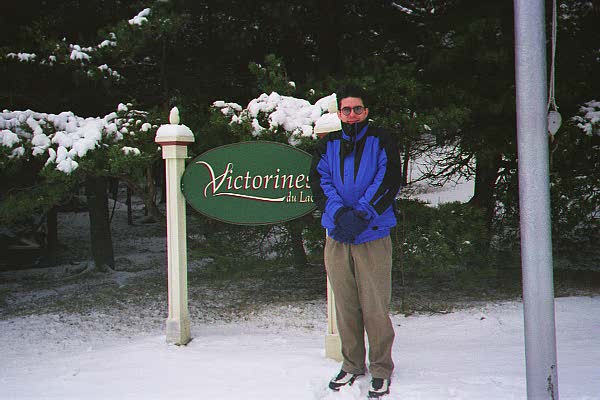 We were the only clients for the B & B and that it was gorgeously decorated for Christmas inside and out and was really a huge hotel type space. Two people had been waiting and waiting for our arrival and almost gave up….I was ashamed of us for keeping them waiting, inconveniencing them.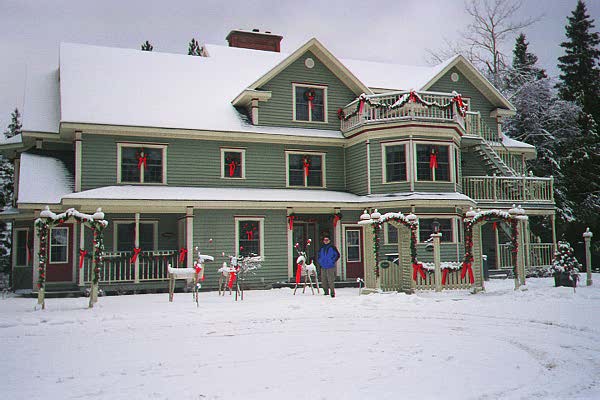 Les Vitorines hospitality was impeccable – the host and hostess gave us directions to a place to find an evening meal – near the post office.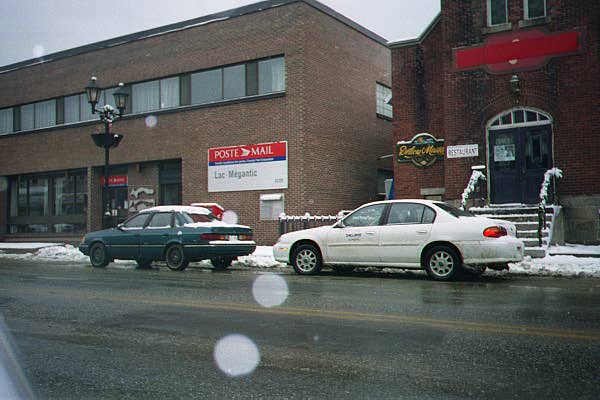 November 29, 1998
The next day we returned to photograph Sam's random spot.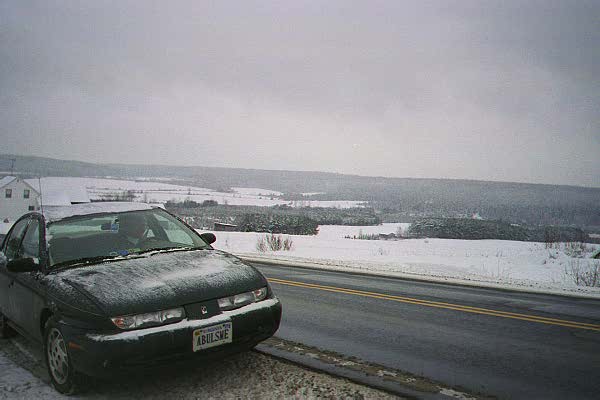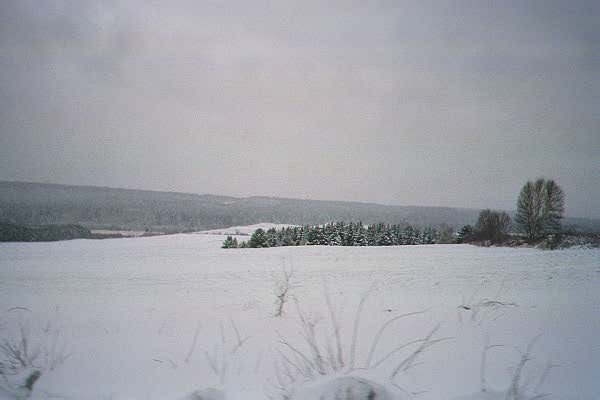 It was fun there in Quebec to try to use my extremely rusty high school French – I could read the menu but communicating verbally with the waiter was another matter! Likewise with the staff at the B & B but that part of the trip I found fun – trying to communicate in a language I do not consider myself able to speak, only read. I like that kind of challenge! The #1 staff at the B & B spoke some English but the women making breakfast etc did not. The B & B is a summer residence for artists – has a special program for them to stay there. The frozen lake with distant mountains beyond was beautiful.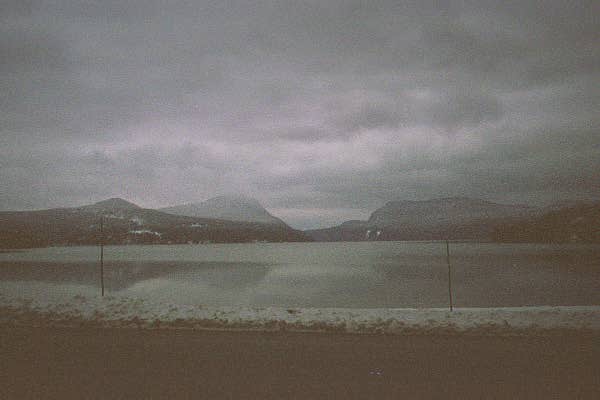 We traveled 480 miles to arrive – over 100 miles extra really as we did not use a map or plot our course logically! We explored roads "going the right direction" using Sam's GPS (Global Positioning System). Sam had programmed it to not let us take main roads!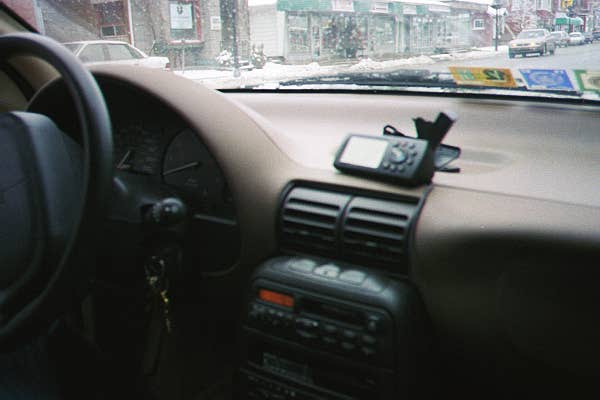 Only on the way home, he let ME plot the course! Came home via Vermont. I showed Sam Hardwick... points from my pre-school memory... and the Vermont capitol in Montpelier.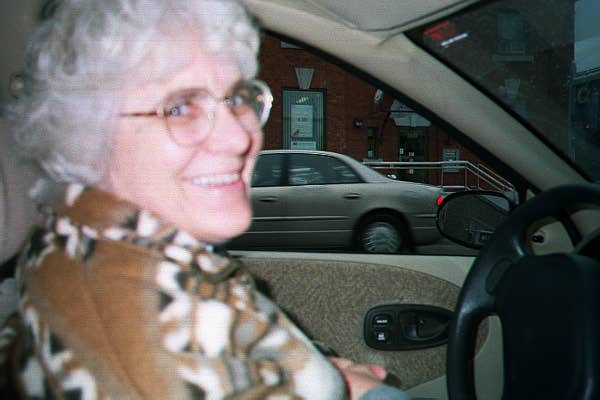 Really fine trip! I'm glad Sam invited me! And that I accepted. I would recommend to anyone to go out of their way to visit Lac Megantic – summer or winter. Apparently the mountains that were visible have skiing, not too common in the very flat lower land of Quebec!