Sam's Second 1999 Vacation
45°38'27.1"N 64°25'4.7"W
Day One
So, the plan had been to wake up nice and early on day one and start driving along the scenic routes of the southwestern coast of Nova Scotia, ending up in Yarmouth for the night. Well, we did not get an early start. Ivan says he managed to get up fairly early and went to the gym and whatnot. I have no idea. I was asleep. All I know is that Ivan woke me up around 11 AM. And that was still too early for me. I wanted to sleep longer.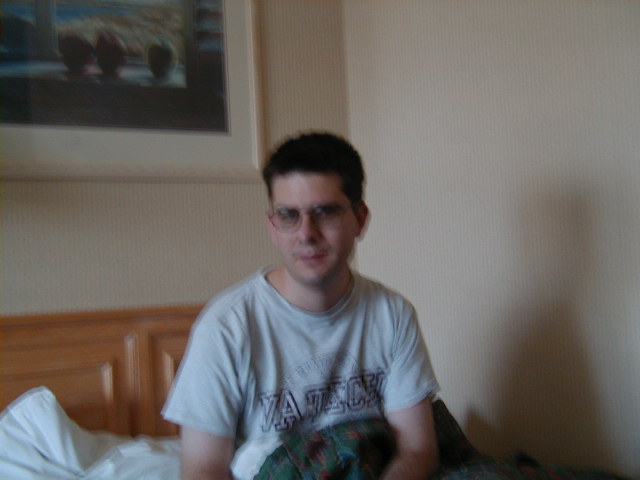 The picture is blurry. Ivan didn't know how to properly use the camera yet. He said the blurriness added to the effect of me having just woken up.
In any case, later than expected, we did get off and on the road. We did go ahead and call a hotel in Yarmoth to make reservations. We didn't want to get there and be stuck without a place to stay! BUt then it was off onto the road...
It was very scenic. Full of beautiful views and quaint small towns. You'd always be looking out the car window and seeing boats out in small coves...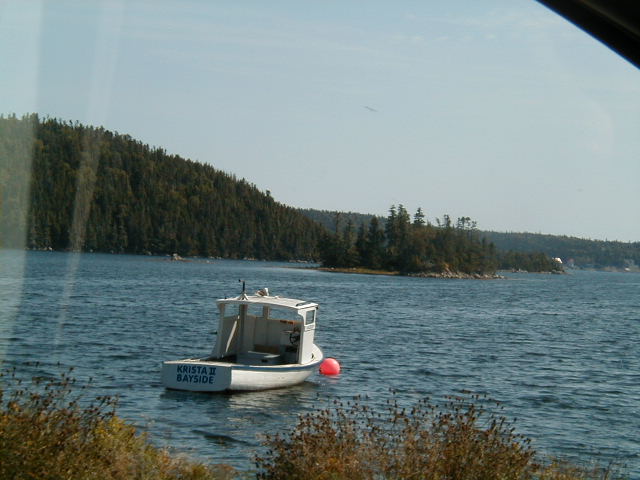 And even the roads themselves were fairly pretty...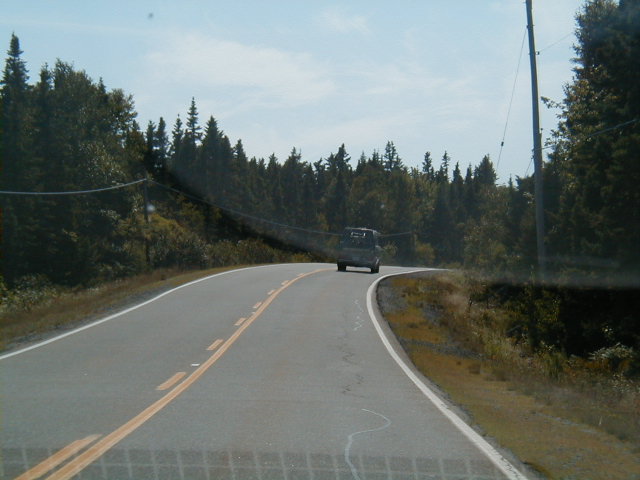 The first big stop though was the lighthouse at Peggy's cove. Peggy's Cove was also the place where one year to the day before we arrived in Nova Scotia, Swiss Air Flight 111 had crashed just off shore and the residents there and in other small towns along the coast had helped in the search and rescue operation.While we had been flying in to land the previous night mermorial services had been going on for all those that had died. All the families and such had flown in. Everywhere we went that first day gas stations and minimarts and evenjust people's houses had signs outside commemorating the anniversary and expressing sympathies to the relatives. So there was definately a stong tinge of sadness in the air.
Peggy's Cove itslef has a perminent population of only SIXTY people. BUt there were probably three times that many tourists all there at the lighthouse...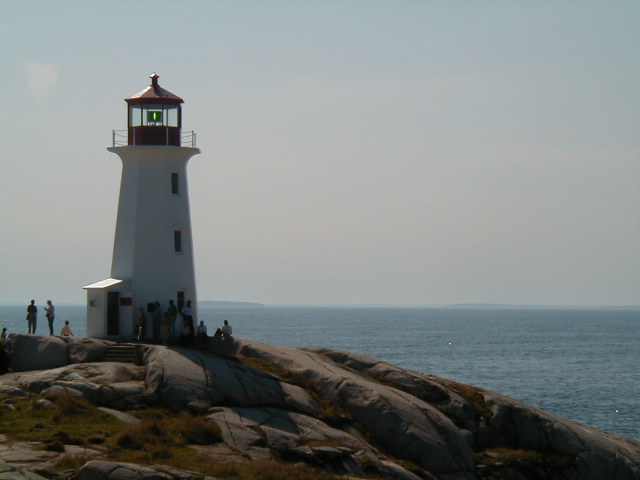 People were there just checking out the waves...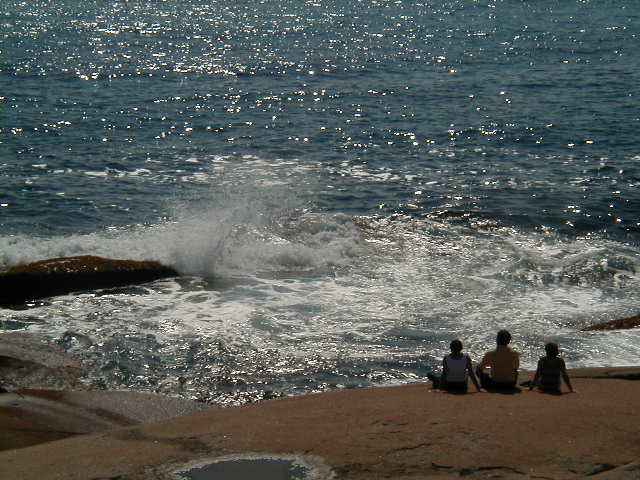 And of course the lighthouse itself.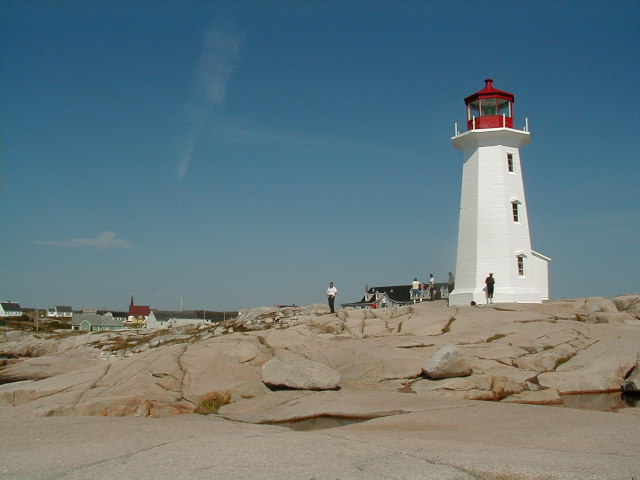 Of course Ivan pose for a picture...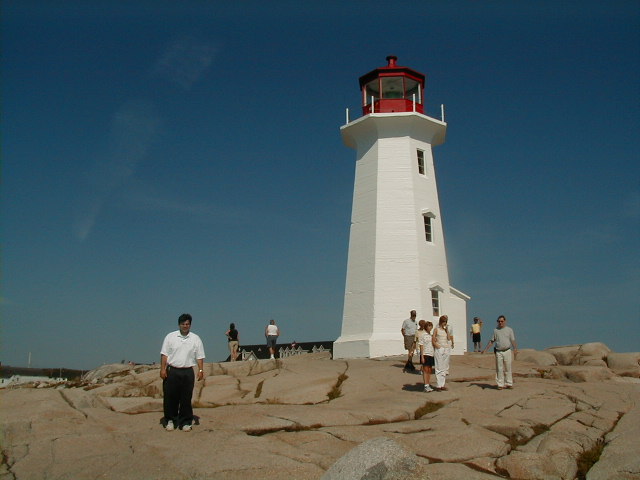 Now... while I was getting in place to take this picture, I stepped backward... into a two foot deap pool of water. My left foot was completely submerged. This will become important later. Meanwhile, I of course posed as well...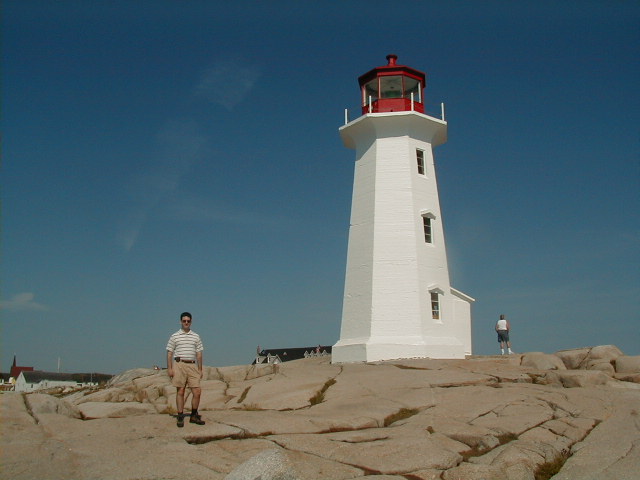 Then us together...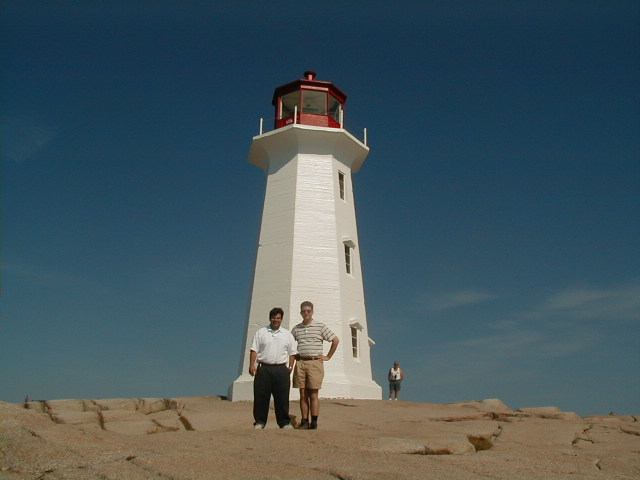 And again facing the sea...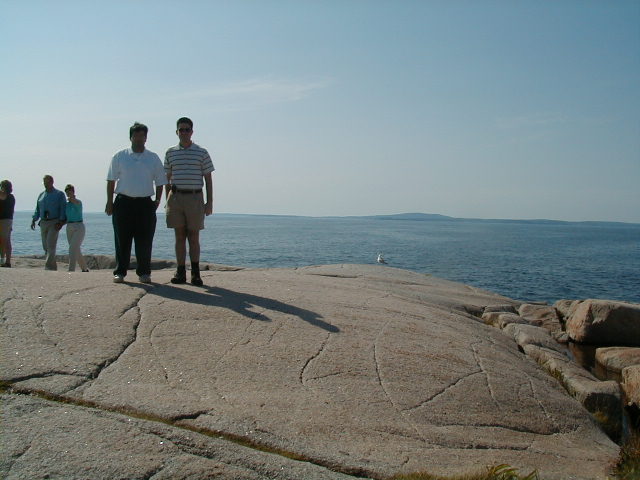 Oh yeah, and there were birds there too...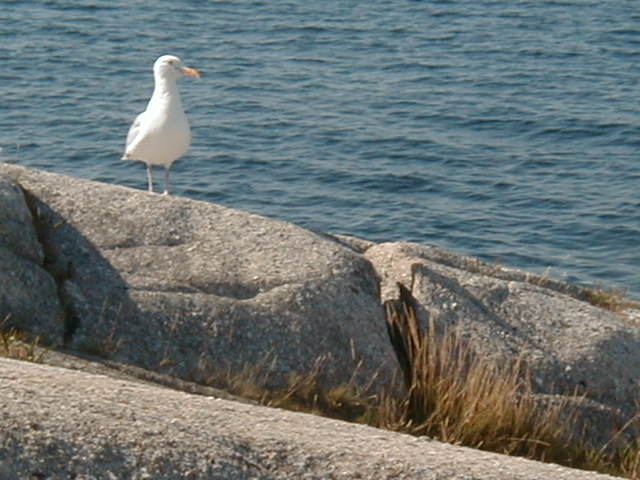 So now, having taken all the pictures, and also having sent a couple post cards from the post office situated inside the lighthouse, I had to empty out my shoe, which was completely and totally filled with water. I had been sloshing around for half an hour...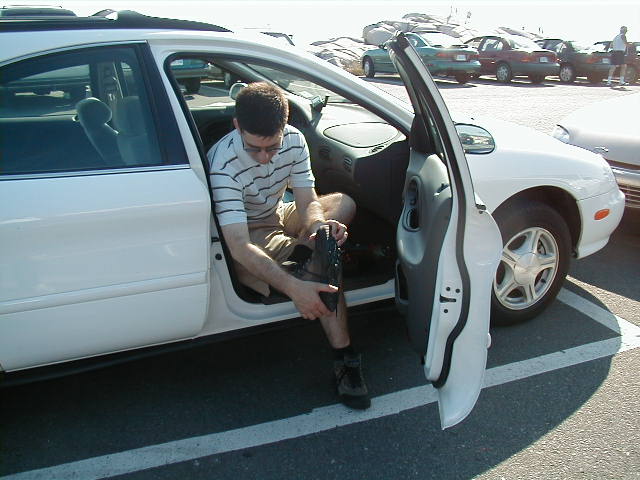 So, OK, we got back on the road... and we saw more pretty roads...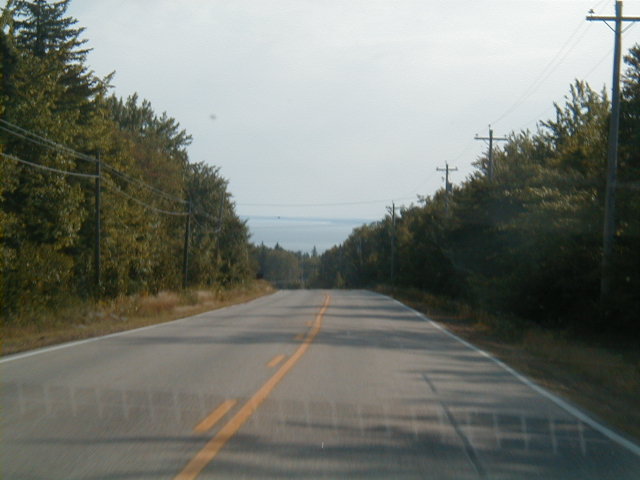 And great little towns by the sea...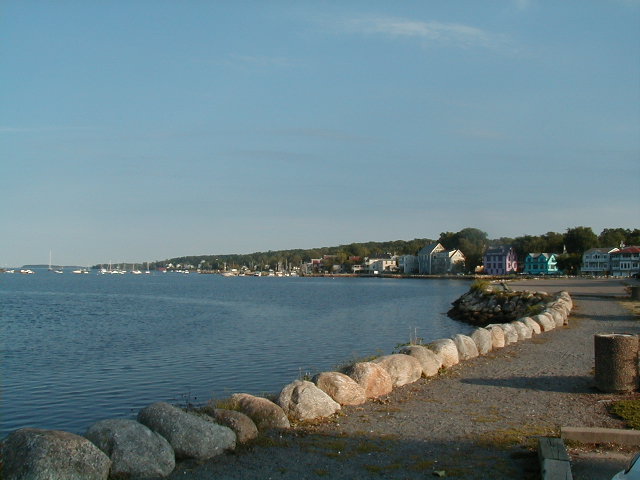 But when Ivan stopped for coffee at the town above, I still could not get out. My left shoe was still soaked completey through. And I was not going to walk around in one shoe, or dripping and squishing with every step. So... Ivan tied the shoe to the roofrack of the Taurus stationwagon we were in so it could dry better...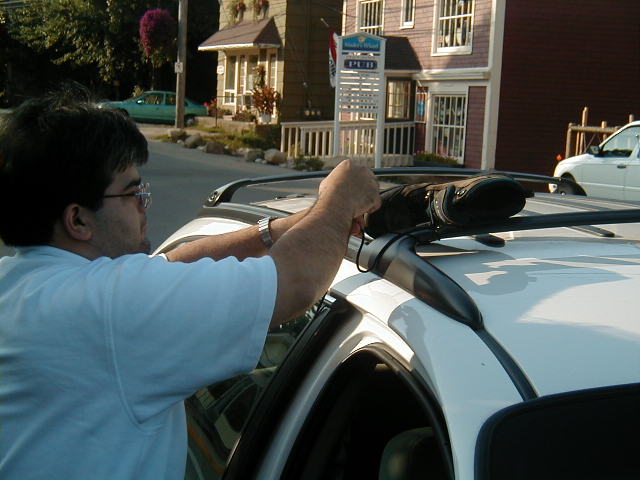 As we went through the next few towns, in a couple of places groups of teenage locals would point at us and yell and laugh... we didn't understand at first, but now, in retrospect, the shoe on the roof may have had something to do with it.
At one point we passed a sign, and for some bizzare reason, Ivan wanted me to take a picture of it...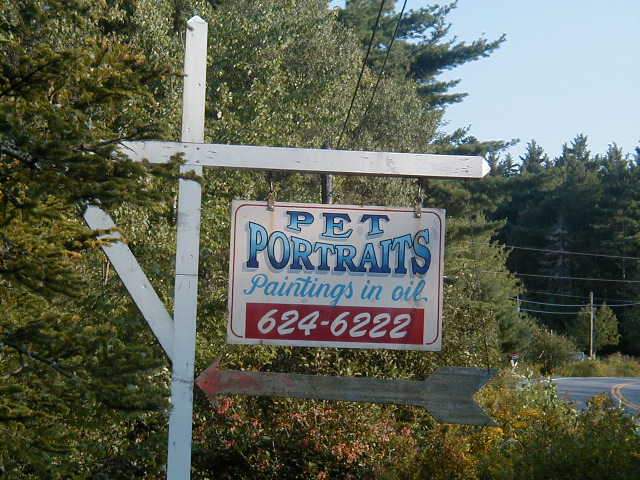 So OK, we were on the way again, with the shoe starting to dry on the roof... We saw many more ocean views...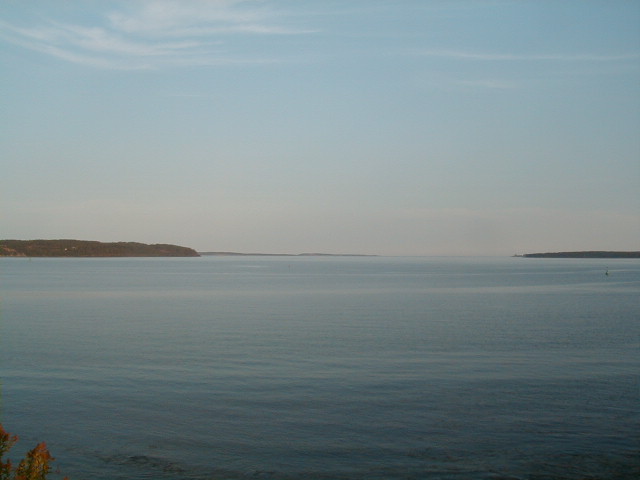 And a cool sunset over the boats in an inlet...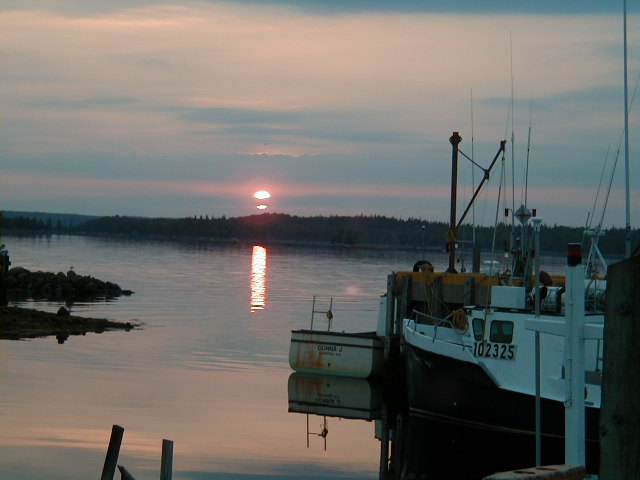 At this point we realized that we were still a long way from Yarmouth. If we kept going we probably wouldn't be there until midnight. It was already too late to cancel... we were probably just going to hightail it there and try to make it as soon as we could. No more scenic routes, useless in the dark anyway, just take the main highway. But first we had to get gas. We pulled out at an exit that said it had gas. The gas station was closed. But right next to it was a restaurant and a motel. We decided to screw the place in YArmoth and just see if this place had vacancies. They did, and thus our plans changed, we would stay here.
Turns out the place was called the Quarterdeck, and is actually a pretty known place. And it was VERY nice. For only a little more than the hotel we had stayed in Halifax you actually get a whole townhouse with two bedrooms a full kitchen and a living room with a fireplace. Both bedrooms and the living room have patios directly overlooking the ocean, with a large white sand beach right there out the window. It was very nice. You could easily sleep five or six people there, and if you did it would be a complete steal in terms of price. Great place. We recommend it wholeheartidly.
I did however have a little trouble with the Quarterdeck. There was no warning posted saying not to try to open the door without having opened the blinds in front of the door first. So I opened the door and all the blinds came crashing down. I spent at least half an hour trying to rehang the things.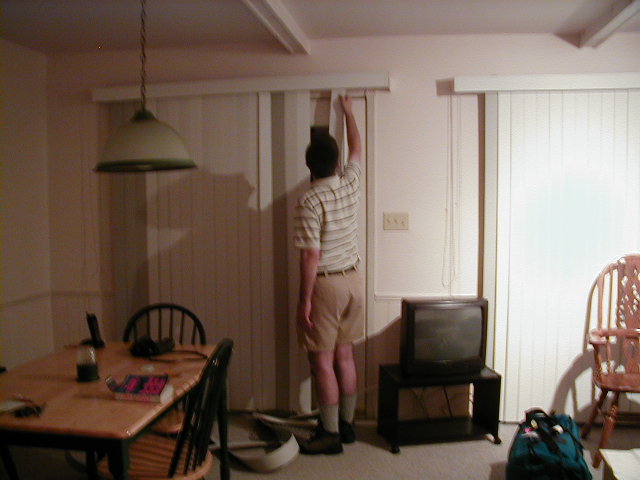 But then it was time for sleep. Once again, I was out like a light.