Sam's Second 1999 Vacation
45°38'27.1"N 64°25'4.7"W
Day Three
So, the Bluenose Motel did not have an alarm clock. I set my pager and my little travel shortwave radio. But those did not wake us up effectively. We knew we had to get up early on Day Three to manage to get to both the tidal thing and the random spot. BUt we were tired. We had not gotten in until very late the previous night. We ended up waking up around 10 AM. We got a slow start but then we were on our way. The notion was to head toward the random spot, stopping at tidal bore place on the way if we could.
As we got underway, we looked with a more detailed eye at the book we had. High tide, when they do the rafting, had been at 6:50 AM that day. Woops. We may have missed it. According to the schedule in the book it looked like they only did it once per day. Drat.
So we drove up anyway, deciding to at least check in at one or two of the places, because even if we couldn't do the rafting thing, perhaps we could just get some viewing of some of the locations at low tide, which were supposed to be pretty impressive too. We stopped at one place... and the two guys there... very friendly... like every single Nova Scotian we ran into... asked if we wanted to go on that EVENING'S rafting... for the second high tide of the day. Yes! We hadn't missed it! We signed up immediately.
Now, the evening rafting was at 5:30 PM. It was about 1 PM. We had to get to the random spot and back in that time. It would be tight. So we headed out. The random spot was near Joggins, a small town which one of the guys at the rafting place said was out in the middle of nowhere down a road "built by a snake". Goody!
We took the main highway as far as we could... we were limited on time, couldn't go back roads the whole way... And then we got off and started taking smaller roads heading toward Joggins. Right as we were heading into the town of Joggins we turned a bend. We were five kilometers from the random spot. According to the random spot the GPS was straight ahead... but straight ahead was a huge forest... it didn't look like there was a way into it...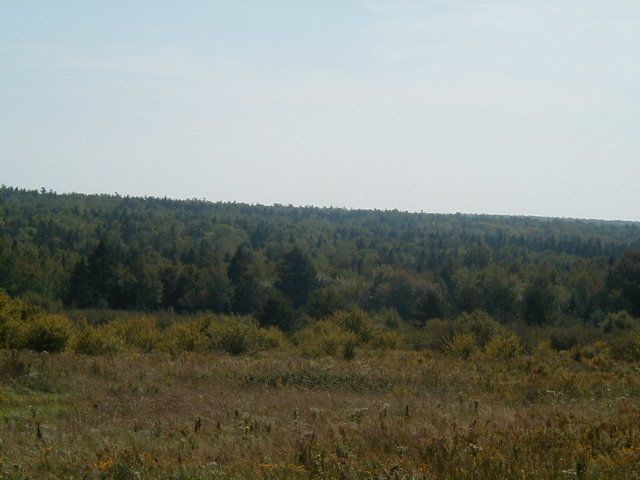 But nevertheless we tried... taking a dirt road off to the side...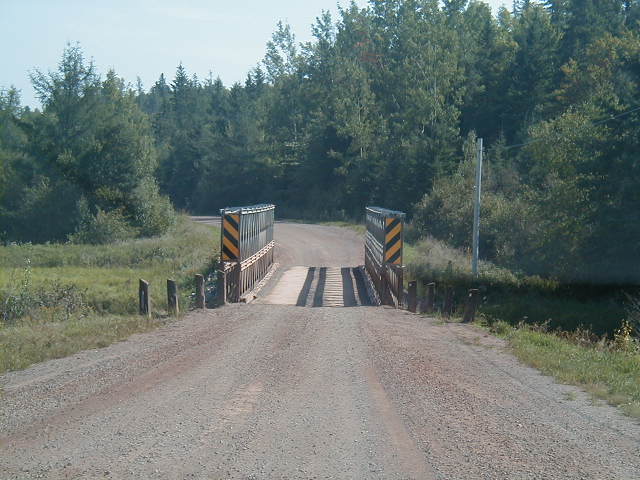 We did manage to get a little closer... down to three kilometers from the random spot. At that point, looking toward the spot, you saw this...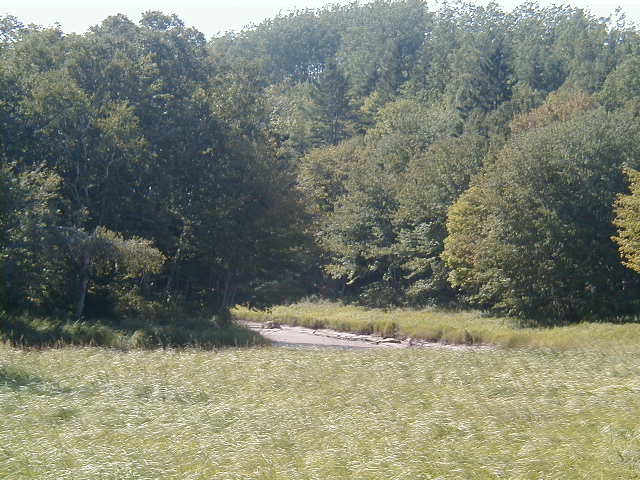 After exploring the region a bit and referencing a few maps, I was convinced this was as close as we could get without getting out of the car and hiking through dense woods full of porcupines hungering for revenge. So we started to head back...
Heading out we passed over a couple bridegs where evidence of the strange things the tides did to the rivers and streams around here was very visible...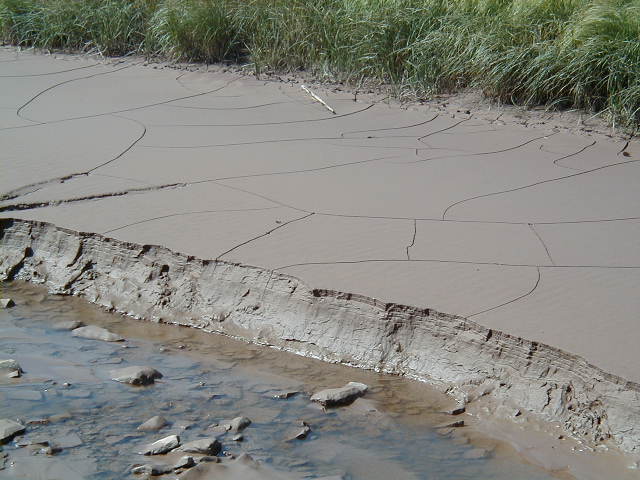 And the dirt rroad heading back out got pretty dirty an dusty...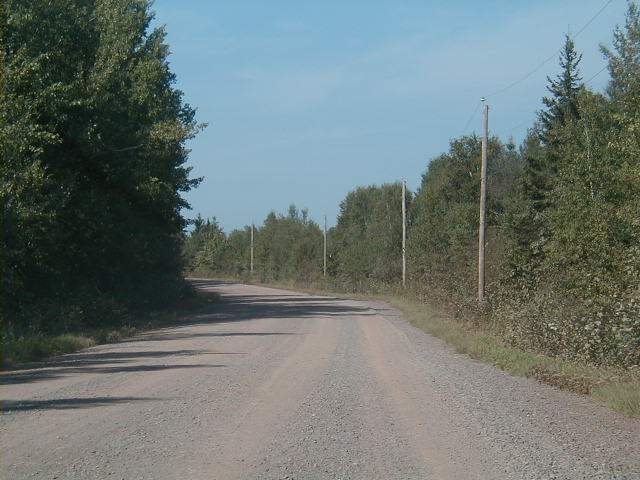 We were really in the middle of nowhere. And the car kicked up lots more dirt!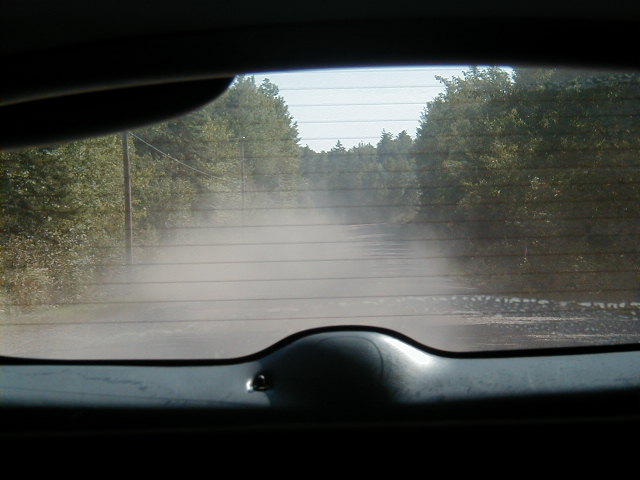 Of course, that's why we all love Canada...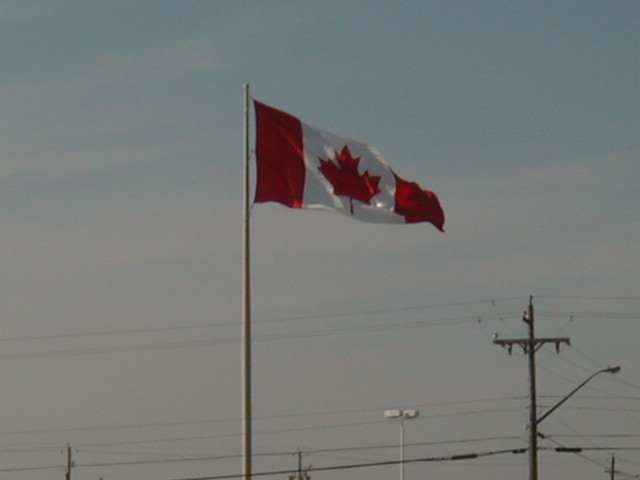 In any case, we got back to the "tidal bore rafting" place just in time. We had bought a waterproof disposable camera for pictures in the rafts, since we knew we would be completely drenched... so the quality of the next round of pictures is a bit less than what came through my digital camera on the rest of this... they all had to be developed and then scanned... but they get the point across... so anyway... Ivan and I got dressed in all of our gear...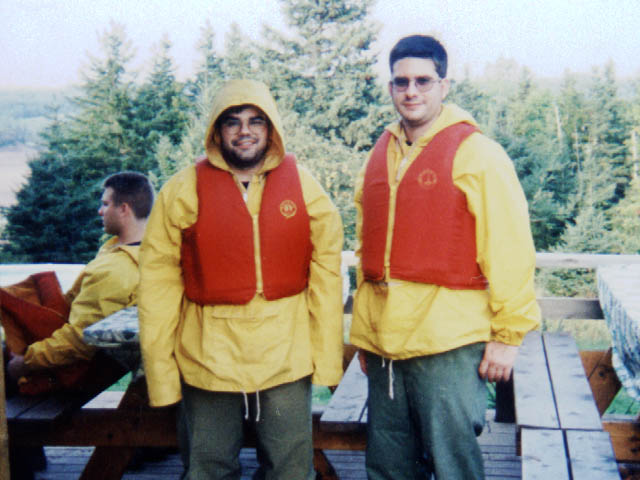 Then they drove us (and the other people) down a step bank where we had to climb down a steep set of stairs then walk down a very muddy slope to the boats. Here Ivan poses in front of what would become our raft.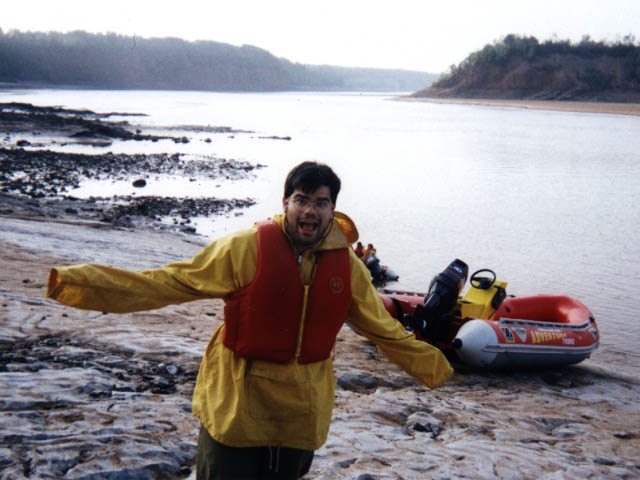 Then we headed out into the river. And waited. Until the tide came in it was just a sleepy river. We took advantage of this to throw the camera to another one of the rafts and have them take a picture.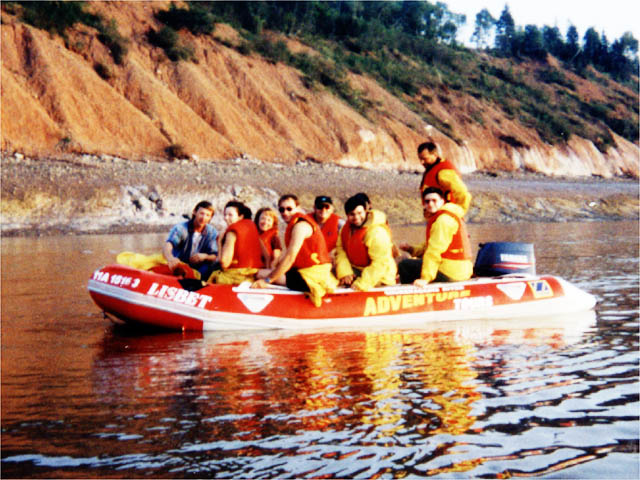 That's Ivan and me on the right. The guy standing up was the guide. The other folks in our raft included a couple locals and then some people from Western Canada.
Then finally the tide came in. It started setting up standing waves in the water. At first they were pretty small, but they grew fast. The water was rising at one foot every five minutes.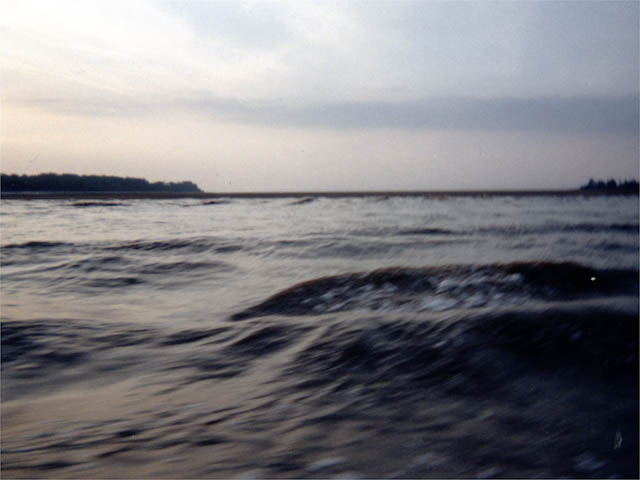 And then we started hitting the rapids. The guide driving the raft kept motoring us right into the biggest waves, which although sometimes on this river they apperantly get much bigger, were probably about 12 feet high. That was quite high enough to make the boat go up on quite a large angle, and for huge waves to come in completely soaking all of us and filling the interior of the raft until it slowly drained. I tried to take a bunch of pictures of the waves crashing over the boat while simultaneously holding on for dear life, but the sun was going down and it was getting dark. Unfortunately only one of those pictures came out.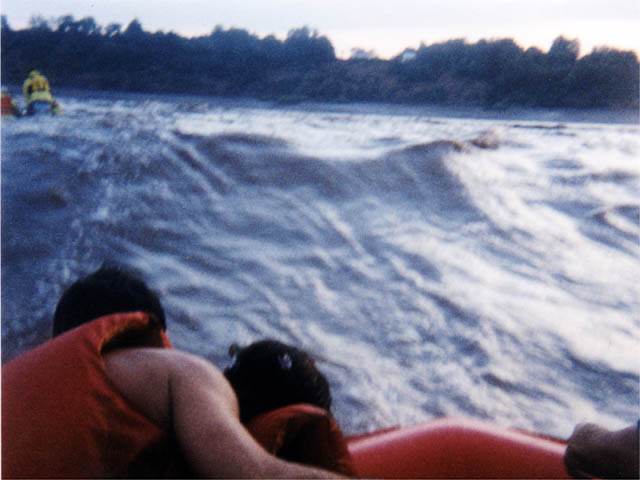 It just doesn't do justice to how big the waves were and how soaked we got, but hey, it gives a taste of it. I also tried to take some pictures of us soaked afterwards, but again, because of the low light they didn't come out. We had a blast though. It was great fun.
After a barbeque at the rafting place (I ate two hotdogs) we headed back to the Bluenose. We had decided to just reserve it for two nights rather than risk not having a place to stay for our final night.
When we arrived, we looked at the nighttime skyline ofHalifax, which we would be leaving in the morning...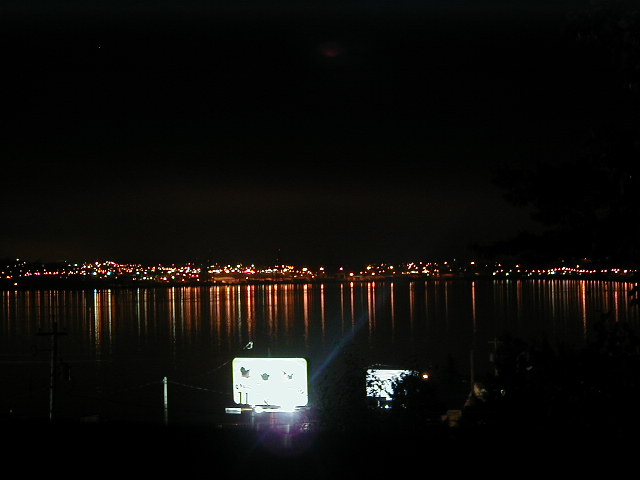 Then after reading awhile and watching some TV, we called it an end to Day Three.