Select
Next Random Vacation
(19°2.978' N, 88°10.470' W - Chacchoben, Quintana Roo, Mexico)
Selection (17 Mar 2004)
Rules
The rules:
Vacation was initially chosen by coin toss to be a Q1 vacation rather than a Q2. However, since I was unemployed for most of 2004 Q1, and will be new on the job in 2004 Q2, this will be a 2004 Q3 random vacation. This will allow me to get settled in at the new job (not to mention moved, since the job is in Florida and I currently live in Pennsylvania).
Random latitude and longitude on the globe will be picked with the tool.
The airfare budget will be $500 plus a random number between 0 and 100*pi dollars.
The test dates for determining airfare will be 1 Sep 2004 to 7 Sep 2004
The spot for the trip will be the first one generated which meets all of these criterea:

On land
Not in a country with a State Department Travel Warning (http://travel.state.gov/warnings_list.html) as of 17 Mar 2004. Right now, this list of countries to avoid is: Afghanistan, Algeria, Angola, Bosnia, Burundi, Central African Republic, Columbia, Cote d'Ivoire, Democratic Republic of the Congo, Haiti, Indonesia, Iran, Iraq, Israel (including Palestinian Territorries), Kenya, Lebanon, Liberia, Libya, Nepal, Nigeria, Pakistan, Saudi Arabia, Somalia, Sudan, Turkey, Yemen, Zimbabwe.
There are flights findable on orbitz.com from any airport within 70 miles from Trenton Airport (TTN) to any airport within 250 miles of the spot but still within the same county. (TTN is the closest airport to my house with regularly scheduled commercial flights. I will be moving to Florida before the random trip, but since I do not yet know what will be my exact location in Florida, I will evaluate flights and distances based on my current location in Yardley, PA.)
The cheapest flight available on the test dates are less than the airfare budget. (Note: If the spot is less than 500 miles from my house, and accessible by road from my house, the "cheapest flight" will be considered to be $0, since I will drive rather than fly.)
Budget Selection
OK, so the budget is $500 plus a random number between 0 and 100*pi dollars. So if X is a random number between 0 and 1 (the way such are usually generated) the budget will be 500+100*pi*X. So lets pick X... get my nice old trusty HP48X out... OK, X will be...
X = 0.722319935785
So... Budget = $(500+100*pi*0.722319935785) = $(500+100*2.2692350038) = $(500+226.92350038) = $726.92350038
Ok then, the airfare budget for the 2004Q1 random trip will be $726.92. Now time to generate some random points.
Random Points
#
Bearing
Distance (mi)
Latitude
Longitude
Nearest Landmark
Judgement
1
113°17.192'
4992.03
5°08.556'S
13°28.782'W
Atlantic Ocean
No: Not on Land
2
330°11.617'
6382.03
39°31.927'N
145°12.788'E
Pacific Ocean
No: Not on Land
3
282°44.687'
10352.11
28°10.688'S
139°6.303'E
Near Innamincka, South Australia, Australia
No: $2812, Above Budget
[Philadelphia (PHI) to Birdsville (BVI)]
4
242°49.639'
8377.8
39°12.931'S
175°26.891'W
Pacific Ocean
No: Not on Land
5
209°28.899'
5340.16
30°20.451'S
108°39.695'W
Pacific Ocean
No: Not on Land
6
128°1.71'
3677.35
0°36.665'N
35°47.471'W
Atlantic Ocean
No: Not on Land
7
297°41.62'
5555.6
27°17.085'N
175°43.997'W
Pacific Ocean
No: Not on Land
8
166°52.074'
11302.54
56°13.669'S
98°25.123'W
Indian Ocean
No: Not on Land
9
45°31.027'
3798.82
53°59.645'N
8°25.563'E
3 miles off shore of Hamburg-Insel Neuwerk island (Germany) in the North Sea
No: Not on Land
10
147°15.62'
8582.11
63°21.026'S
12°17.586'E
South Atlantic Ocean
No: Not on Land
11
10°6.874'
4755.03
69°10.405'N
77°42.888'E
Near Antipayuta, Russia
No: No Flights on Orbitz
12
212°14.112'
1663.94
19°2.978'N
88°10.47'W
5 miles outside Chacchoben, Quintana Roo, Mexico
YES: $659 [New York (LGA) to Chetumal (CTM)]
OK, so there we go. And yes, this trip was made possible by the additional random budget. And yes, this is to a non-English speaking country that I have not been to before... at least not within my adult memory.
So the Winner is...
(All maps and such in this section from MapQuest. Thanks MapQuest!)
OK, so the spot is in Mexico. In the Yucatan.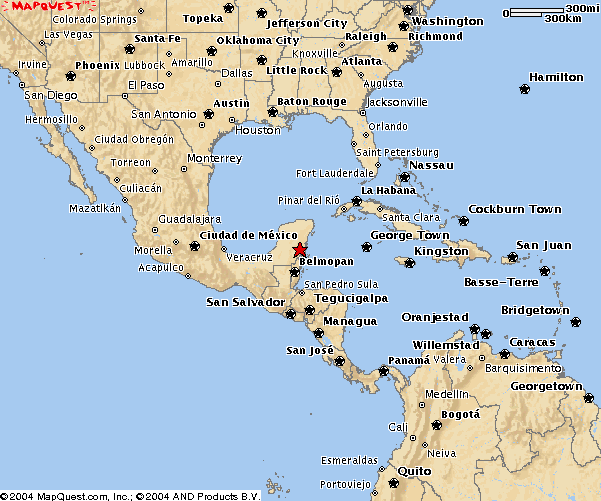 Very near Belize...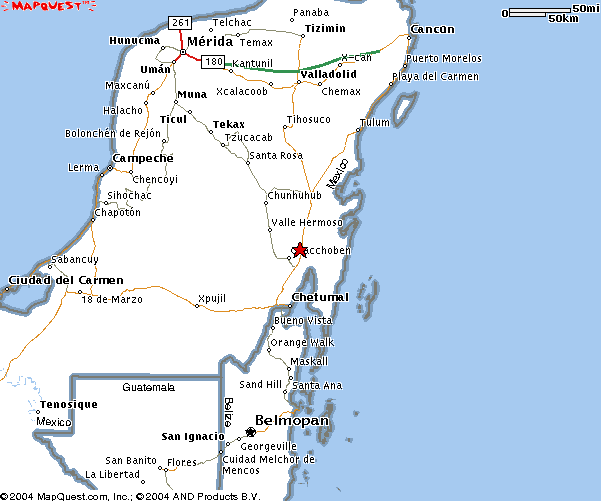 It is about 100 miles south of Cozamel, or 150 miles south of Cancun. So those might possibly be part of any trip there, they are major tourist destinations after all, but the spot itself is further south, near Chetumal, only about 50 miles from the border with Belize.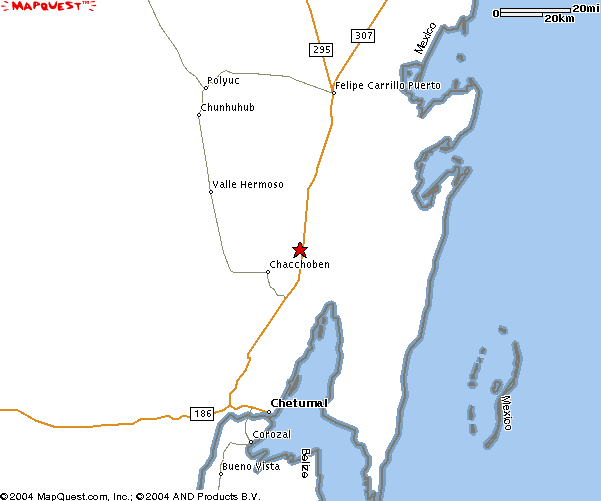 The spot itself is only a mile or so off of Route 307. So even if one could get no closer, we could definately get to within a couple of miles. And less than 15 miles away, the closest town appears to be one named Chacchoben.
OK, time for some Googling...
Oh, exellent, first hit right away...
http://www.mayanbeachgarden.com/chacchoban.html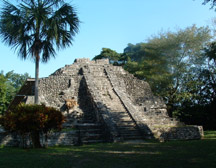 (Picture from Mayan Beach Garden, thanks!)
"A new ruin has been restored by I.N.A.H. (History and Anthropology National Institute) less than an hour away from Mayan Beach Garden. It is referred to as Chacchoben (sometimes spelled Chacchoban) which is the nearest town. It is a Maya word meaning "Red corn." For years the site was owned by a farmer who limited access to the ruins. By law, he couldn't farm the land or destroy any of the ruins, but battled for years with the government for the right of way to the land. Apparently that has all been worked out, because there is now a visitors center and snack bar at the site. (The farmer has built a new house next door as well.)"
Excellent!!! Ancient Mayan ruins within just a handful of miles of the random spot. And actually, that Mayan Beach Garden place sounds pretty decent. It is about an hour from the random spot. They have cabanas on the beach and organized activities and such, and are kid friendly (which is important, since on this trip Brandy's daughter Amy will probably come along).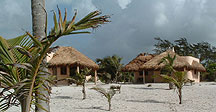 (Picture from Mayan Beach Garden, thanks!)
It is not right in one of the big tourist towns, sort of away from things and may not have all the stuff a major resort would have, but it looks nice enough, and is right with easy reach of the spot plus bunches of other things. And of course, it is right on the beach!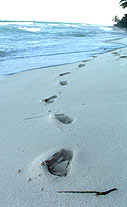 (Picture from Mayan Beach Garden, thanks!)
This is a definate possibility.
They recommend flying into Cancun and driving down rather than into Chetumal or Belize and driving up because connections and services are better from Cancun. Probably cheaper flights too. Yup. $399 from Philly to Cancun, direct flight, as opposed to $659 from Laguardia to Chetumal via Chicago and Mexico City. The drive from Cancun down is about 5 hours to Mayan Beach Garden. Then the spot is about an hour from there. (Near the ruins, which have tours and such.) And they say there are interesting things to stop and see (including other ancient Mayan sites, and lots of other things) along that whole drive, so one should make a day out of the drive. Sounding good so far! Looks like flying to Cancun and driving is the way to go. Perhaps staying in Cancun a day or two at the beginning and end with the stuff nearer the random spot in the middle. Cancun is famous and a major tourist spot and info on it is readily available, so I won't talk more about it here.
This is also near the town of Majahual which is a cruise ship destination, which might be worth seeing.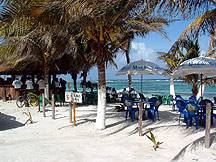 (Picture from Mayan Beach Garden, thanks!)
Or lake Bacalar...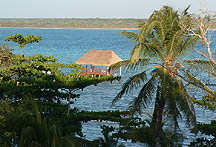 (Picture from Mayan Beach Garden, thanks!)
Anyway, seems like lots of near stuff nearby. Lets look a bit more at stuff about Chacchoben itself...
Another company that does tours of the ruins, there seem to be several:
http://www.coatitours.com/chacchoben.html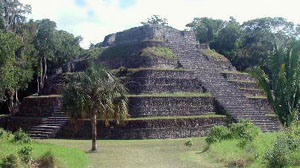 (Picture from Coati Adventures, thanks!)
They offer kayaking, snorkeling, birdwatching, archeological tours, spa treatments... all that sort of thing.
That tour company operates out of Maya Ha Resort which is in the town of Majahual where the cruise ships come in. (Compared to Mayan Beach Garden which is more out of the way.)
It looks like the region has much more to offer as well. It will just take a little more investigation. And making real plans and figuring out exactly what to see or do, which places to stay, etc, will have to wait until we know exactly who is going and when. So this is enough information for now. More when it isclose to time for the actual vacation.
Invitation
OK. This time around, in addition to the fact that I am just starting a new job at the end of March, by the time I get to this vaction, I will be living with my girlfriend Brandy and her 8 year old daughter Amy near Melbourne Florida. Amy's school will make scheduling a little more difficult, but should still be possible. Because of the additional constraints, we may or may not be able to do a full week, but we'll work the schedule as best as possible. Brandy and Amy's logistics, as well as my own, will have a very strong influence on the details of the trip.
This is to be a 3rd quarter vacation, so that means July, August or September. Given school and all, July seems very likely over August and September. Although, I probably would have JUST gotten fully moved to Melbourne, so it may be better to do it later. Hard to tell right now. That is one reason why decisions on much of that scheduling and exact plans, etc, will be defered for at least a couple of months. By June I should have a much better idea of what is possible and what is not.
As usual, if anybody other than Brandy and Amy is also interested in coming with me, please let me know right away, and you can be part of the planning process in terms of figuring out possible dates, where to stay, what things to maybe do, etc. This one looks like it should be a lot of fun. And the more the merrier! And, um, cough, any of you NATIVE SPANISH SPEAKERS, cough, you know who you are... you would be especially welcome on this trip, and your presence would be much appreciated!!! :-) Anyway, Spanish speakers or not, if anybody reading this has any interest in this trip whatsoever, email me, and we'll work it out. This should be a blast!
Update to Date
Well, it had originally been hoped to do this trip 2004 Q3. Well, that didn't happen. Between leaving my job in NJ/PA, moving to Florida, looking for a new house, etc it just wasn't a good time. New target is 2005 Q1. Of course, we still aren't fully settled in a permanant house here, so we'll see!
(Updated 16 Oct 2004)
Another Update
Well, indeed, more time has gone by. 2005 Q1 did not happen. 2005 Q2 did not happen. And I know 2005 Q3 will not happen. I will not at this point even hazard a guess when this vacation will be possible. But it WILL happen gosh darn it!
And now, thanks to Google Maps, here is a view of where we will be going!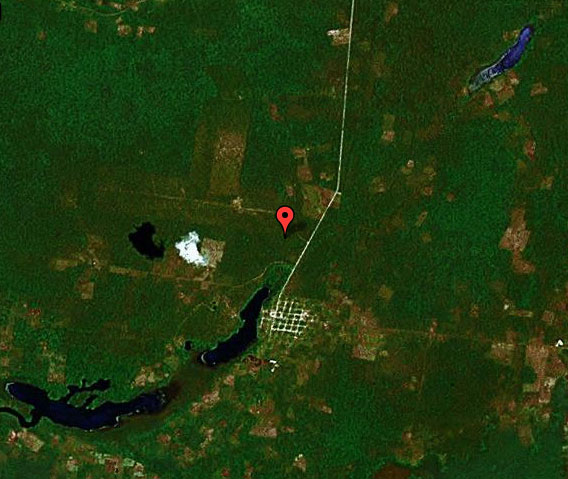 (Updated 18 Jul 2005)
Yet Another Update
It has now been years since the last random trip. The move to Florida and subsequent events really got in the way. And now I am moving to Seattle and spending at least some time maintaining places in both states. So it will be yet longer before this trip happens. Will it be 2006? Maybe. I don't know. I hope by 2007 at the latest though! It will happen! I swear! :-)
(Updated 19 Feb 2006)
Once Again An Update
Chances of 2007 for this random trip seem to be slipping, although perhaps late in the year might happen. But other things such as Amy's tuition take priority. So, who knows when it will happen. But it will happen! I know I keep saying that, but it will.
In any case, a couple new relevant links:
(Updated 11 Mar 2007)
Select
Next Random Vacation
(19°2.978' N, 88°10.470' W - Chacchoben, Quintana Roo, Mexico)