Selection | Day 0 | Day 1 | Day 2 | Day 3 | Day 4 | Day 5 | Day 6 | Video
2002 Q4 Random Vacation
(50°17.58636' N, 95°16.04416' W - Crowduck Lake, Manitoba, Canada)
Day 1- 15 Nov 2002
00:00 UTC - 03:00 UTC (Computer)
After getting online, I of course had to get caught up on email and the like. So I spent some time doing that. Then I began to set up my trip log. As the TV droned on in the background, I did some email. I wrote some text. I basically got caught up on all the online stuff I wanted to get caught up on. I was pretty tired. After all, I'd only had 3 hours of sleep the previous day. I went several times to the vending machines to get cans of Coke. But I was also getting hungry. Sleep, or Eat? I went back and forth several times, but finally decided to go ahead and go out. This time though, I made sure to wear gloves and a hat.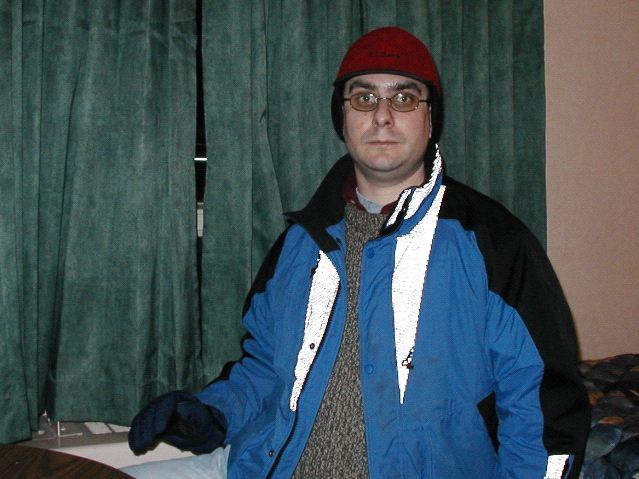 03:00 UTC - 04:00 UTC (Dinner at the Pony Corral)
I walked out of the hotel. It looks so enticing, doesn't it?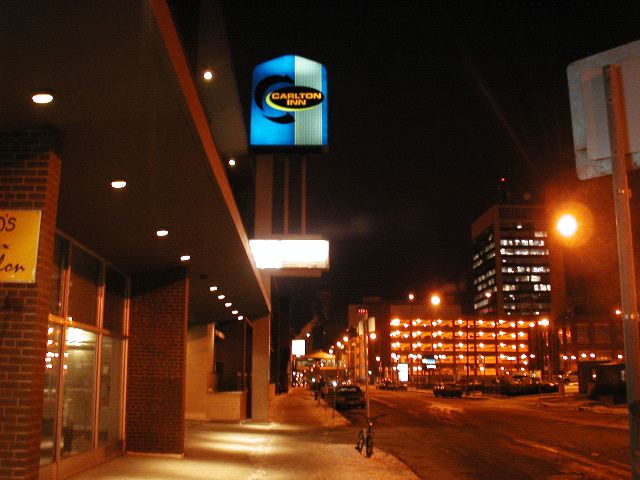 took a right and started trying to find a place to eat. Right was the direction of the Winnipeg Convention Center. The convention currently in town according to the big sign was a dog show. When I got to the corner, with the dog show sign in front of me, it looked like there were perhaps some things to the left, but I decided to go to the right instead. I saw a place for ribs, but I'm not really into ribs. But shortly later I saw something called the "Pony Corral" which looked promising.
It had a restaurant and a bar, and there were people inside. It seemed as good as anywhere.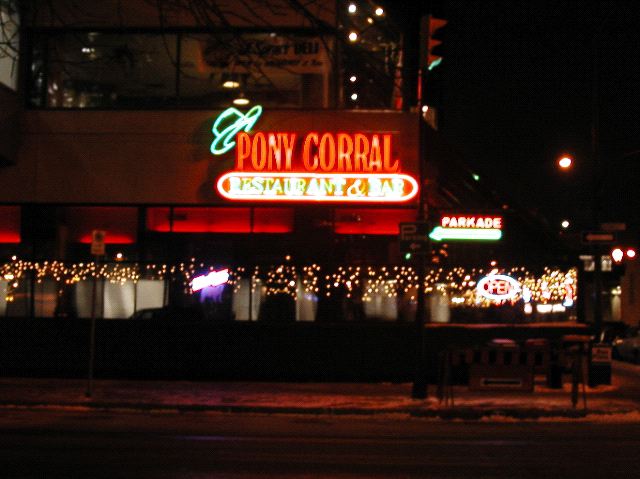 I got a seat for one in the restaurant part, ordered a burger, and then realized I hadn't brought a book or magazine or anything else of that sort with me. So I stared out the window a bit, watching cars go by, and more interestingly, watching people walk by, noticing what kinds of coats, hats, gloves etc they were wearing. People looked bundled enough, but really not much more so that people back home when it gets cold. It was around 5 F. Brrrr. But really, with no wind that night, or at least not much, that temperature wasn't that bad as long as you were dressed right and kept moving. This wouldn't be a problem.
Then I started picking up bits and pieces from the conversation a couple tables over. They were talking about poodles. Poodle this, poodle that. Must be from the dog show.
The burger came. Not the best burger in the world, but it did the job I suppose. Then I headed back.
I decided to walk all the way around the convention center on the way back. They were doing a bit of construction on it. Around the other side was a couple other places to eat. An Irish Pub and a sushi place. Where I had gone was probably the right choice. I passed a couple people walking their poodles.
Soon I was back around to the hotel. Although I must admit, by the time I got there, I was cold again and glad to be going inside where it was warm.
04:00 UTC - 05:00 UTC (TV)
On getting back to the hotel room my sleepyiness was getting to me. I flipped channels on the TV a little bit, I checked my email again. After a bit, I turned down the volume of the TV, got under the covers, and drifted away.
05:00 UTC - 06:00 UTC (Sleep)
ZZZzzz...
06:00 UTC - 07:00 UTC (Fire Alarm)
BUUUUUUUUZZZZZZZZZZZZZZZZZZZZZZZZZZZZZZZZZZZZZZ!!!!!!
Just as I had gotten into a deep sleep, a very loud buzzing sound started. I jerked out of bed. I was disoriented and confused. I hit the alarm clock. It wasn't the alarm clock. I grabbed my computer... and dropped it on my foot. Ouch!! I realized it was a fire alarm. Crap! This meant I had to get outside, and in a hurry. I checked the door, no signs of smoke or heat. I had a second at least. I put shoes on real quick and grabbed my coat and my computer, and headed toward the door, to head outside and wait in the cold.
Then the alarm stopped. All was quiet. I looked out into the hall. Nobody there. Noises inside rooms, as everybody else had been woken up too. But nobody rushing to get outside. No smoke. I looked outside. Nobody in the parking lot. Looks like a false alarm.
I tried to head back to bed, but of course I was awake now. And still a little suspicious that maybe someone would pull the alarm again any second. So I watched a little more TV.
07:00 UTC - 15:00 UTC (Sleep)
I called the wake up call system and set a wake up call for 15:00 UTC. Then before too long I was asleep again. This time I was able to sleep. No more fire alarms.
15:00 UTC - 18:00 UTC (Getting Up)
When the wake up call came, I was not ready to wake up. I set the alarm on my pager for another half hour down the road and tried to sleep some more. But I couldn't. I was up before the alarm went off. Not up out of bed, but at leastaware. I turned news on the TV. I logged on again to check my mail. I answered some mail. I eventually got up and got showered and dressed. This time, as many layers as I could manage, including long underwear. I wanted to be warm! Warm is a good thing. Eventually I gathered up all my stuff, checked out, and headed to the car.
18:00 UTC - 19:00 UTC (Lunch)
The GPS maps for Canada are no where near as good as those for the US. I'm sure there are all kinds of good reasons for that, but it is still anoying.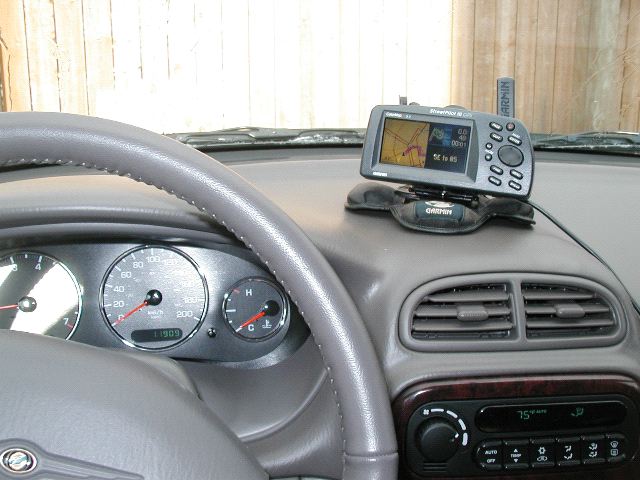 Even with the Canada "Enhanced Basemap" detail maps loaded into my GPS, road coverage, even right in Winnipeg, was not complete, and the locations of the roads were not quite right, and the routing lines, even when identifying the right road, did not line up on the road itself. But it still basically told me the right stuff, so I headed out of town, with an eye out for a place to eat.
I passed what seemed lijke dozens of Pizza Huts and McDonalds and other US fast food places. But I decided that I wanted to eat somewhere I didn't have back home, and also I wanted a sit down type thing, not fast food. And preferable breakfast food, despite being past breakfast time.
I eventually came to a Smitty's, which looked like a typical family restaurant type place, with the exception that there was also a bad attached. This would do perfectly.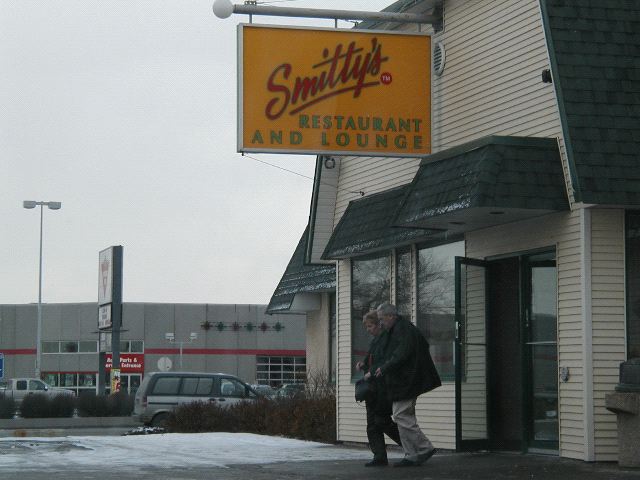 I took a couple magazines with me this time. I had some coffee and ordered something called a "Southern Skillet". Basically a skillet shaped dish filled with scrambled eggs, hash browns, and cheese all mixed together. It was very good.
After the meal, it was off and away out of Winnipeg, heading east toward my spot, and toward Big Whiteshell Lodge where I would be staying.
19:00 UTC - 22:00 UTC (To Big Whiteshell Lodge)
The drive east was fairly non eventful. Most of it was on two lane highways without too much traffic.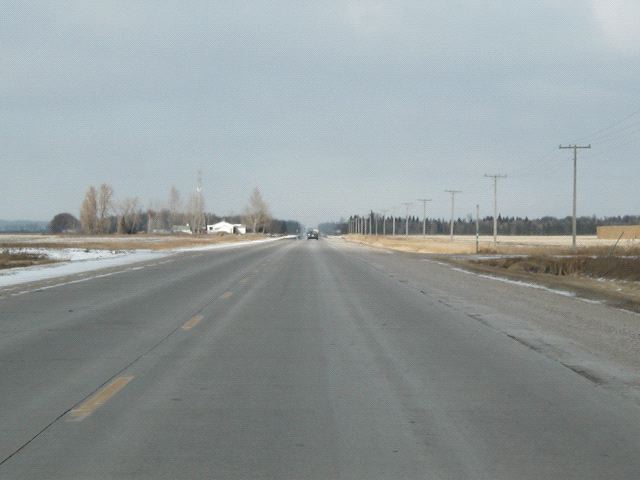 Most of the drive was across flat prarie land. The praries were all covered with a thin layer of snow. Not very deep at all, the grass poking out through the snow all over the place.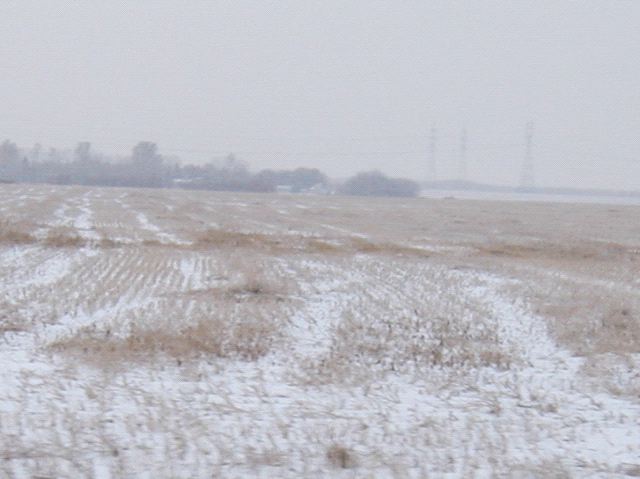 But as I went further east, there were more and more trees, and more and more lakes and rivers (although many were frozen). Before long, I was entering Whiteshell Provincial Park.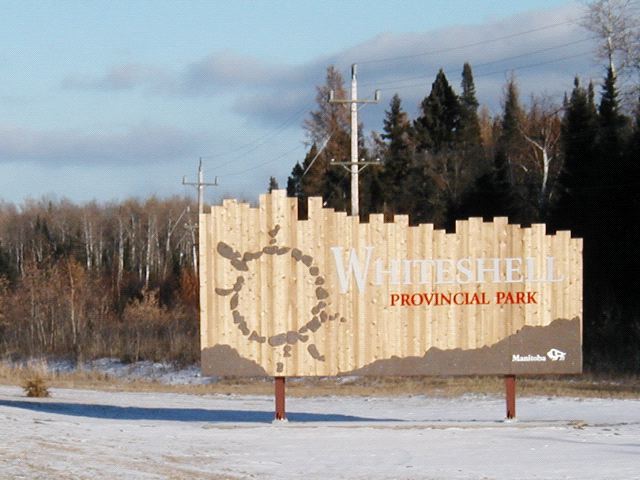 After that the roads got smaller, and less plowed. The anti-lock breaks kicked in a few times as I went around some corners on the now snow covered roads. I started to wonder if maybe I should have gotten an SUV again like the last couple trips instead of just getting a regular car. Oh well, too late for that.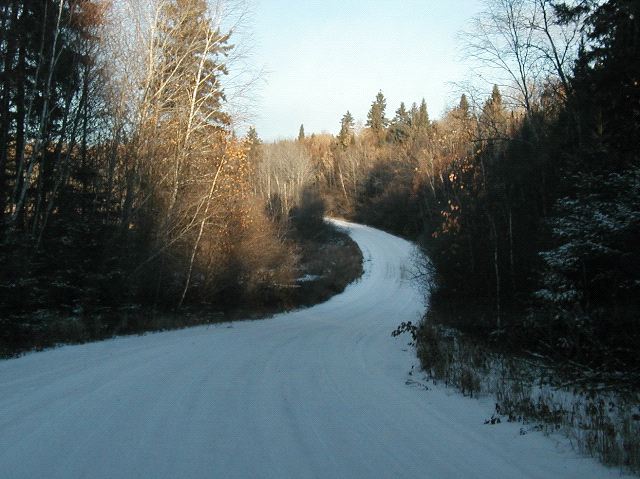 The roads I was actually on were not really too bad, although I'm not sure how well the car could handle it if it got any worse, but there were occationally side roads I saw that looked like they might be fun, but might be better with an SUV.
As I got to within 5 miles of BWL, I realized I was early. Check in wasn't for another hour. So I intentionally took a few wrong turns to just explore the area a little bit and to kill time. I wandered in circles on the roads right near Whiteshell Lake for about 30 minutes before finally heading in those last couple miles. I was still a little early, but I would just wait if I had to.
I pulled up and went into the combination store and office for the lodge.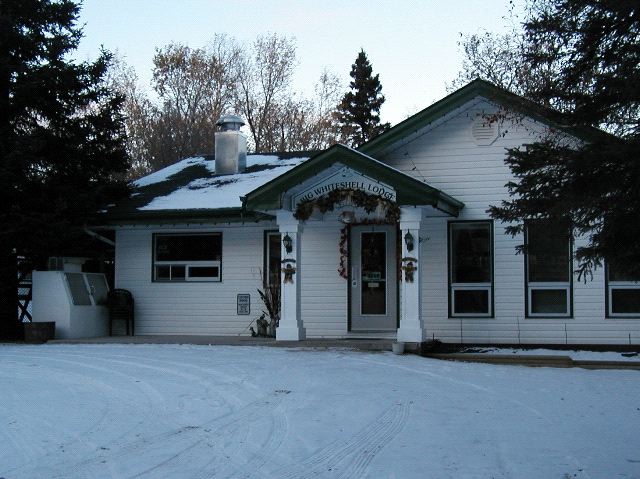 The proprietor, a nice woman, was ready for me and checked me in. She asked if I had been grocery shopping yet. When I said no she expressed shock, and said I really should, as there were not too many places nearby. I told her that the stuff she had in her little store (soda, chips, a few boxed foods) would probably be more than plenty. She didn't seem to believe me. I told her that I would be in and out of the cabin anyway and exploring the area. She told me the store would be closing in about two hours, but come back at any time before then to buy stuff or just to get information on anything.
22:00 UTC - 00:00 UTC (Big Whiteshell Lodge)
So I drive past the office and down a few hundred feet of road to my cabin. I am in cabin #4. I park right behind the cabin and go around to the front. There is a porch with a grill on it, although I imagine that grill gets more use in the summer. The porch faces out directly on Whiteshell Lake.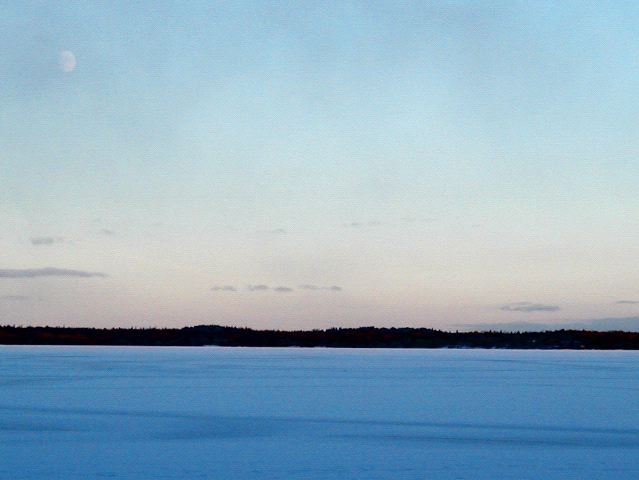 The lake was iced over, although I have no idea if it is safe yet to cross. I won't be risking it I don't think. Especially since the high temperatures, which according to the thermometer in the rental car maxed out at 22 F this day, were supposed to actually go above freezing most of the rest of the time I am in the area.
Going inside, I check out the cabin. It has a full kitchen. It has a nice little living room with couches, satellite TV, a fireplace a sound system, etc.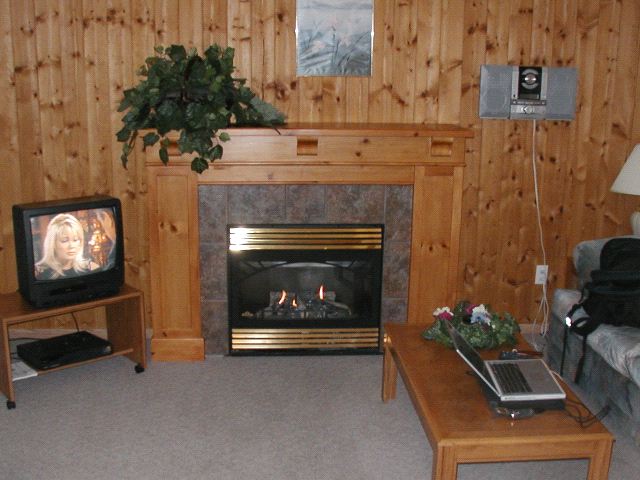 The bathroom has a big jacuzzi sized tub. There are two bedrooms, although since it is just me, the one on the right is closed. My bedroom is all ready though.
I spent some time bringing in all my stuff and getting myself settled in. I realized quickly the one thing the place did not have was a phone. If I was going to get online, it would have to be via my cellphone, which looked like it still had a signal, but just barely. Oh well, I'd think about that later.
After I was all settled, I walked back to the store to pick up some basics. I got some soda and chips and some other quick food types of things. I also picked up paper plates, cups and utensils. "Don't feel like washing dishes?" she asked? "Yeah, I guess not." I said. My mind started realizing there was something wrong though. I was getting paper plates because I had opened a couple of the cabinets and they were empty, so I figured I needed to get them to eat on. But her comment indicated otherwise. I had not opened all the cabinets.
I went ahead and bought them anyway, and talked to her for a few minutes about options of things to explore in the area. She pointed out a few places where I could go hiking. Mentioned a good restaurant. Mentioned a place with a scenic drive I might want to check out. Etc.
I headed back to the cabin, and put away the groceries. Including putting away the paper plates, cups and utensils in the cabinets right next to the glass and china ones that were indeed there, as well as a selection of pots and pans and other cooking utensils.
And that was the end of Day 1.
Selection | Day 0 | Day 1 | Day 2 | Day 3 | Day 4 | Day 5 | Day 6 | Video