Selection | Day 0 | Day 1 | Day 2 | Day 3 | Day 4 | Day 5 | Day 6 | Video
2002 Q4 Random Vacation
(50°17.58636' N, 95°16.04416' W - Crowduck Lake, Manitoba, Canada)
Selection
Rules
The rules will be the same as last time except I will not be specifiying the exact dates of the trip in advance:
Pick a random latitude and longitude on the globe
If it is in the water, throw it out and return to Step 1
If the spot is within 500 miles of my home and it is able to be reached by road, then this is the random spot and it will be a driving vacation, otherwise...
Find the nearest city to the point large enough to have regularly scheduled flights from Newark airport (as per Travelocity) while still less than 250 miles from the spot. If the round trip airfare specifying "flexible with dates" is under $500 then this is the random spot and it will be a flying vacation, otherwise...
Return to Step 1
Random Points
| # | Bearing | Distance (mi) | Latitude | Longitude | Nearest Landmark | Airfare |
| --- | --- | --- | --- | --- | --- | --- |
| 1 | 311°27.995' | 1213.65 | 50°17.58636' N | 95°16.04416' W | Whiteshell Provincial Park, Manitoba, Canada | $296 (Winnipeg, Manitoba, Canada) |
The Winner
Wow, that was kind of surprising. Got one that fit all the criteria on the very first try. It usually takes at least a few spots before coming up with a winner! It is kind of fun to look at all the spots that come up that WON'T be the spot. Oh well. This is the spot. Let's do some research on it. First of all, maps. All maps courtesy of MapQuest. Thank you MapQuest. Please don't sue me. Anyway, First zoomed out so we can see where it is realitive to Winnipeg, which is the closest major city...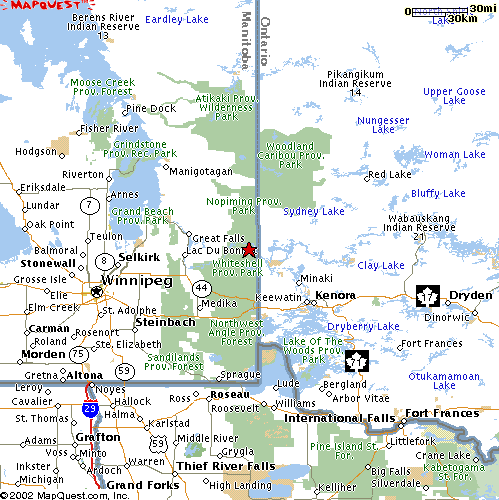 The spot is of course in Canada again. This will make my total so far 4 spots in Canada, 2 in the US, and 1 in the UK. Well, Canada is signifcantly larger than the US in land area, and most of it is within the price ranges I've been specified, so that makes sense. And I've liked all my Canada trips so far. And I've never been to this part of Canada. So this is good. Manitoba here I come!
The actual spot is in Whiteshell Provincial Park, just inside Manitoba near the Ontario border. It looks to be about 60 miles outside of Winnipeg. The US border (Minnesota) is actually even closer. North Dakota is pretty close too. There should be lots do see and do in this area... and given the proximity to Winnipeg, there should be no difficulty finding places to stay either.
OK, now zooming in a little more...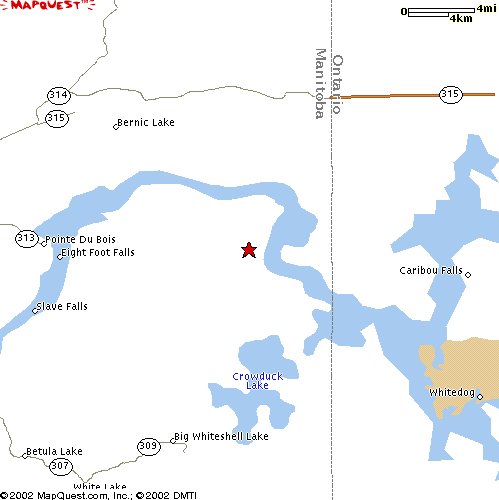 So the spot is just south of a hook in a river, just north of something called "Crowduck Lake". That is the closest named landmark, so I'm going to make that the "name" for this quarter's goal, even though the actual spot is a couple miles from there.
"Crowduck Lake, Manitoba, Canada". That's where I'm going on the next random trip.
There are numbered routes going to within a few miles of the spot, and it is in a Provicial Park. I should be able to get close via road to the spot this time than last time (and probably don't even need an SUV) and if there are hiking trails in the right spots (it is a park after all) maybe getting closer will not be too hard either.
OK, so now lets try some Google searches and see what we can find out about this place...
First searching on "Whiteshell Provincial Park" I immediately get to their own website:
Quote from their front page: "This is Canada as you knew it could be. From the Precambrian Shield to the multitude of lakes and rivers, the Whiteshell Park is Canada at its best! Almost 2800 square kilometres of protected wilderness parkland characterizes this Provincial Park located in eastern Manitoba, Canada. Hiking trails, canoe routes, cross-country ski trails, snow mobile trails and Canadian Shield rock everywhere are what makes the Whiteshell Provincial Park a destination location."
Sounds good to me so far...
A few links in, on pages about the varous canoe routes in the park, there are some pictures of the area right near my spot... (This next set of pictures from the Whiteshell Provincial Park website. Thank you Whiteshell Provincial Park, please don't sue me.) Anyway, here is Crowduck Lake itself, and some trails near there...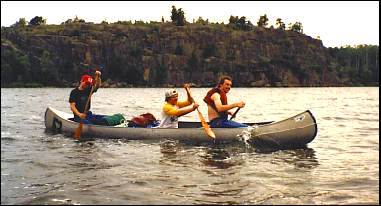 It looks like there are definately hiking paths in the area, although the growth seems pretty heavy, so bushwacking to the exact spot would probably be difficult if it wasn't by chance exactly on a trail. But getting to the area close to the spot seems like no problem. And looks like there are plenty of facilities at the park for doing things around the area of the usual "Park" sorts of things. From canoing and hiking to snowmobiles to golf to birdwatching to... well, all that sort of thing. There are also some nearby museums and other such things.
They also mention the Northern Lights are often visible from the park. I haven't ever seen those, so I'd be more than up for a little skywatching.
They also have links to all sorts of businesses in the area, including places to stay, ranging from just plain camping, to lakeside cabins, to various luxury resorts around some of the lakes in the area. I'll be sure to easily find something for whatever level of comfort I end up looking for.
Oh! And they have float plane access to some of the lakes!
I wimped out in Quebec. I will HAVE TO do a trip in a float plane this time around... well, at least look into it more seriously... these folks do charter flights to various lakes where they operate camps of various sorts. That might have to be on the agenda for at least one of the nights. (And if the lakes are frozen, they have ski planes, which is also cool.)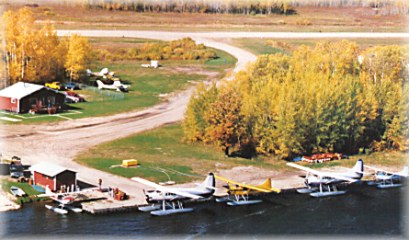 (Thanks for the picture Whiteshell Air, once again, please don't sue me. :-)
And of course I'm sure there is a lot to do in the Winnipeg area as well.
OK, one last thing to check... Temperatures...
http://wikyonos.seos.uvic.ca/people/ewiebe/weather/climate.ywg.html has information on this.
This will be a 4th quarter vacation, that means October, November or December.
In the Winnipeg area, the averages are:
October: High 11.5 C / Low 0.6 C
November: High -0.5 C / Low -8.8 C
December: High -9.3 C / Low -18.3 C
For the metric impaired, those temperature averages are...
October: High 52.7 F / Low 33.1 F
November: High 31.1 F / Low 16.2 F
December: High 15.3 F / Low -0.9 F
Hmmm.. I'd been thinking about doing this in December. But perhaps I should consider October. Early October. Or maybe just forget about that and go for the full winter experience. Then there would be the snowmobile possibilities and such.
Well, I'll think about it. There is some time yet before 4th Quarter to decide exactly what I'll be doing. And as usual it will be influenced by whether I am going solo (as I've done 4 times) or with a group (as I've done twice). We shall see.
Invitation
As I have with the last couple of these, I'm sending out an open invitation for people who might want to go with me and make this a group trip. So far of the 6 of these I've done, I've done 2 with other people, and 4 solo. It's a lot of fun either way for me. But it would be great to have more people along if anyone is interested.
If you are interested, let me know soon! I probably won't start making specific plans until mid-September, but if you do want to go and let me know soon, you would have a lot of influence on such questions as:
When to go: October with highs in the 50's? November with highs in the 30's? December with highs in the 10's?
Where to stay: Hotel? B&B? Cabin by a lake? Resort? Tent?
Agenda: Besides looking for the random spot, what other activities or places would be on the agenda?
How long to stay: I usually would go for a week, but if others are coming I can be flexible as needed
Etc.
In any case, if anybody is curious or interested in coming with me, or if anybody has visited that part of the world and has comments or recommendations, email me and let me know.
For everybody else, you will of course see the story and pictures from this trip on my website a few weeks after I return from the trip.
When I'm Going and Where I'm Staying (Added 2 Nov 2002)
The dates for the trip have been set as of mid October. 14 Nov 2002 to 20 Nov 2002.
For the first night and last night in Winnipeg I'll be staying at regular old places (Carlton Inn and Comfort Inn). But for the four nights in the middle of the trip (Nov 15-19) I'll be staying at the "Big Whiteshell Lodge" which is only 10 miles or so from my actual random spot.
http://www.pvisuals.com/fishing/manitoba/big_whiteshell/big_whiteshell.html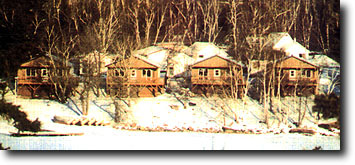 (Picture from the Big Whiteshell Lodge website, thanks!)
The one bedroom cabins they have are not heated, so I'm renting a two bedroom cabin for those four nights. "Our cottages feature a fireplace, whirlpool spa, satellite TV-VCR, CD player AM-FM radio, queen-size duvet and pillows on the bed, a fully modern kitchen including microwave and a large, covered deck with a BBQ with a glorious lakefront view."
If anybody wants to join me at the last minute for either the whole time, or just the weekend part of that so no work days need to be missed, just let me know. I'm already paying for the cabin, you would just need to get to Winnipeg.
I'm happy solo, and that is the plan, but seems a shame to leave half of a 2-bedroom cabin empty. :-) So if anybody is interested, let me know right away!
For those of you not going (read: all of you I'm sure :-)) I'll of course be posting the whole story of the trip and lots of pictures on my website when I return.
(Last edited 2 Nov 2002)
Selection | Day 0 | Day 1 | Day 2 | Day 3 | Day 4 | Day 5 | Day 6 | Video