Select
| Day 0 | Day 1 | Day 2 | Day 3 | Day 4 | Day 5 | Day 6 | Day 7 | Day 8 | Epilogue
2003 Q1 Random Vacation
(40°25.409' N, 83°21.293' W - Richwood, Ohio, USA)
Epilogue
28 Feb 2003 (Friday)
OK, this is an epilogue, not part of the vacation itself, so no hourly breakdown like the real vacation, and not as much text. Just enough to let you know what happened.
As you all may recall, during the Ohio vacation I had busted up my taillight, and thus left my car at a body shop there in Ohio and I drove home in a rental. It took them about a week to get the car fixed. I got the call officially telling me they were done and I could come pick it up on Friday afternoon while I was at work. My tentative plan was to drive up Saturday, stay over night, pick it up Sunday, and drive home. But then I discovered they were closed Sunday. And only open Saturday until around 17 UTC. I could leave right after work on Friday perhaps. But no, I had already made a couple other commitments for the first few hours of Saturday.
1 Mar 2003 (Saturday)
So, I started out Saturday going to the movie "Daredevil" with Rose and Kelly. Kelly hated it, and complained for weeks about how much the movie sucked. From there, the three of us had some dinner, then it was off to meet even more people for Karaoke.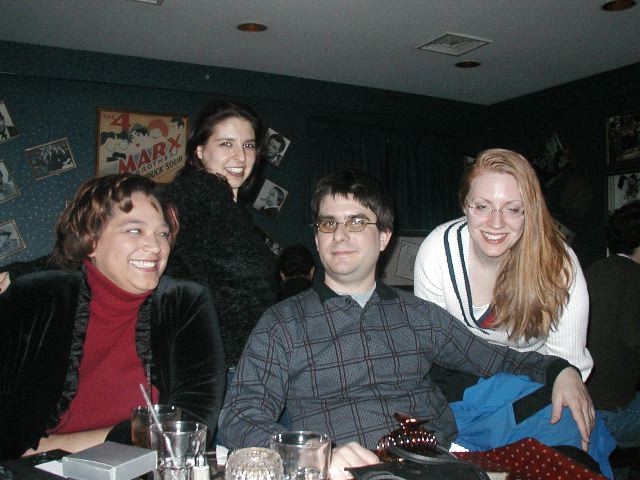 That's Brandy, Dee, Me and Rose from left to right. They had me do the chorus to "Bad Touch" by the Bloodhound Gang. In a group though. No singing solo for Sam! Kelly looked on in anger and horror while Dee comforted her.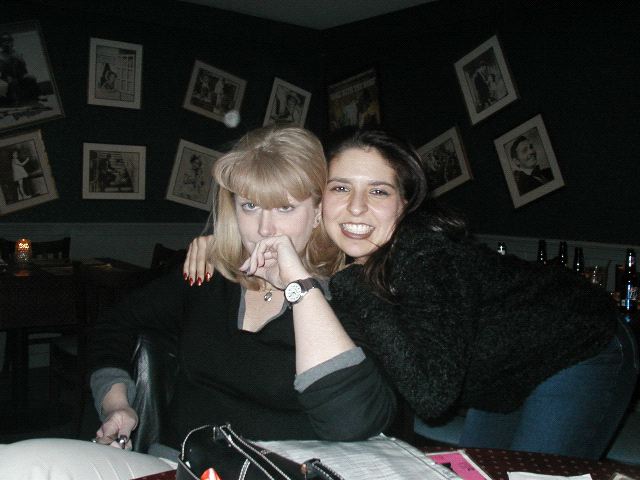 Anyway, when all this was over and it was time to get going, I had the little issue that I had about 10 hours until the body shop closed, I was an 8 hour drive away from the body shop, and I was pretty tired. Oh well, nothing to it but to get on the road. I drove and drove. At one point where I could barely keep my eyes open, I did pull into a rest stop for a quick catnap.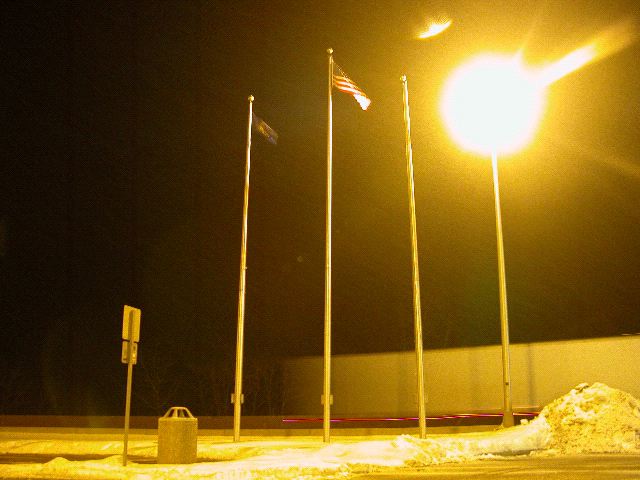 I actually slept stright through until the sun came up. (Well, it wasn't that long.)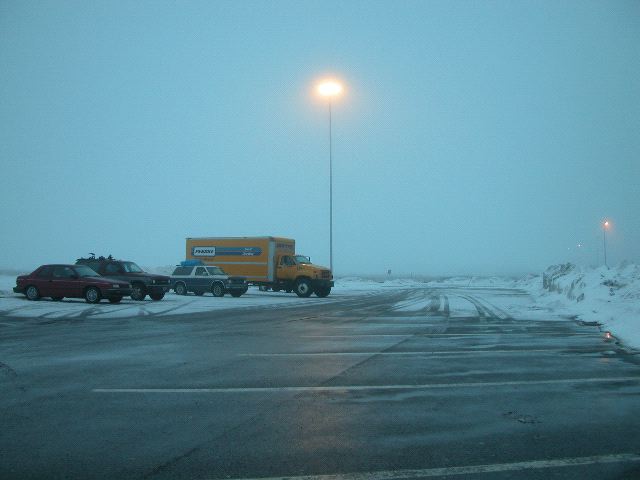 Actually, I'd slept way longer than I should have. Over two hours. Getting there on time was going to be tight., But I'd made good time prior to my nap, so I still felt like I could make it. But no more stops.
It was a misty foggy blue morning.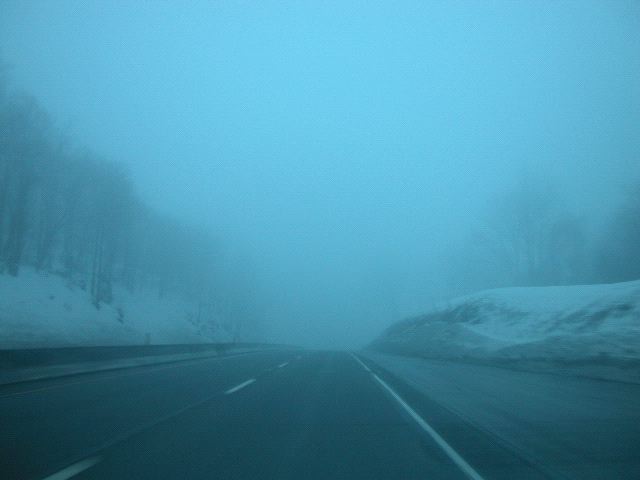 Eventually I did make it to Ohio.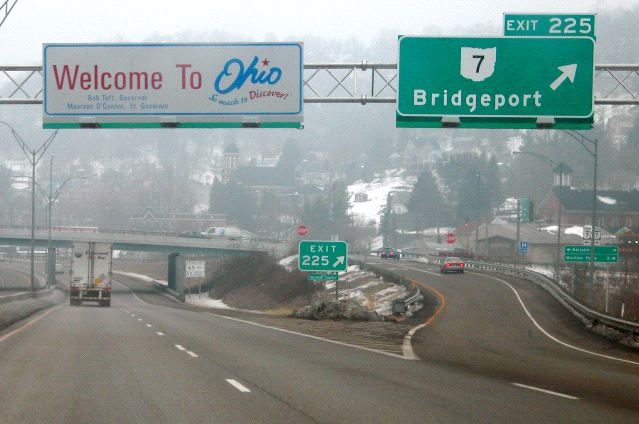 And then to Columbus, where there was some massive funeral going on, with a parade of dozens of police cars with their lights on (but no sirens).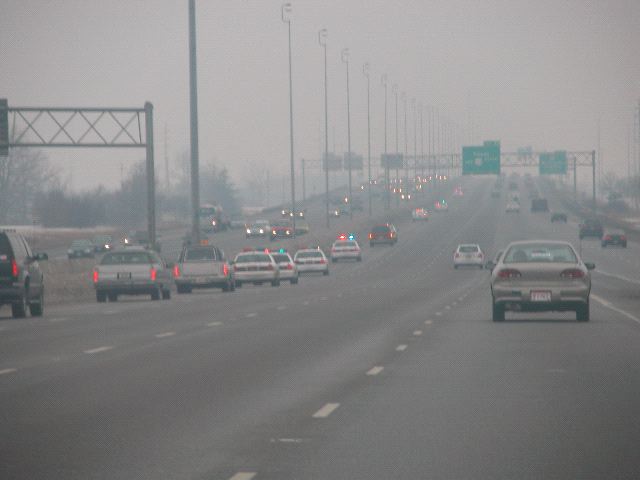 Then, next thing I knew, I was at the auto body place. I has somehow made it with a whole 45 minutes to spare. Woo! So I said goodbye to the Malibu...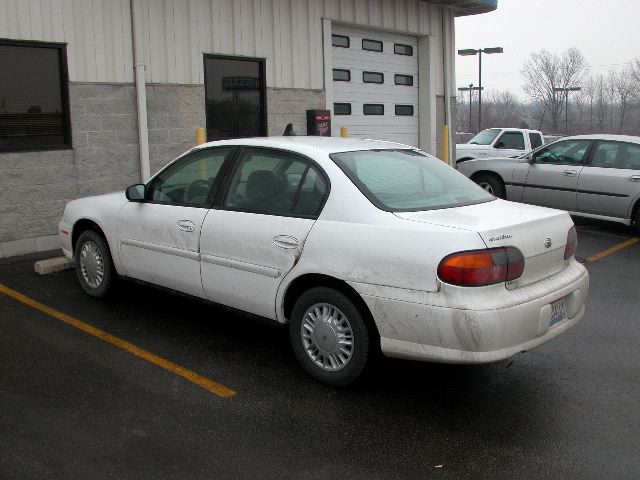 And my wonderful Saturn was there waiting for me!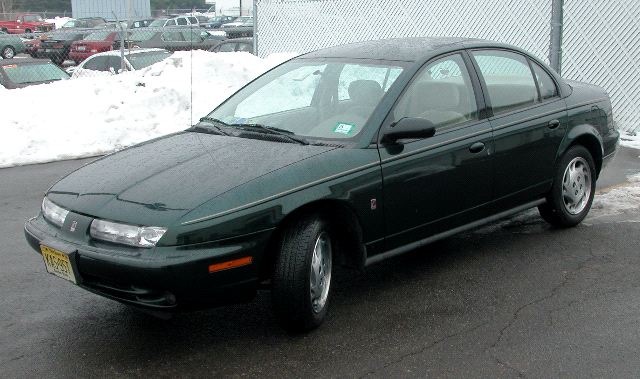 Aw, I'd missed the little green thing! And it's tail was all fixed up!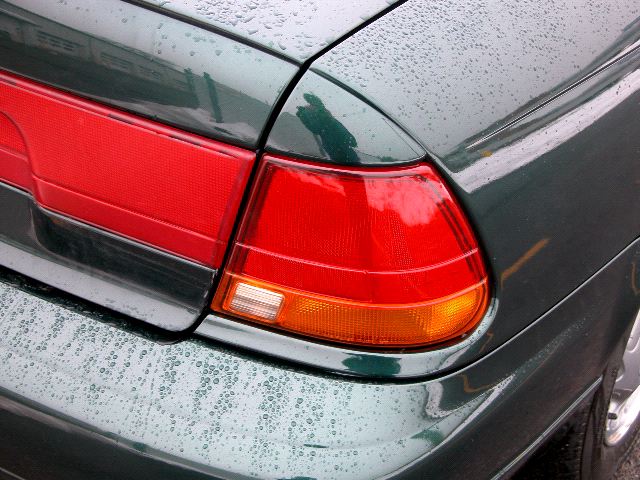 I was exausted at this point. So I tried into the a nearby hotel.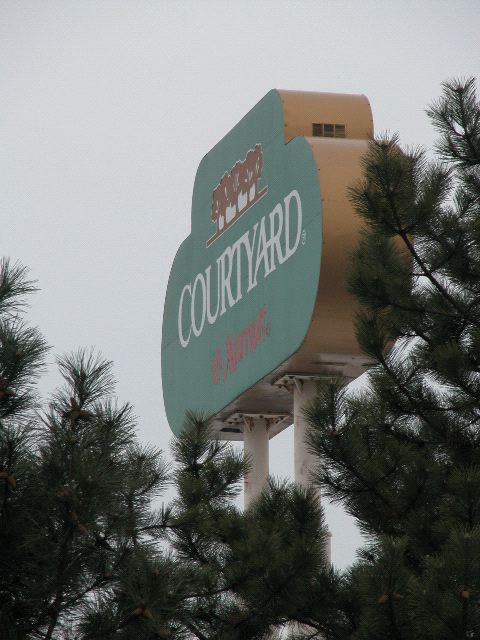 I picked that one, cause they usually have broadband internet. And of course one must have that. But they were all full at that moment. Some sort of convention. But a room should be free and ready for me as soon as they cleaned the ones where people had checked out that morning. They told me to come back in about three hours. But I was so tired!!!!
So, I went and had a sandwhich and hugh out at a nearby Panera for a bit.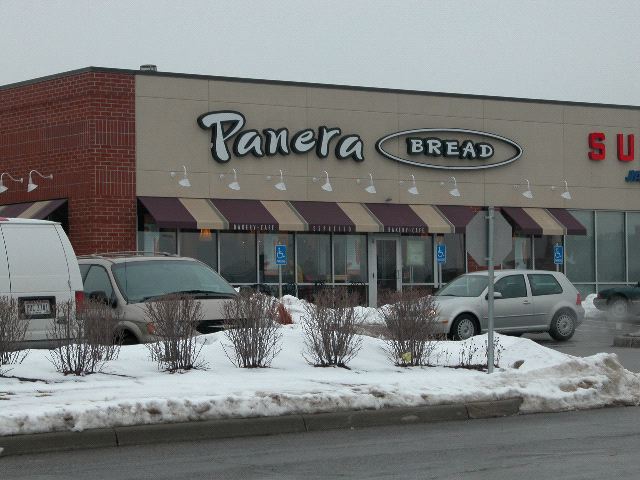 Then, after just hanging out and such for a few hours (did email using my cellphone for an internet connection) I went back to the hotel. A room was now free. I checked in.
There was no broadband. It had not been installed at this location yet. Damn.
Oh well. i would just sleep anyway.
But I didn't. I tossed and turned and watched CNN for a few hours until Saturday was over.
2 Mar 2003 (Sunday)
After not being able to sleep a bit, I decided to go out and catch a movie. I was doing my one movie a week thing that I had started almost a year previously. A theater nearby was showing the movie I needed to see.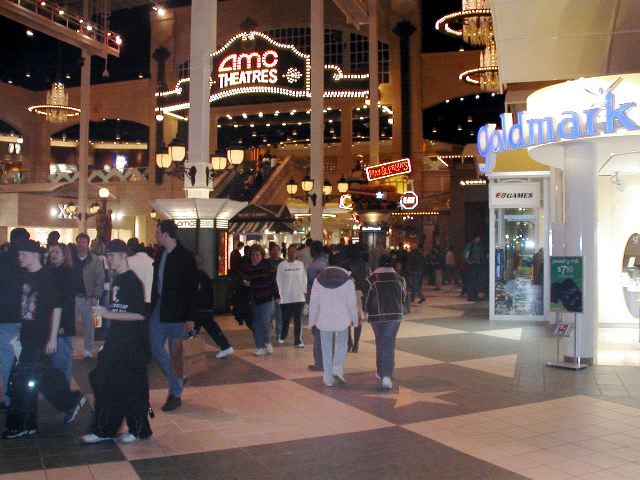 It was in a nice big huge mall. In addition to the movie, I wandered around a little bit, and headed to the Apple store.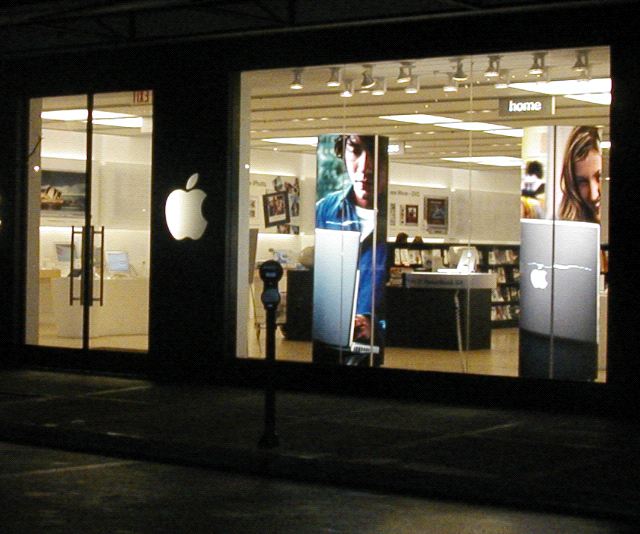 I needed to go to the Apple Store, cause my hard drive was starting to fail, and I wanted some disk repair utilities. In the end, they did me no good, the drive failed the next week anyway and caused me all sorts of stress. But it was worth a try.
Then I finally went back to the hotel and to sleep.
In the morning, even though it was an hour in the wrong direction, I went to see Chad again for lunch. Chad practiced some talk he was going to give at work on me.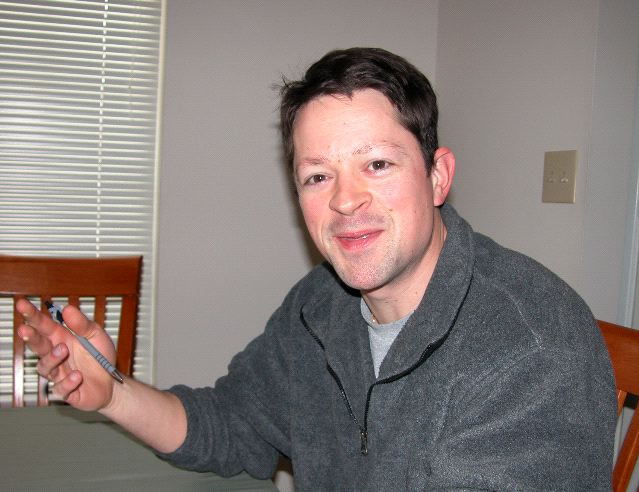 Chad was getting annoyed at all the pictures.
After lunch, it was a straight Interstate shot back East. This time I was going to Pittsburgh first to catch Marilyn, since I'd missed her on the vacation proper. On the way into the Burgh,. got a better tunnel picture.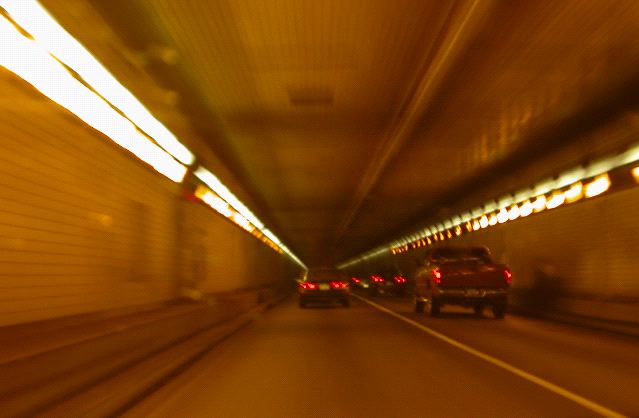 OK, still not the best in the world, but better!
Pittsburgh was blurry that Sunday.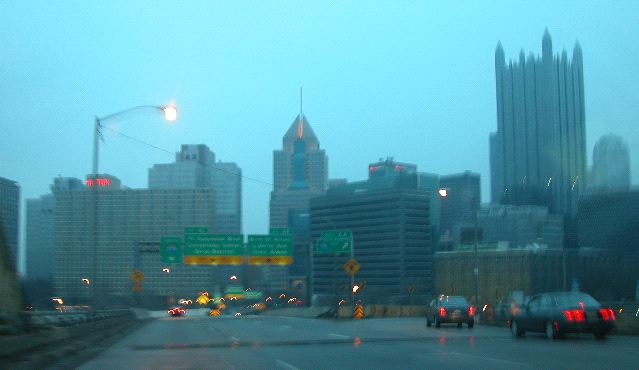 Then I got to Marilyn's house.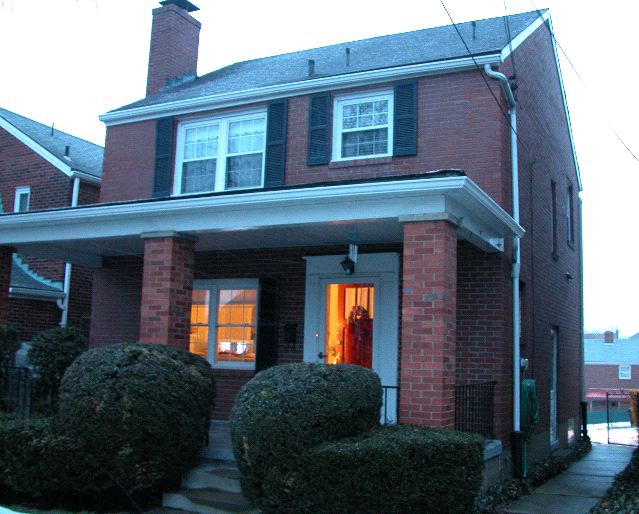 It was getting dark rapidly. Marilyn was outside shoveling snow.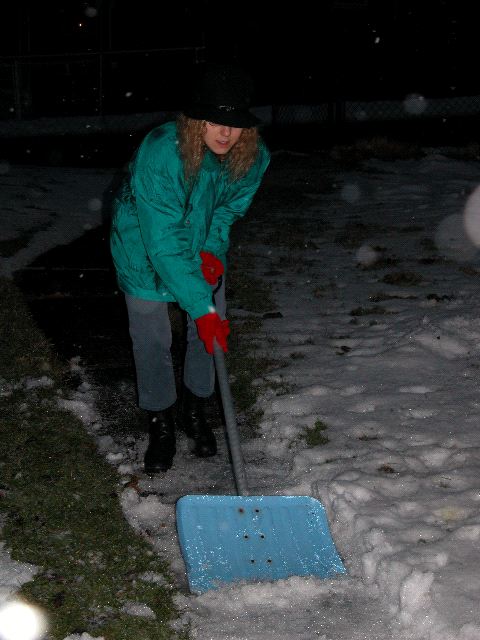 Marilyn's mom was inside playing with Sandy.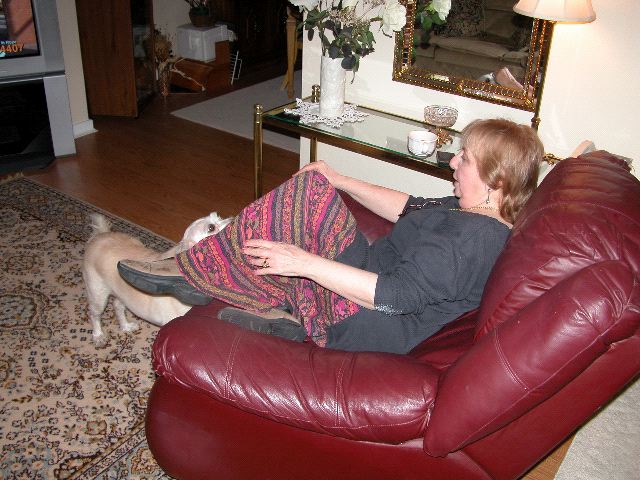 Marilyn posed with Sandy...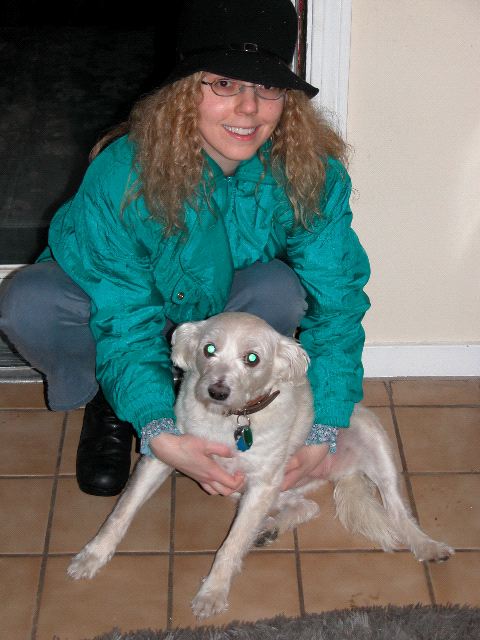 Then Marilyn and I headed off to dinner.
3 Mar 2003 (Monday)
Marilyn and I had dinner at a nice place which I neglected to take any pictures of. We had a good long dinner and talked a bit, then I took her home, and started (once again) on my way home. I had to work in the morning, so there were no thoughts of staying over at either Marilyn's or Ron's this time.
But once again, in the middle of the night, I got so tired I needed to stop and nap again at a rest stop. It was increadibly windy and cold, with blowing snow in the air.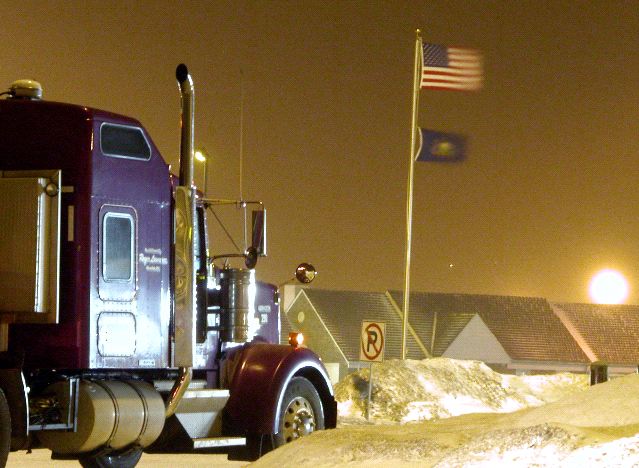 My car, which had been nice and beutiful and clean when I picked it up Saturday, now was not.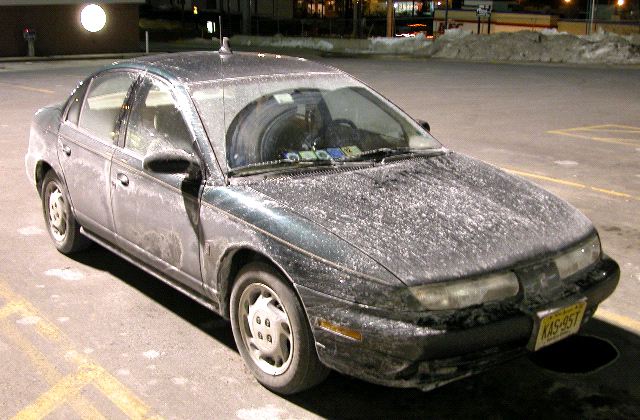 As usual when sleepy at rest stops in the middle of the night, one sees UFOs.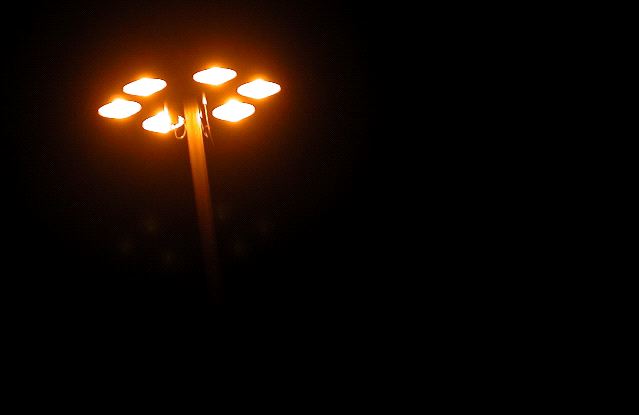 After my nap, I got on the road again. Once again seeing the sunrise for the second time on the trip. Mornings look nice, but I prefer when mornings are for sleep.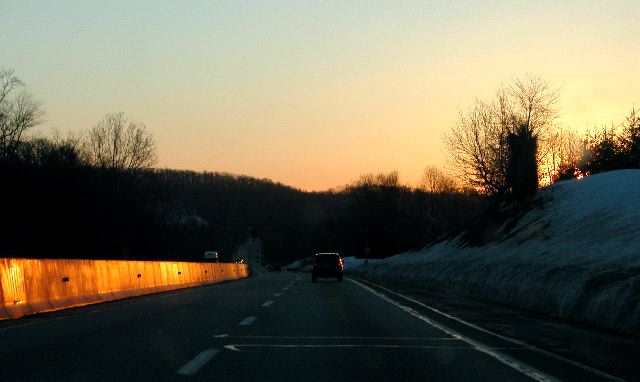 It was now getting close to time for work. I went home, got a quick shower, and immediately headed to work. No more naps. I could have used one; but there was no time. So work it was. Then a regular day at work. Then home. Then I collapsed again.
And so finally, I was home for good, and the annals of the 2003Q1 Random Trip could be closed...
Select
| Day 0 | Day 1 | Day 2 | Day 3 | Day 4 | Day 5 | Day 6 | Day 7 | Day 8 | Epilogue
2003 Q1 Random Vacation
(40°25.409' N, 83°21.293' W - Richwood, Ohio, USA)