Selection | Day 0 | Day 1 | Day 2 | Day 3 | Day 4
2002 Q3 Vacation:
51
¡
1.90979ÕN, 71
¡
11.76453ÕW
Vacation Selection: Wed 12 Jun 2002
Rules
I considered changing the rules to restrict this to a driving vacation within 500 miles, but in the end decided the old rules were more fun, so the rules this time are pretty much the same as last time, except the exact dates of the vacation are already fixed because of various time commitments IÕve already made. So, the rules are:
Step 1: Pick a random latitude and longitude on the globe (using a formula ensuring a uniform distribution on a sphere).
Step 2: If it is in the water, throw it out and go back to Step 1.
Step 3: If it is on land, then if it is within 500 miles of my apartment, and it is able to be reached via land, then it is the destination, and it will be a driving vacation. Otherwise go to Step 4.
Step 4: Find the nearest city (large enough to have an airport with regularly scheduled commercial flights but no father from the point than 500 miles). Find the price of a round trip airfare from Newark, NJ to that major city using travelocity.com for the dates 31 Jul 2002 to 4 Aug 2002. If the roundtrip airfare is more than $500, throw out the point and go back to step 1. If the roundtrip price is under $500 to that city, then this will be my random spot for the 2002 Q2 vacation.
Random Points
| | | | | | | |
| --- | --- | --- | --- | --- | --- | --- |
| # | Bearing | Dist | Latitude | Longitude | Nearest Landmark | Airfare to Closest Airport |
| 1 | 153¡4.271851Õ | 1719.906 mi | 17¡32.89478ÕN | 63¡2.342377ÕW | Caribbean just off shore of Netherlands Antillies near St. Kitts and Nevis | |
| 2 | 9¡2.614346Õ | 12298.3 mi | 38¡9.52652ÕS | 104¡59.98535ÕE | Indian Ocean | |
| 3 | 11¡12.18693Õ | 757.2734 mi | 51¡1.90979ÕN | 71¡11.76453ÕW | Lac Manouane, Quebec, Canada | $379 (Quebec City) |
And the Winner
Wow! Found the spot pretty quickly this time. It will be my second random trip to Quebec, but this while last time the spot was in Southern Quebec near the Maine and New Hampshire borders, this time the spot is about 300 miles North of Quebec city. It looks pretty remote. It is just a few miles Northwest of Lake Manouane. The closest town I can see on my atlas to the spot would be Chute-de-Passes. There is no obvious large road to the immediate region visible on the atlas, so IÕll have to do more research. This also means IÕm not sure how close IÕll actually be able to get to the spot this time around, especially since I have less time than my last couple of vacations, and this looks significantly more remote than the Nevada vacation. At least on first glance. WeÕll see what I find out when I research more.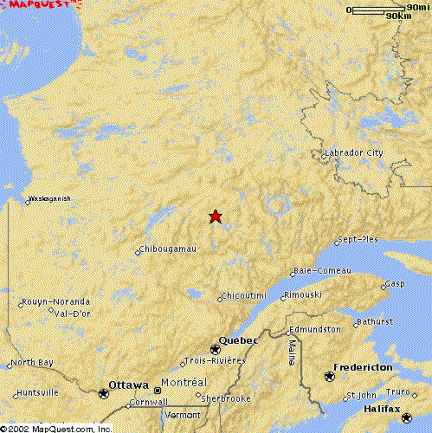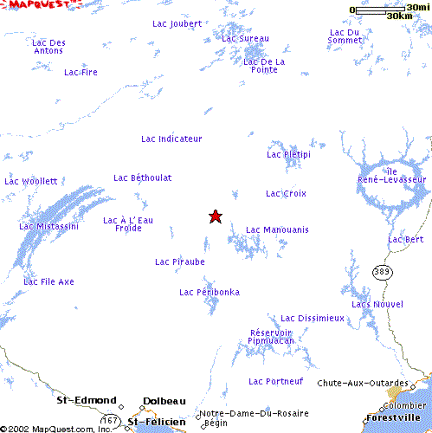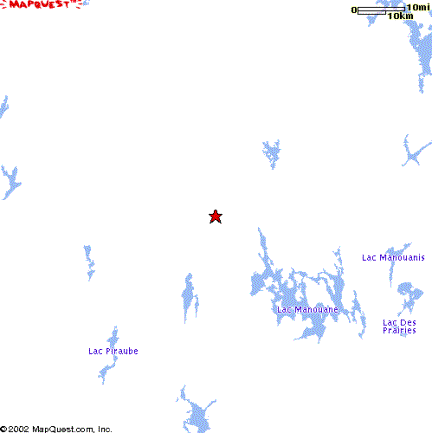 (Maps from http://www.mapquest.com/ Thanks MapQuest!)
In doing some preliminary searches on google, I found these places:
http://www.quebecweb.com/dogsled/anglais/chien.html
http://www.hour.ca/expeditions/pages/11_04.asp
These both offer dog sled trips to the Lac Manouane area during the winter, but I am going in July/August. So IÕm probably not going to be dog sledding. But it looks like there are various services that will get you to the area. IÕll be contacting them and asking what kinds of things they offer, costs, etc. Looks like IÕll be able to get within 60 miles pretty easily. Getting closer may be more tricky. Definitely looks like another SUV rental this time around.
IÕll fly in and out of Quebec City, but then the three days IÕll have in between, IÕll do my best to get as close as I possibly can to the random spot. I fully expect not to be able to get to the actual spot this time. My best may be many miles away. But IÕll do my best to get as close as I possibly can!
Yea! Off I go to the Quebec backcountry!
Added Note 13 Jun 2002
A little more research on the web finds: http://www.kanawata.com/ that seems to be a place catering to tourists on Lac Manouane. They have an inn, some chalets, a restaurant, etc. The website says it is accessible by road too (as well as by seaplane). So it may not be quite as hard to get to the region as it seemed initially. Although getting to the actual spot may still be tough. In any case, the place looks great! I canÕt wait to get going. IÕll start making the arrangements shortly. Come the end of July, beginning of August, IÕll be heading North from Quebec City for Lac Manouane and seeing just how close to my spot I can get, and what there is to see. CanÕt wait. J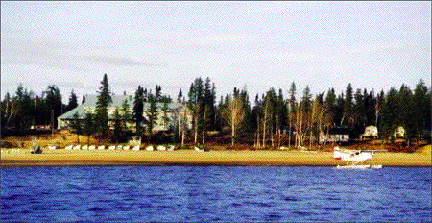 (Picture from http://www.kanawata.com/)
Added Note 18 Jun 2002
As I was about to email Kanawata for information and to see if they had vacancies, I took a closer look at the directions they gave to get there, and started looking harder in my atlas for the towns mentioned. I eventually found them. And then I followed the route they mentionedÉ and discovered that Kanawata was on a DIFFERENT Lac Manouane. It was on a Lac Manouane about 150 miles north of Montreal, rather than the Lac Manouane I was looking for, which was north of Quebec City and Chicoutimi. So back to the drawing board researching how to get to Lac Manouane and where to stay while there. Well, back to contacting the dogsled place instead. WeÕll see what I find out from them.
Selection | Day 0 | Day 1 | Day 2 | Day 3 | Day 4
---