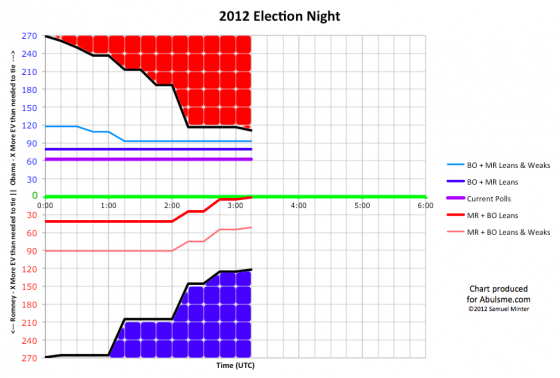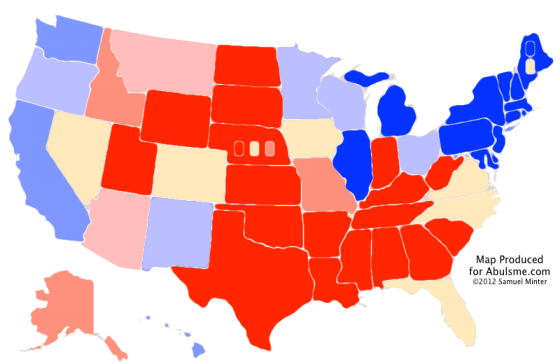 | | Romney | Obama |
| --- | --- | --- |
| Romney Best Case | 270 | 268 |
| Current Status | 206 | 332 |
| Obama Best Case | 190 | 348 |
There were no calls between 02:45 UTC and 03:00 UTC. Between 03:00 UTC and 03:15 UTC Utah was called for Romney, and New Hampshire was called for Obama. New Hampshire is of course the one that matters. It was one of the close states that Romney really could have used…
Romney's best case is now hanging on to a win by the barest possible margin. He can afford to lose Maine's 2nd congressional district, making this a 269-269 tie, which would give us Romney/Biden. But he can't lose ANY of the other close states… unless he pulls a big surprise and wins a state where he was behind by more than 5% in the polls.
Starting at 190 with the areas he was ahead by more than 5%:
Nebraska 2nd (1): 3.8% Romney lead
North Carolina (15): 1.4% Romney lead
That gets Romney to 206. Then we have:
Iowa (6): 2.0% Obama lead
Florida (29): 2.3% Obama lead
Colorado (9): 2.4% Obama lead
Maine 2nd (1): 2.8% Obama lead
Virginia (13): 3.6% Obama lead
Nevada (6): 4.8% Obama lead
The only thing on that list Romney can afford to lose is Maine's 2nd.
We only need any one of those remaining states called for Obama, and Obama wins his second term.