Clinton and Sanders left the Wyoming caucuses with a 7 to 7 delegate tie.
In the mean time, since Wisconsin Sanders has been winning the superdelegate race. The net change over that time has been Sanders +7, Clinton +2. This actually includes one delegate that actually did indeed switch from Clinton to Sanders (with a couple days as uncommitted in between). So far, that has been a very rare event. Perhaps it is the beginning of a trend? If so, I will of course note it here.
Adding up the changes since Wisconsin, we get Sanders +14, Clinton +9. This means Sanders has gotten an impressive 60.87% of recent delegates…
…which is not enough. Sanders needed to get better than 67.76% of the delegates to be on pace to catch up and win.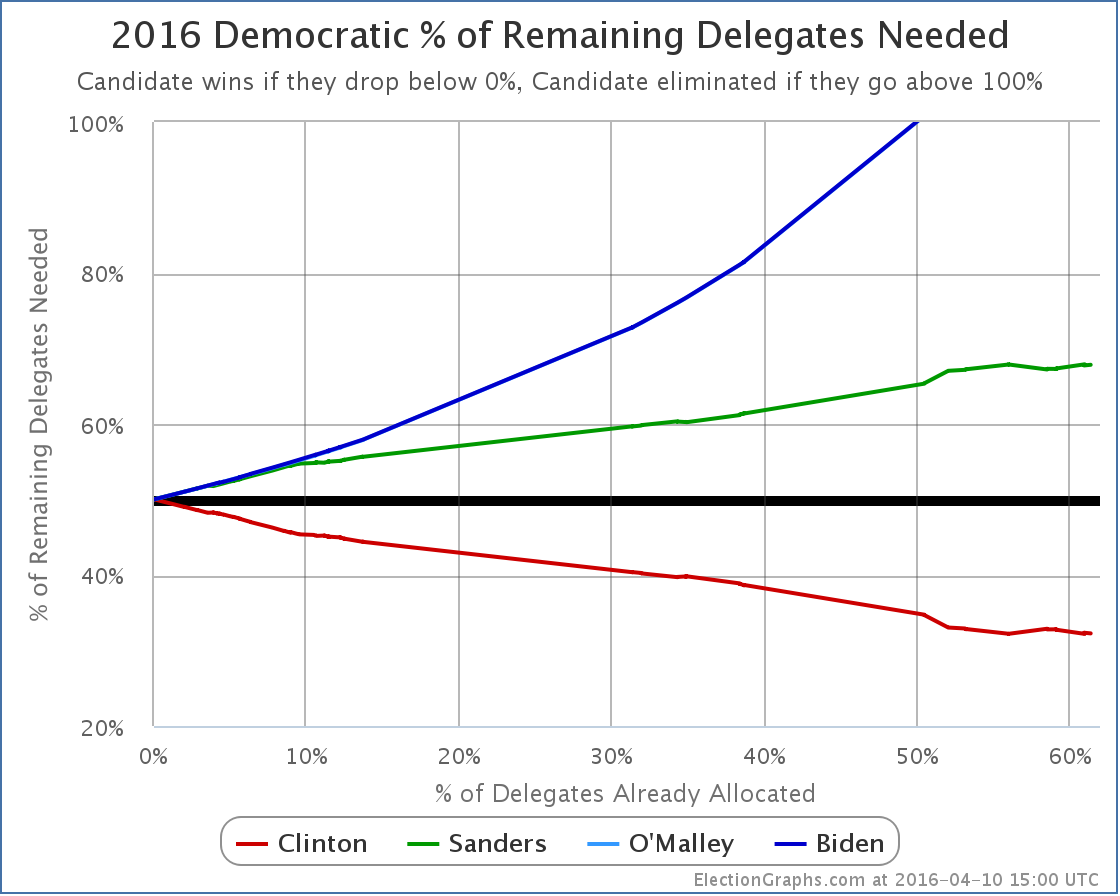 The percentage of the remaining delegates Sanders needs to win is now 67.84%. There have been some ups and downs, but basically Sanders had been able to keep things at 67.xx% since March 17th. This represents Sanders' string of wins. Those wins have prevented Sanders' situation from getting much worse, but critically he has not succeeded in actually bending his line downward to start heading to an actual win.
Clinton only needs 32.27% of the remaining delegates (including superdelegates) in order to win. This is not a high bar. To be absolutely clear here, this means Sanders could win every remaining contest by an absolutely stunning margin… and Clinton would still win the nomination because it wouldn't be enough to catch up.
Of course, the Sanders argument is that if he did indeed continue winning almost every contest, the superdelegates would finally start coming to his side in large numbers, and would change those dynamics. Maybe. He has to actually do that first. And make sure that his efforts to sway the superdelegates don't backfire and make them even more strongly committed to Clinton than they were before.
New York is up next of course. Clinton is currently leading the RCP poll average there by 14%. There are 247 delegates at stake. If the delegates in New York split according to current polls, then as a rough estimate Clinton will get 142 delegates and Sanders will get 105. That would leave Sanders needing 71.76% of the remaining delegates to catch up, and Clinton only needing 28.37% to get to the magic number and wrap things up.
The Sanders folks are tenacious, but actually winning the nomination would still take something catastrophic happening to Clinton's campaign. The reason for Sanders to continue at this point is primarily to influence Clinton and pull her toward Sanders' positions presumably. Unless the Sanders camp really is just hoping that Clinton will indeed implode at some point.
We will see.
[Update 2016-04-13 15:08 UTC – Superdelegate scan nets Clinton +4, Sanders +1. In addition an adjustment from Colorado yields Sanders +1, Clinton -1. Net for today's changes, Clinton +3, Sanders +2.]
[Update 2016-04-17 02:20 UTC – Update from Colorado Democratic State Convention today. Net change: Sanders +2, Clinton -2.]
[Update 2016-04-17 14:19 UTC – Superdelegate scan nets Sanders +1, Clinton -1.]
[Update 2016-04-20 01:20 UTC – Superdelegate scan net: Clinton -2.]
Note: This post is an update based on the data on ElectionGraphs.com. Election Graphs tracks both a poll based estimate of the Electoral College and a numbers based look at the Delegate Races. All of the charts and graphs seen in this post are from that site. Additional graphs, charts and raw data can be found there. All charts above are clickable to go to the current version of the detail page the chart is from, which may contain more up to date information than the snapshots on this page, which were current as of the time of this post. Follow @ElectionGraphs on Twitter or like Election Graphs on Facebook to see announcements of updates or to join the conversation. For those interested in individual general election poll updates, follow @ElecCollPolls on Twitter for all the polls as they are added.