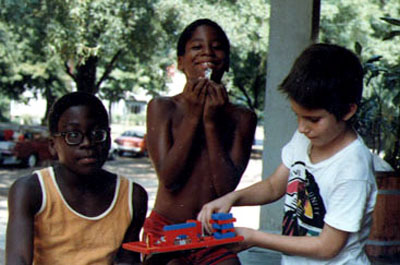 A couple of weeks ago now I got an email from my mother. Out of the blue she had heard from Mike, one of my two best friends from when I lived in Durham, NC. With the exception of one year I split between Indianapolis and Washington, DC that was pretty much from Age 5 to Age 12. (OK, I also lived there a couple years when I was around 2 years old, but I don't remember that.) I hadn't checked my messages yet, but turned out Mike had also left me a voice mail on my cell phone. If I had spoken to Mike since I was 12, I can't clearly remember it.
It has been a couple weeks. Busy weeks here for sure, but I also admit to putting off calling him back. After not speaking to someone for, well, over 20 years… I was just a little nervous. Today I finally called him.
The picture above shows Don (left), Mike (center) and me (right) back in Durham. We were pretty much inseperable for those years I lived there. One of my earliest memories, although perhaps I remember describing the memory more than I remember the actual event, is arriving in Durham and pulling up in front of our apartment, then as I got out of the car having Don and Mike run down Bay street asking "Who is the new kid?!". From then on after school usually consisted of Don and Mike coming over to my house to play. Everything from lego to computer games and D&D. In later years we were joined by Bryant who also lived near by.
For 6th grade I was gone (the aforementioned Indianapolis and DC), but came back briefly for 7th grade. Then my mom and I moved to Frederick, MD. One time Don visited us in Maryland. (And maybe Bryant? I can't remember.) For some reason Mike couldn't come that time. But other than that we almost immediately lost touch. Hey, I was 13. We were hundreds of miles apart. That tends to be what happens. Maybe it would less in this time of email and cellphones and everything, but certainly back then…
Next time I remember hearing from any of them was when I was a senior at CMU. 1992 or 1993 I guess that would make it. Bryant had looked up my mother and myself. To let us know he was in the Army in Germany and doing well. I remember my mom had some additional contact at some point or another, I think finding out that Don had a child. But that was many years ago.
So this time Mike was thinking about us, and using the wonders of Google found my dad's phone number, who in turn gave him my mom's number and my own. Thus the phone calls.
So anyway, I called Sunday afternoon. Got Mike on the phone. It was very good to talk to him. But it caused all sorts of mixed emotions, because there was mixed news. Mike is doing great. Has a long term girlfriend. Has stayed on the straight and narrow. Is doing well as a sales rep for a major food company in the central North Carolina area.
Don had not fared as well. He apperantly started to get into all kinds of trouble in high school and while he would occationally straighten out, he kept getting in trouble. He died almost a decade ago while awaiting trial for bank robbery. If I'd ever heard that news before today, I had blocked it completely from my mind. Perhaps my mom had found out and told me years ago when it happened. I don't know. If so, like I said, I had completely wiped it from my mind. It came as a shock for me when Mike told me. After the call was over, I broke down a bit while telling Brandy about the call. It is a decade too late, and it has been over two decades since we had seen each other, but the news brought me back to those days and I shed a few tears. Don was a good kid. But something happened. And I hadn't even known. I feel horrible for not having kept in touch all these years. It happens I guess, but still…
Mike knew less about Bryant. It had been a number of years since he had heard from him. But last he heard Bryant was getting in trouble too, and wasn't in a stable situation shall we say.
In part, Mike was calling to thank me and my mom for being there when he was a kid and providing some experiences and structure he might not have had, and expressing his gratitude, because he thinks that our influence helped keep him from the fates of our two friends, and led him to a better result.
I dunno. Maybe there was something there, but… Mike, you did it all yourself. The others were there too and had all the same "influences". You made the right choices and kept things together for yourself. You made good choices, they did not. You deserve all that credit, not us. But if we did have any part in it, I am glad we did. I'm just sorry it did not turn out as well for the others.
And I want to thank you as well. And the others if I could. For almost seven years you were my best friends and my constant companions. We were a team. And every once in awhile when those days come to mind, they are almost all happy memories. I think of "Don and Mike and Sam" (and later Bryant) and a smile comes to my face. I remember days making forts in the living room. I remember a treehouse in my back yard. I remember many many days of building things with Lego and running storylines with the characters and ships we created. I remember playing in the park and running around the neighborhood on foot and by bike. I remember you defending me from the "big kids" when they came around occationally. I remember making snow men in the lawn. I remember trips to the beach and the museum. It was a good time.
Thank you Mike for calling and reminding me of all that. Lets not let it be another 20 years.
Tonight I'll raise a glass to Don's memory, send a wish Bryant's way that things will improve, and be thankful that things have turned out well for Mike.
To old friends and memories…