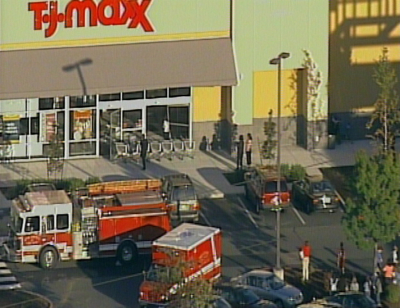 Brandy and Amy were on the way to TJ Maxx to look at school backbacks for Amy (her old one had a hole in it)… They had looked at Target, they were going to TJ Maxx next… Amy was hungry so they stopped at one of the mall food places. While they were there eating whatever it was they bought, a few hundred feet away a car crashed through the section of the TJ Maxx where they would have been shopping if they hadn't stopped for food.
Car Slams Into TJ Maxx Store In Bellevue
(AP & KIRO)
Bellevue police said one person is being treated for minor injuries after a car crashed into the front of a T.J. Maxx store in the Factoria area of Bellevue.

A teen was injured after getting struck by a clothes rack when the car plowed into the store.

…

According to Bellevue Fire, a woman in her 40s was driving the car and was allegedly in competition with another driver for the parking spot and hit the accelerator instead of the brake, sending her car forward.
Amy and Brandy came home at that point rather than continuing to shop for the backpack.