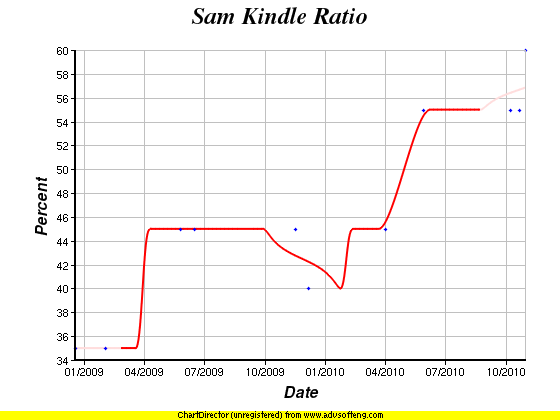 So, I've been whipping through books lately. So here is the updated Kindle ratio as it stood after I finished The Elegant Universe. We're up to 12 of the last 20 books I have read, or 60%, being available on Kindle. As I've mentioned before, starting with this book, my choice of books is now biased toward books available on Kindle, so this percentage should increase relatively quickly, although I don't expect it to pop to 100% any time soon. For reference, the last 20 books were:
YES – The Elegant Universe
YES – Children of the Mind
NO – Introduction to Algorithms
YES – Xenocide
YES – The Geography of Bliss
YES – Speaker for the Dead
NO – First Break all the Rules
YES – Ender's Game
YES – Until the Sea Shall Free Them
YES – Foucoult's Pendulum
YES – Java The Complete Reference
NO – Harry Potter and the Deathly Hallows
YES – The Audacity of Hope
NO – Harry Potter and the Half-Blood Prince
NO – Data Mining
YES – The Children of Hurin
YES – Dreams from my Father
NO – The Odyssey
NO – Rise and Fall of the Confederate Government (Vol II)
NO – A Morbid Taste for Bones
Note in the case of The Odyssey and Rise and Fall of the Confederate Government, other editions are available on Kindle, just not the specific edition I read.