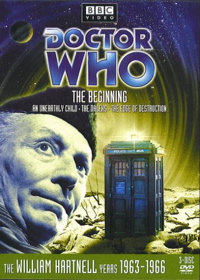 I usually link the pictures on this to Netflix, but this time I'm linking to Amazon. Why? Well, cause this is a three disk boxset, and Netflix has it all screwed up (or at least they did). That is, what they think is Disk 1 is really Disk 2, what they think is Disk 2 is really Disk 3, and what they think is Disk 3 is really Disk 1. So when they sent me the "first" disk it really wasn't, and I had to go through a couple of returns before they gave me the right disk. Of course, I sent the others back sight unseen and will watch them later.
Eventually though I finally got the real Disk 1, which contains the first four episodes of Doctor Who ever, which collectively are known as the story "An Unearthly Child". The first episode aired on 23 Nov 1963… a date also known for other things.
Anyway, this episode is mainly of interest for completeness and all. It is interesting to see "how it started". The actual story, with cavemen saying such insightful lines as "Za make fire!!" isn't all that compelling. Everything is pretty much laughable. But that is OK. The second story which is on Disk 2 of this series, is what caught people's attention and started the series toward still being on the air 44 years later. Even so, watching the first episode is interesting to note all of the "firsts" and also to note which things haven't changed very much too. So watching it from that point of view is good. Just don't come in expecting a riveting story or anything.