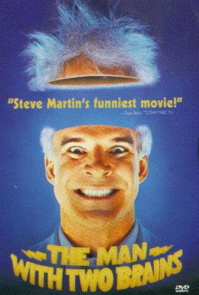 Brandy picked the last DVD we watched and it was The Man With Two Brains. She was very excited to have me see it, as she thought I would love it. I told her before hand that I have never really been too fond of Steve Martin's humor, but that was OK, I'd watch with an open mind. I had not see this movie before as far as I knew. I kind of actually had it confused with All of Me, another Steve Martin movie. It wasn't that movie though. BUt I haven't actually seen either of them, so it didn't really matter.
And well… it was OK. But I didn't laugh all that much. Like I said, I'm just not that into Steve Martin's style of humor. I mean, it wasn't a bad movie or anything. I wasn't anxious to have it over, it just didn't really do anything for me. Brandy was very disappointed that I didn't like it all that much.
Meanwhile, she fell asleep two thirds of the way through.
Oops. :-)