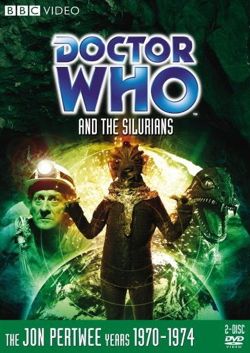 It was time for yet another Doctor Who DVD. In this case, it was time for Disk Two of a story we started in September. This was the Third Doctor story Doctor Who and the Silurians which is interesting because it is the only Doctor Who story that had "Doctor Who and the…" in the title shown on screen. It was an accident. Somebody screwed up when producing the titles. Oops.
The last few sentences were quoted exactly from my review of the previous disk. I'm getting lazy.
In this second half we find out a bit more about where the aliens come from, and there are some battles. The Doctor is trying to make peace between the humans and the Silurians, but most of the humans, and most of the Silurians, want no such thing. The Doctor tricks the Silurians into something he hopes will avoid conflict but keep them alive. Of course, the humans decide immediately thereafter to blow them all up.
Oh well. And that was the end.
As usual with these older Doctor Who episodes, the pacing is VEERRRYYY SLLLLOOOOWWWW. And of course the effects are awful. They have some level of charm though.
We need to go faster though. I like the Fourth Doctor and beyond much better than the first three.
[05:15 UTC edited for a typo and minor wording change]