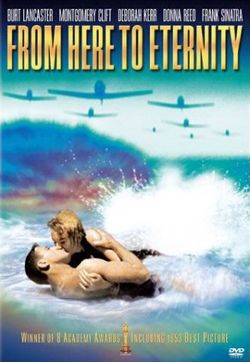 This last weekend was time for another movie from my own Netflix Queue. And specifically, it was once again time for me to resume my climb through AFI's 100 Years 100 Movies list which I have slowly been working myself through since the list was released in 1998. I had previously watched #100 up to #53. It was now time for #52, which was this movie.
For those who don't know, it is about a bunch of soldiers in Hawaii in the run up to Pearl Harbor. I must admit though, it didn't do all that much for me. I know it won lots of awards and such, but… I just never really connected with any of the people. They seemed to just be walking through things. And making decisions I couldn't quite understand. Well, sometimes. I got why the main character didn't want to box any more, and how he would just to just take the various indignities pushed on to him. But at the very end why he would take a short cut rather than the direct route? And why he would just run when confronted? Dunno. Mystery to me.
Anyway, I guess there were some interesting bits. And some funny moments. And it was fun to note things like "Hey, there's the guy from Airwolf!". (Knowing of course that given his long career, the fact that I remember Ernest Borgnine most for Airwolf is kind of a shame, but, well, that's how it is.
Overall though I'd probably pass on this. It was OK, but not memorable.