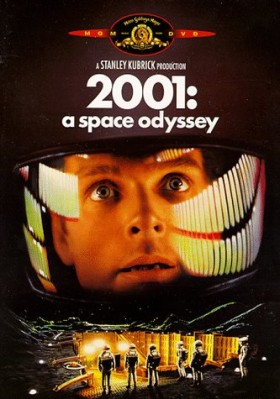 OK, so I can't begin to mention how far behind on my "reviews" for both "Family Movie Night" and the ones we have actually gone to the theater for. Many months behind. Of course, that only means five movies. But since we revamped our home entertainment center a couple of weeks ago, we have been speeding up again, so I need to catch up.
Anyway, a bit ago, as I said, several months, it was Brandy's turn for Family Movie Night, and her movie was 2001: A Space Odyssey. She had originally picked this with the intent that we would watch this in time to watch 2010 on New Year's Eve as it turned from 2009 to 2010. Now, I'm behind, but not that far behind. We didn't actually get to this until the Spring sometime. Oops. Anyway. 2001.
This is a movie which is of course known for its visuals and music, and the fact that not all that much actually happens plot wise. Amy had not seen it before. So the main thing to talk about here is her reaction.
Basically, she sat through the whole thing, enjoying the music and the visuals and all that, but just waiting for things to start happening. Of course they never did. She oohed and ahhed at the appropriate places. But then it ended. Her reaction when something like this:
WHAT?

WHAT??

WHAT WAS THAT?

WHAT JUST HAPPENED?

IS THAT IT?

REALLY??

How long were we sitting here? REALLY? THAT'S IT?

YOU ARE KIDDING ME!!!!

WHAT WAS THAT BABY DOING?

I WASTED HOW LONG ON THAT??

REALLY?
Of course, she had seemed to be enjoying it just fine before it ended. And of course, that was before the credits. There were lots and lots of credits still to go after that. And then even after the credits ended, the music continued for several more minutes. Somehow we convinced her to stay to the very end. But still, nothing happened.
It was most amusing.
From my point of view of course, I really like 2001. It is a very different kind of movie of course. For the first 20 minutes and the last 20 minutes, you just sit back and let it roll over you. For the middle portion, you think about HAL. It is fun. It is an experience.
It is not of course the kind of movie you watch when you want action. Or a real plot.
But it is an experience that is definitely worth watching at least once a decade. :-)