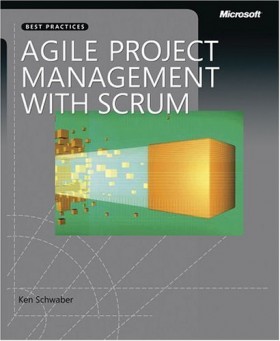 Author: Ken Schwaber
Original Publication: 2004 Mar 10
Started: 2010 Nov 30
Finished : 2010 Dec 17
Format: Paperback
163 pages / 18 days
9.06 pages / day
So, having been involved with Scrum like project management methods for a few years, I finally read one of the books about it. This one specifically was about how to adapt Scrum to various sorts of situations, generally where Scrum was not used in the past.
I'd expected this would all just be "well duh" sorts of things since I've been in such a scrum centric environment for the last few years, but the reality is that what we've used where I've been, either directly in my group, or in others I've dealt with, has generally been highly adapted scrum, with many changes from "pure" scrum. Now, changing things to adapt to local needs is actually part of what Scrum anticipates, but actually reading something that had a more "pure" focus was interesting. I had many "Ah, so THAT is how that should be done" sort of moments. Well, "should" is a strong word. Maybe "could" would be better. The ways I've done it or seen it done are not necessarily worse, just different.
Anyway, interesting to actually read a book like this. Probably would have been more useful for me two or three or four years ago, but hey, that's the way things go.