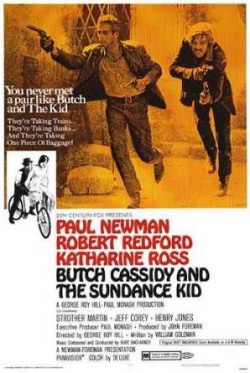 So, at the last movie night it was once again one of my movies. It could have been someone else's turn, but they hadn't returned their movies. So it was my turn again, and also it was once again time for one of the AFI 100 Years 100 Movies list movies. This is #50 on that list. Slowly but surely, we work our way toward #1.
Anyway, Brandy hates westerns, so this was never going to be a favorite of hers, and I was lucky to get her to watch it at all. Amy actually seemed to like bits of it, but was not happy about the ending at all.
As for me, it was a little slow, but a decent way to spend a couple of hours. And of course I ended up curious about the actual historical Butch Cassidy and Sundance Kid and ended up reading a bit about them and related subjects on Wikipedia. Not during the movie though, that would be wrong.
Anyway, the movie is somewhat amusing, and has some nice scenery and such while the pair are on the run. Worth watching if you have some time to kill, but I'm not sure I'd put it on a Top 100 list of my own or anything. It is just OK, not great.