On March 10th, I announced a new thing I was doing, the "Top Read and Tweeted Kindle Books" list. Well, I set it up using Twitter's RSS feeds as the source, and they turned those off earlier this week. I think I could probably redo it using Twitter's API (which is probably how it should have been done in the first place, but I was more familiar with the other way), but realistically, that would take me time that would be better used for other things, especially since I haven't gotten any comments on this thing since I launched it, and I was probably the only one looking at it. So, goodbye Top Book thing. It was fun while it lasted!
It was actually interesting to watch over the past three months though.
Here is a chart of the performance of every book that made the Top 5 at any time during the run of my list. (The lines are extended to show 7 days before and 7 days after the days each book was actually in the Top 5.)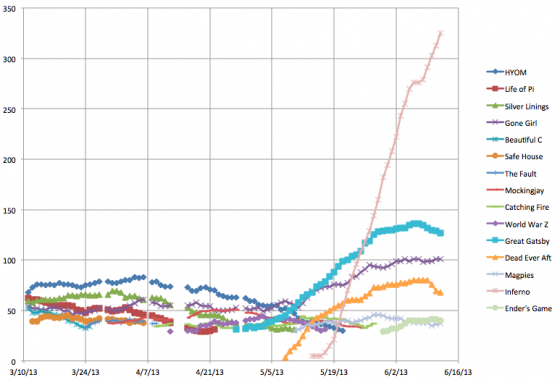 Click to embiggen if you want.
During the 95 days I have been running this analysis, there have been four books in the #1 slot:
Gone Girl and Gatsby swapped a bit before Gatsby took the clear lead.
Inferno is obviously crushing everybody at the moment. Almost 2% of everybody tweeting they finished a Kindle book recently were tweeting about finishing Inferno.
As of 2013-06-11 21:36:35 UTC when the last tweet was processed by my system, this was the Top 20:
If anybody else out there would miss this though, let me know of course. :-)Anyway. Fun stuff. I would have had fun continuing to track this for awhile. But as I mentioned, probably not worth fixing.