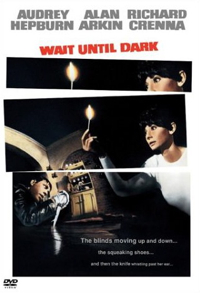 It was Brandy's turn yet again to choose a DVD this weekend. This time her movie was "Wait Until Dark" a 1967 Audrey Hepburn movie. I'd seen this once before on television a number of years ago and had enjoyed it then. It is a little less suspenseful on second viewing, even years later. But it is still a good movie.
Brandy kept laughing at the overacting that is typical of a lot of movies of that era. But I didn't mind too much. It was interesting to see Audrey Hepburn in a role a bit different than what she played in many of her earlier movies. And the gimmick of the last 15 minutes or so of the movie is pretty cool, although it must have been much cooler when it was originally done in a darkened theater and all.
In any case, good suspenseful movie and such. But I think like many movies that rely on suspense and you not quite fully knowing the situation, it is best on the first viewing, and loses something on repeat views.