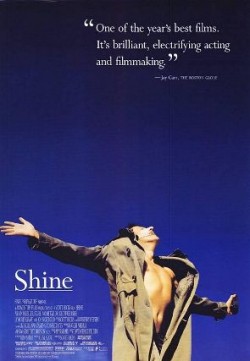 This last week's video was one of mine again. Specifically Shine from 1996.
Bottom line on this one is that Brandy was bored and fell asleep. I thought it was OK but nothing special, and Amy surprised all of us, and herself, by really liking it.
For me, I thought the beginning was really slow, but it build up nicely. I started enjoying it right about the time the guy actually just snapped at a performance. It is definitely one of these slowly simmering movies where things just gradually happen and it is more about the atmospherics than the plot. It is not about watching things happen, it is about trying to instill a certain set of feelings.
Honestly, it didn't pull on my hearstrings as much as many other movies. And the "triumph" was lukewarm at best. Yes, he came to some level of success despite his illnesses, but he wasn't cured or anything, and his story was still overwhelmingly a sad one.
Oh, and yes, this is based on a true story, although there is a decent bit of controversy about how much really reflects reality, and how much was fictionalized, etc. But that is normal for this kind of film I guess.
Anyway, nice little movie. It won lots of awards. Personally, I didn't find it all that memorable, but good enough for a weekend evening.