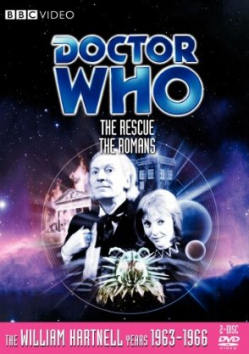 First of all, let me just say I was sloppy and to get the timelines right, I should have posted this immediately before the picture of Amy in the Star Trek shirt instead of immediately after. I didn't bother looking at the timestamp on the picture, and misremembered when it was taken. Oops. Anyway, nobody will care other than me, so let me move on…
We got to a Family Movie Night thing after having taken a couple weeks off while we had guests in the house. It was once again time for an old Doctor Who. This time it was a First Doctor story called The Rescue. This is a short little story, only two short episodes. It is basically a transitional episode where a new companion is picked up. So there just really isn't much to it. The arrive somewhere. Figure out the mystery. Then when they leave they take the orphan teenager from the future with them on their further adventures.
There was a sad part where one of the crew kills a poor innocent monster thing. They were scared. They shot it. Turns out it was friendly. Oops.
And that's about that for this.
There was nothing horrible about this story, and it was short. Which is much better than the ones that are basically OK, but last far longer than they should. This one was actually paced decently enough. Two short episodes for a total of 50 minutes was still maybe a little longer than it needed, but it wasn't so far off that one got annoyed.
Well, at least I didn't.