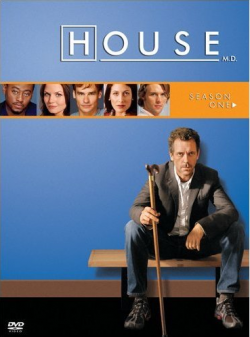 A little while ago it was time for another DVD we own but hadn't watched, and it was specifically time for more of House: Season One, which I'd gotten for Christmas.
This disk has episodes 5-8 of Season One. At this point we're pretty on track with the standard House formula. You know, two or three wrong diagnoses before getting to the right one in the last few minutes of the episode, with of course some drama between the characters and House being an ass the whole time. It is fun to watch, but you can't deny it is pretty formulaic.
Here we had one episode about a sick nun, one with a teenager taking care of his mentally ill mother, one about a woman who can only be cured if she admits she had an affair, and one with mysterious poison.
Of these, I think Episode 6, the one with the teenager and his mother, was the most fun. In any case, another four episodes of House. Good show. Good disk. Amy was anxious to just move on and start the next disk of this series, but it was something else's turn first…