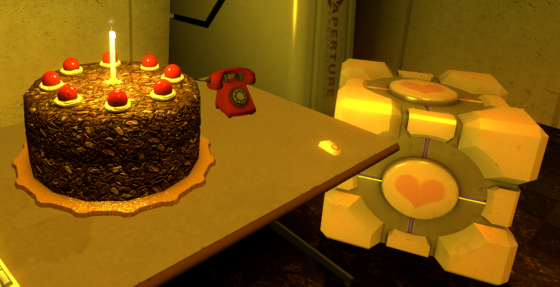 Back when it was free last month I downloaded Portal, because I'd heard good things about it from a couple people in a lunch conversation at work awhile back. But I hadn't touched it until this last weekend. Sometime Saturday I brought it up on my computer on a lark. I hadn't been playing it more than 11 minutes when Amy came in and said "What is that, can I play?" So she sat down and started a new game. Rather than play myself any more, I just watched her play, offering suggestions at a few key moments. :-)
Ten hours of game play later, spread over four days, Amy just beat the game. (Awesome song at the end by the way…)
She had a blast. And I had fun backseat driving.
Great game. Great fun. I haven't enjoyed a video game like this in many a year. (Mostly because I haven't spent any significant amount of time playing anything more involved than Doodle Jump or Peggle for decades.) Of course, I didn't actually play this one either. And given the nature of the game, having watched it played through from beginning to end sort of gives you enough spoilers that I'm not sure I'd have fun playing it myself at this point. But still. Fun.
Of course some of that was the game, but a lot of it was just sitting and spending time with Amy, which was great.
And now of course we know that we'll be getting Portal 2 as soon as it comes out. I gather it will have a 2 player mode. I think Amy and I will be all over that.