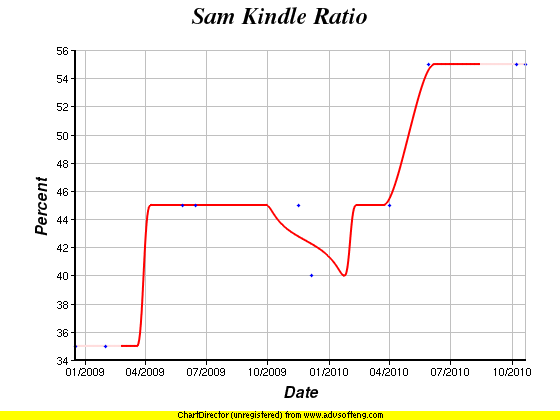 So, an update after Children of the Mind which was the last book I selected under pre-Kindle rules. Of the previous 20 books read, 55% were available on Kindle. After this update, future updates will reflect the fact that I am giving preference to books available on Kindle in my selection process. Not that anybody cares, but for reference, those 20 books were:
YES – Children of the Mind
NO – Introduction to Algorithms
YES – Xenocide
YES – The Geography of Bliss
YES – Speaker for the Dead
NO – First Break all the Rules
YES – Ender's Game
YES – Until the Sea Shall Free Them
YES – Foucoult's Pendulum
YES – Java The Complete Reference
NO – Harry Potter and the Deathly Hallows
YES – The Audacity of Hope
NO – Harry Potter and the Half-Blood Prince
NO – Data Mining
YES – The Children of Hurin
YES – Dreams from my Father
NO – The Odyssey
NO – Rise and Fall of the Confederate Government (Vol II)
NO – A Morbid Taste for Bones
NO – Aylesbury in Old Picture Postcards
Note in the case of The Odyssey and Rise and Fall of the Confederate Government, other editions are available on Kindle, just not the specific edition I read.