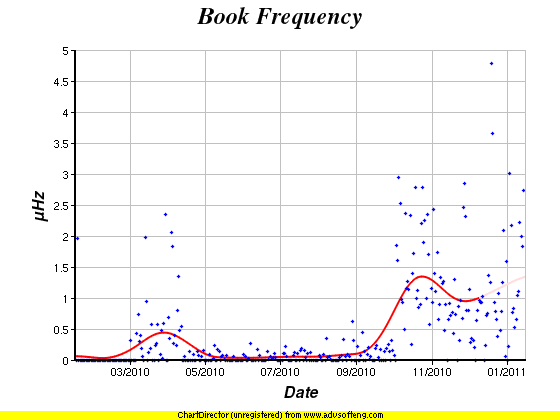 So, speaking of reading, just a quick graph. This represents the frequency at which I finish books. I used to keep track of pages per day, but now that a bunch of my reading is Kindle based, which has locations instead of pages, that really isn't a measure I can use any more. So instead I look at the pace I am maintaining in terms of how quickly I am getting through books. Each day, I look at the fraction of a book I have completed, which is then converted into the overall book frequency.
As you can see, for most of the year the rate was very low… as I was going through a couple of dry boring and very long non-fiction books. But then, those books were out of the way, plus I moved to reading some (not all) of my books on Kindle. Importantly, this doesn't just mean the Kindle device itself, but also other devices. So yes, I'll use the Kindle device when I am going to be sitting down and reading for a little bit, when that is my prime activity. But if I've got even a minute or two while I'm waiting in line for a coffee or whatnot, I'll pull out the Kindle app on my iPhone and start reading. Those are cases where I never would have been reading a book before.
Anyway, at this moment, I am trending somewhere near 1.35 ОјHz for my book frequency. Inverting that we get about one book every 741 ks. That could otherwise be expressed as one book every 8.57 days or 3.55 books per month. Now, some of you may read a lot more than that, which is of course great. But for me, given everything else occupying my time, this is a pretty good clip. I don't think I've read at this pace in many many years…
Of course, as soon as one of those really long, dry, boring books ends up coming up in my book selection process then I may once again have one of those times where finishing a single book ends up taking many many months. I'm sure it will happen eventually. But for now, I'm enjoying reading a bit more than that.