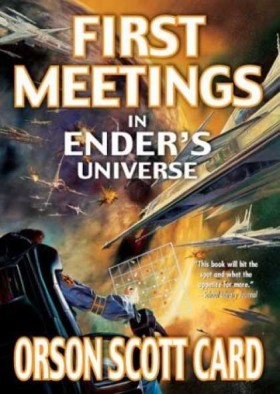 Author: Orson Scott Card
Original Publication: 2003
Started: 2010 Dec 17
Finished : 2010 Dec 22
Format: Paperback
2676 locations / 6 days
446 locations / day
Up to #8 in the Ender Series. This one isn't a novel though, but a compilation of four short stories. One is about Ender's father as a child. One is the story of Ender's parents meeting. Then there is the original Ender's Game short story that Ender's Game novel was an expansion of. And finally the story of how Ender first met Jane the sentient computer program/network.
This made it very different than reading any of the actual novels in the series. I enjoyed the two backstory ones about ender's parents. You understand a little bit better where Ender came from, and it fleshes them out a bit. Similarly, I liked the Jane origin story, although it seemed slightly gimmicky.
The oddest one though was the Ender's Game short story. Not that it was a bad short story, it was a good one, and of course prompted this whole series. But having it included this way was a bit jarring, since I'm reading the series in sequence, but this essentially retells the first story, but in a bit different way. It was interesting to see the differences between the short story version and the novel length version, but still, a little odd to read this as part of the overall sequence of the series.
I do like the novels better. But this was an interesting addition to the Ender Universe.