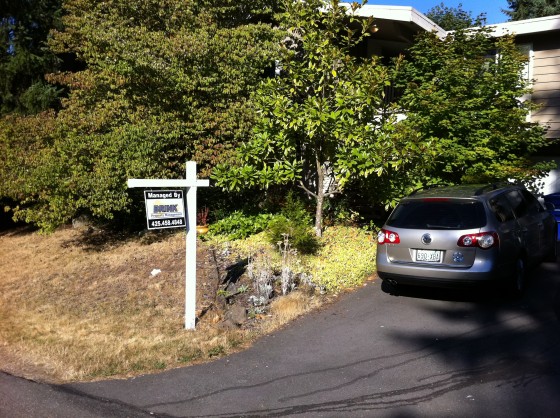 The house we have rented for the last five years is officially on the market again (for rental). See the lovely sign in the yard? If anybody is thinking of moving to the Newport Hills area of Bellevue, WA, hey, house.
After some back and forth on the topic, we decided there were other things we'd rather spend a few thousand dollars on, so we're doing things the old fashioned way again and renting a truck and moving ourselves. This weekend. So if anybody in the greater Seattle area wants to help move boxes and furniture, we will buy pizza! (But we expect to do it all ourselves.)
Between now and then… packing!
Roscoe came with us to the new house for the first time today. We can't let him loose in the back yard until we fix the latch on the gate, but he is getting to explore the new house for the first time, and we went on a short walk in the neighborhood.
Alex's room is pretty much done. Nice two color thing with with a border with cars and trucks and planes and such.
Brandy's office is all painted. Amy's room is almost done being painted.
We've moved in a bunch of dishes and groceries and other essentials and have been spending a significant chunk of time here since we closed last week.
Internet (25/25 FIOS) will be installed sometime in the next 12 hours.
As I write this, Amy, Alex and Brandy are all asleep. I will join them shortly. This will be the first time we've actually stayed overnight here. Of course, there are no beds here yet, so this is a strictly floor based endeavor.
We hope to basically be moved by Sunday night, although we'll still be moving some stuff from the old house, and dealing with cleaning the old house and such probably straight through until the 30th, which is when we officially have to be out of there.